Electrom Instruments manufactures surge testers and winding analysers for testing all types of electric motors, generators and distribution transformers. The iTIG surge testers and winding analysers not only include surge test functions, but also hipot tests, meg tests and other tests used to diagnose the condition of electrical insulation systems.
The surge testers and winding analysers are used for predictive and preventative maintenance, as well as for diagnosis of faults. They are often used for quality checks on equipment that is going out for repair or coming back from being repaired, and for testing of spares before use. They are also used for quality checks throughout the manufacturing process of coils, motors and generators.
Surge testers for the mining industry
In the mining industry surge testers are often used to test DC armatures since traction motors are frequently used in mining equipment. Electrom's high voltage surge testers and hipot testers also test AC motors and generators with operating voltages from 120V up to 13,800V.
Insulation failure is one of the main failure mechanisms in rotating machinery. The Electrom advanced winding analyser finds faults, and also weak insulation. These insulation weaknesses are found turn-to-turn, coil-to-coil and phase-to-phase using the surge test functions. 80% of ground faults in motors are said to originate with turn-to-turn faults. With the appropriate maintenance program these conditions can be detected before there is a fault. Reconditioning, replacement or repair can then be scheduled before there is a 'catastrophic' failure.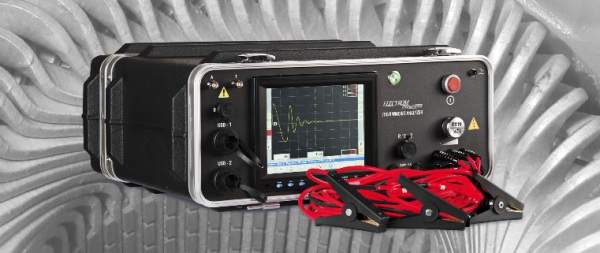 The Electrom iTIG II motor tester and winding analyzer.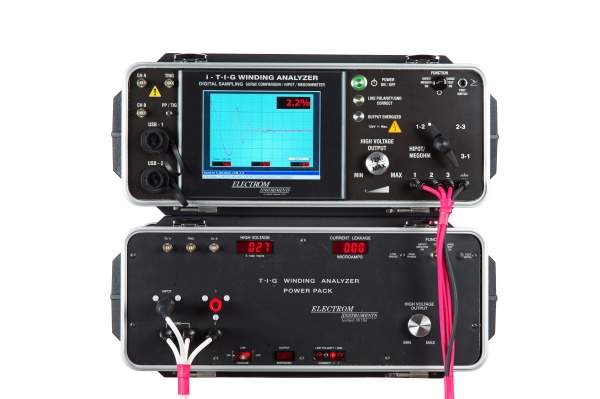 iTIG winding analyser on top with power pack on the bottom. Most portable 30kV surge tester set on the market.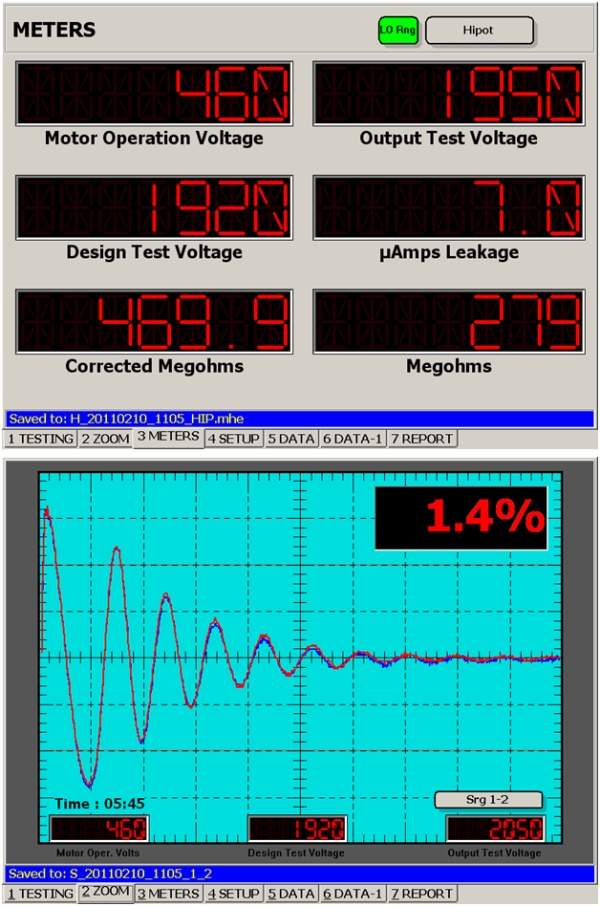 The iTIG surge tester has multiple computer screens easily selectable. A hipot test screen and a surge test screen are shown above. The surge test is good because there is no separation between the two waves displayed.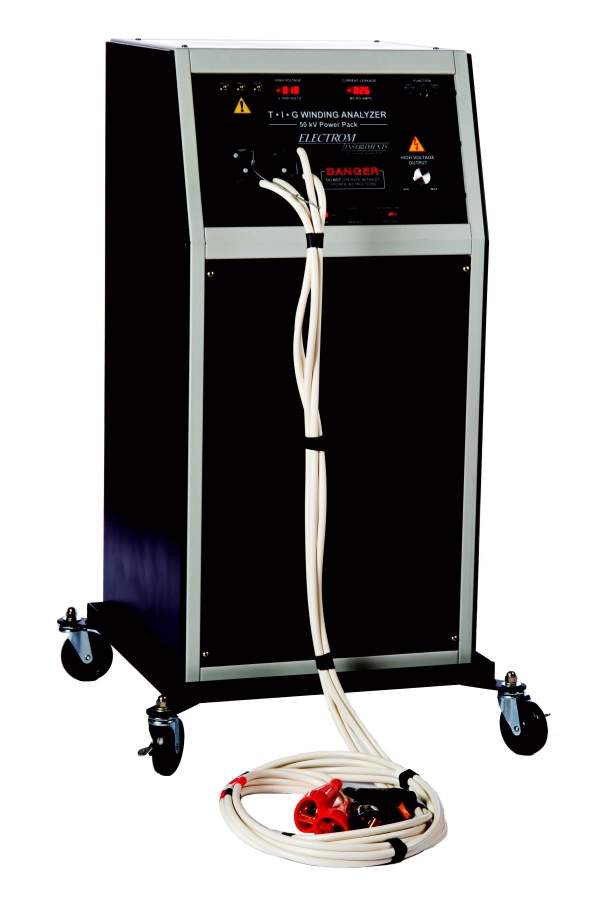 Power pack with 50kV or 60kV max output for hipot and surge tests. Power packs with higher outputs are available on request. Used with the iTIG winding analyser.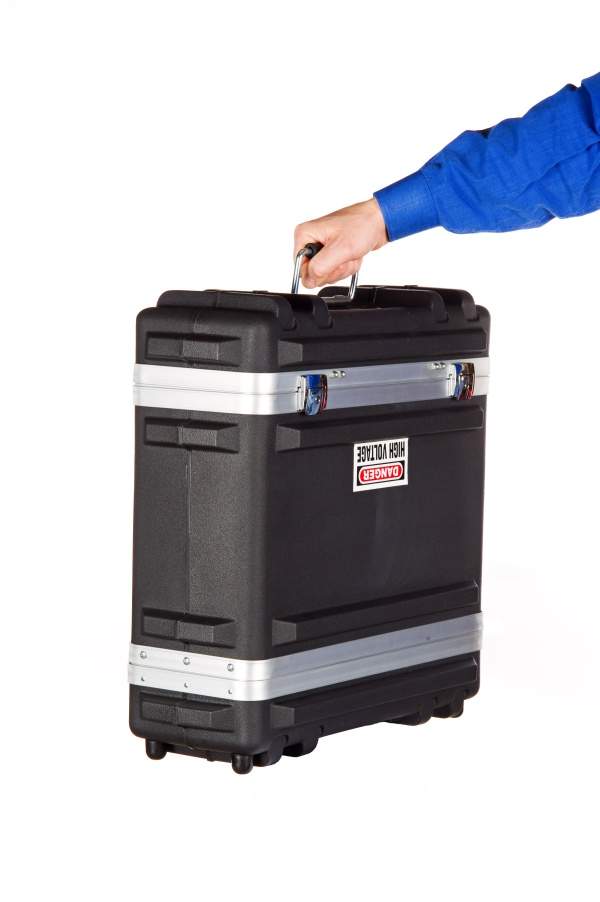 The portable 24kV and 30kV power packs come in the same case as the iTIG surge tester and winding analyser. Shown with the front cover on.
The iTIG surge tester also finds turn-to-turn and other shorts. For installed motors, this can be done without turning the rotor when using an advanced iTIG surge tester from Electrom. Turning the rotor during the test is common with other testers, a potentially arduous process if the motor is connected to what it drives.
iTIG advanced winding analyser for the mining industry
The iTIG advanced winding analyser is a high voltage surge tester. It also finds weaknesses of insulation to ground – this is done with either the hipot test or a step voltage test.
Contamination levels are found using a megohm measurement or polarisation index (PI) test. The data is used for several purposes, and can be used with predictive maintenance programs to schedule reconditioning of equipment. PI tests are typically only done with large equipment. The test was developed for form coils and does not work well with random wound motors using modern insulation materials.
The Electrom iTIG advanced winding analyser is, among other things, a high voltage and high frequency surge tester. It pulses at line frequency (50Hz / 60Hz) rather than at a lower frequency such as 5Hz commonly used by others. The high frequency surge pulses combine with two surge generators operating simultaneously in the iTIG.
Two phases of a three-phase motor are energised. The result is that more insulation weaknesses are found. It also means that the iTIG surge tester better duplicates motor operating and starting conditions than other testers that pulse at 5Hz and energise only one phase at a time.
Portable surge testers
The iTIG is easy to use with a large LCD colour touch screen and it is portable in a rugged case. For testing of large and slow running high voltage equipment with operating voltages of 4,000V – 13,800V, the iTIG surge tester can be connected to a power pack. Electrom offers the most compact portable 30kV power pack on the market. A range of power packs are available with standard outputs up to 60kV. Higher outputs are available by request.
About Electrom Instruments
Electrom Instruments was founded in 1986 in Colorado, US, and has been a pioneer in the development of surge testers. Our advanced winding analysers and surge testers are used worldwide in a wide range of industries from mining, petroleum and petrochemical to the pulp / paper and power industries. They are used by motor manufacturers and motor shops around the world.
Please use the form below to send us your inquiry or questions. We appreciate your interest.