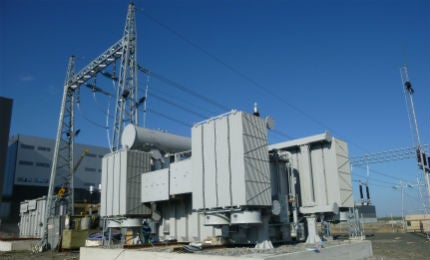 Excess Power Equipment (EPE) is a major supplier of new transformers, and has a wealth of industry experience in mining, power, mobile generating equipment, and allied industries.
EPE is unique for its high stock levels and self-sufficiency in refurbishing and testing transformers and switchgear.
High-quality mining substations and kiosks are designed and manufactured to relevant standards, as well as custom requirements, with compliance to mining regulations a prerequisite. The substantial skids are treated with a high-quality surface protection, accommodating low-profile transformers, primary and secondary switchgear, and colour-coded according to voltage.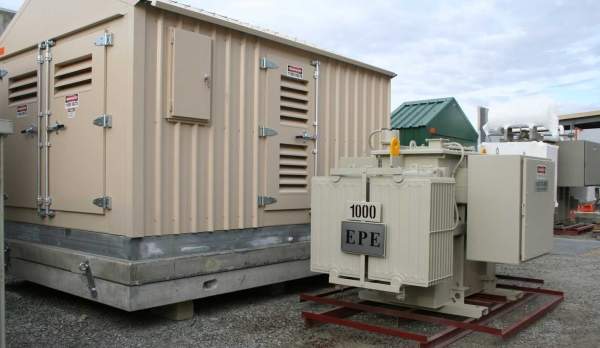 We produce kiosks that protect transformers from cyclone-prone environments, like those found in Australia.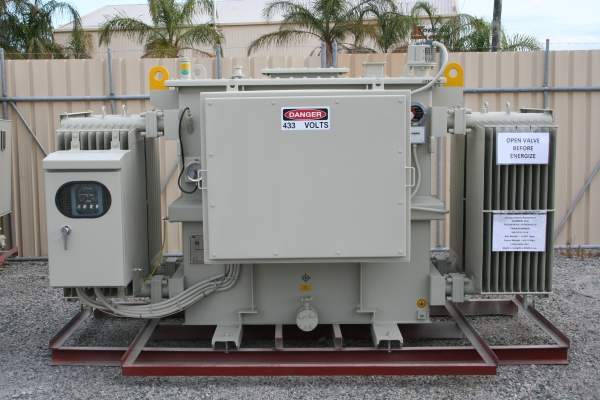 EPE offers transformers made from the best materials for rental or purchase.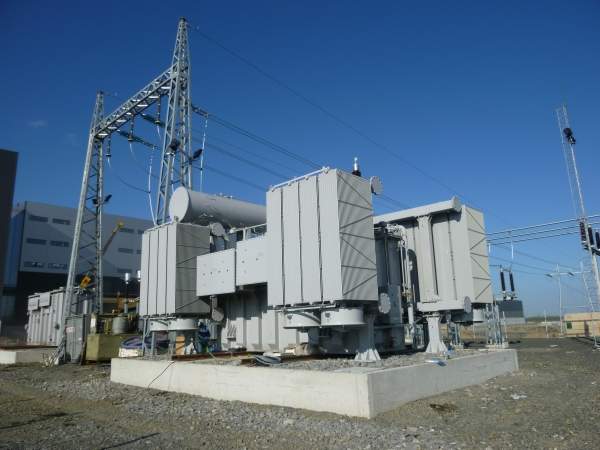 One of two 115/63.9/51.1 MVA, 115kV/21kV/10.5kV transformers installed in Finland, supplied by EPE and manufactured in China.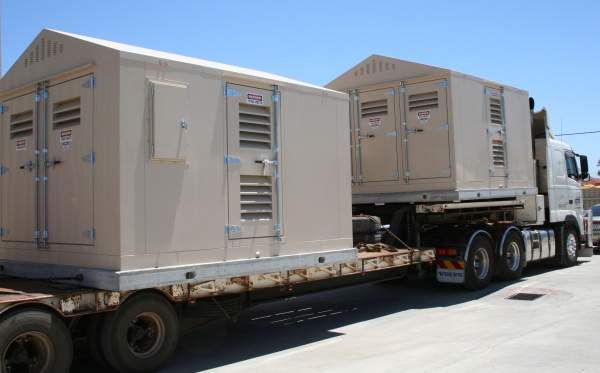 Two cyclone kiosks leaving for the North West of Western Australia.
New transformers for the mining and power industries
EPE provides clients with total power solutions through its ability to provide both distribution and power transformers.
Distribution transformers offer copper-designed coils, excellent delivery times and value for money. EPE has accomplished this by establishing excellent working relationships with suppliers located in Thailand and China.
The processes used to produce high-quality distribution transformer units include:
Copper foil: a technique that reduces axial short-circuit forces. The conductor and insulation material are bonded with thermo pox that can safely withstand redial forces
High-voltage winding: the computerised long layer winding decreases interlayer voltage, is more homogeneous, and less sensitive to high-frequency resonance due to current harmonics
Vacuum drying and filling plant: using computerised control, the uniform, modern and economical process of injecting low-frequency heating current, direct to the transformer winding then vacuum and oil filling ensures high insulation quality
New transformers can be manufactured to MEPS efficiency standards for 70% less energy loss than standard efficiency transformers.
The company also supplies power transformers from 11kV – 500kV, 50kVA – 370,000kVA, that feature:
High efficiencies to reduce network loss and costs
High short-circuit and insulating strengths
Low temperature rise
Low noise
Reliability in operation
New medium and high-voltage switchgears
EPE supplies medium to high-voltage switchgears, which are metal clad with either withdrawable or fixed panels. Further information is available on request.
Bunded kiosks for oil and liquid spills
EPE designs and develops bunded kiosks.
Being completely enclosed, any oil spills remain contained within the bunded area, preventing oil damage to the surrounding site. No on-site foundations are required and EPE offers a flexible design to accommodate client specifications.
Recognising the need to construct for cyclone conditions, EPE now produces cyclone-rated units to category D, Terrain 2.88m a second. These kiosk designs are continuing to develop as new technologies become available.
Environmentally friendly transformer fluids
EPE offers the Envirotemp FR3 fluid from Cooper Power Systems, as an eco-friendly transformer solution.
This fluid, which is a direct replacement for transformer mineral oil, satisfies all environmental concerns and can be supplied with new transformers, or retro-filled.
Using Envirotemp FR3 fluid provides improvements in safety, environmental responsibility, performance and savings.
HV transformer winding and rewinds
EPE offers clients viable solutions for both repair and new coils within the winding range.
In 2003, EPE installed transformer winding and design facilities to wind and/or rewind ONAN and ANAN transformers, to meet custom requirements up to 2MVA and 66kV.
In 2010 the company extended its facilities with a new, 60m² air-conditioned winding room to better serve customers' winding needs.
Transformer and substation rentals
The EPE Group established its rental division to provide assistance where both production and contract mining requires power supplies of a finite nature.
Now recognised as the foremost specialist in the provision of site establishment / construction power, EPE offers transformers and skid-mounted substations for either 1,000V pumping, fan and jumbo supplies in the 100KVA – 1,700KVA range with multiples of generator transformers of more than 13MVA in the 415 – 11,000 step-up or step-down range.
Rentals are at a fixed cost for short-term hire and negotiable for longer periods.
New dry type transformers
EPE distributes high-quality cast resin transformers from China.
The company represents some of Asia's and the world's foremost suppliers with a range of up to 20,000KVA at 35kV.
These low-loss transformers are manufactured using the best-sourced materials. The cast resin system is by CIBA Geigy. The low-loss, low-expansion silicon steel is from nippon steel and windings in Class F insulation are all copper, including LV Strip from KM Germany.
The company has ISO 9001 quality accreditation coupled with short-circuit type tests and thermal shock test certification from Kema High Power Laboratory.
Cable haul hire equipment
EPE stocks a wide range of cable haul hire equipment, including Powerhowse products, which covers all aspects of vertical, horizontal, overhead, in-ground and underground equipment.
Equipment ranges from simple cable rollers to the cable haul winches and service pit bell houses. Other equipment includes cable winch trailers, cable jinkers up to 5t, petrol-driven hydraulic power pack, various electric and hydraulic winches to 16t and two-way radios.
Alstom NZ entrusted EPE with the supply of its cable haul equipment requirements for the 132kV upgrade at Worsley Alumina, ordering a supply that included 700 rollers consisting of standard and dog bone type, securing pins, petrol-driven hydraulic power pack and 12 two-way radios.