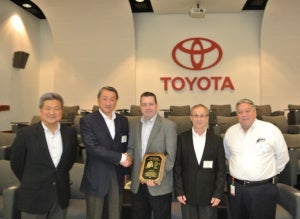 ECCO Group was recently honoured by Toyota Industrial Equipment Mfg. (TIEM) for contributing to their goal of exceeding high standards of excellence in the areas of safety, environment, quality, cost and delivery.
"The ability to provide the highest quality forklifts to our customers while maintaining exceptional service is heavily dependent on the performance of our suppliers," said Tom DePalma, TIEM's vice president of quality, purchasing and IT. ECCO Group has supplied products to Toyota for over 25 years.
ECCO Group also received Caterpillar's supplier quality excellence process certification for the second year in a row. An ECCO back-up alarm is fitted to every machine that Caterpillar produces around the world.
Ray Buttigieg, sales manager of ECCO Group Asia Pacific, said. "ECCO Group has been a valued supplier to Caterpillar for over 30 years. Providing safety products to the world's largest manufacturer of construction machinery is something of which to be very proud."