Allmand Bros, a US company established in 1938, is one of the world's leading manufacturers of portable light towers. Although the company manufactures a diverse line of equipment, Allmand staked its claim in the market as the first to offer portable light towers in 1954, and has remained the innovative leader in work-site lighting ever since.
SHO-HD 1,250W engineered lighting system
All Allmand 60Hz light tower models feature Allmand's exclusive SHO-HD 1,250W engineered metal halide lighting system, creating a brighter, whiter light that evenly illuminates a significantly greater area than competitive light towers (even those with 1,500W lamps) while more closely approximating the colour rendering capabilities of sunlight, enhancing worksite safety and productivity.
Alternatively, 1,000W high-pressure sodium lighting is optionally available where required to help cut through the haze of dusty mine sites.
Innovative vertical-only light towers
Our full line of light towers now includes the new V-Series™ vertical-only tower configuration. With the V-Series the mast always remains vertical and does fold down or extend beyond the rear of the enclosure when stowed. As a result, Allmand V-Series portable light towers feature safer and easier set-up, simplified transport, towing and storage, and reduced potential for damage.
V-Series hydraulically-actuated lift system
The V-Series hydraulically-actuated lift system, which allows the mast to be completely raised or lowered in less than 20 seconds, is available on all Allmand light tower models. The V-Series' innovative design allows for more intuitive light-fixture positioning (angle and direction), as the tower is still vertical when retracted, making accurate fixture adjustment fast and simple. One switch allows the operator to easily raise or lower the tower while standing safely away from the moving tower sections.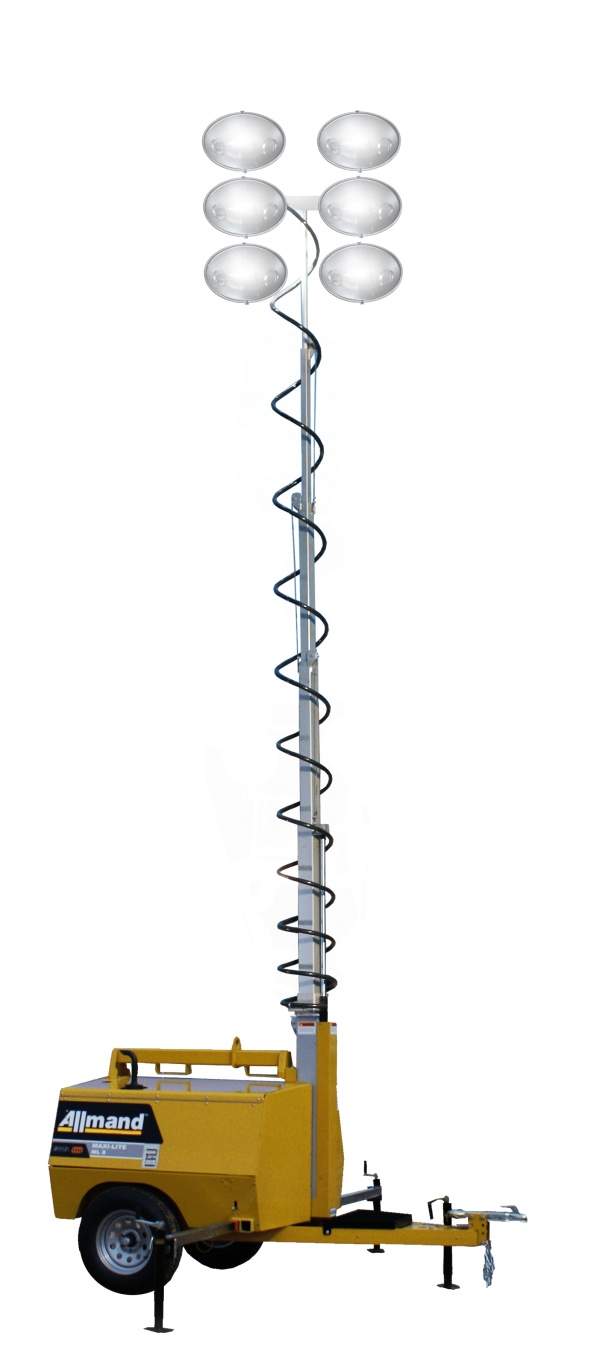 New Allmand Maxi-Lite mine spec light towers are available with six SHO-HD 1,250W lamps and are designed specifically for the rugged demands of the mining industry.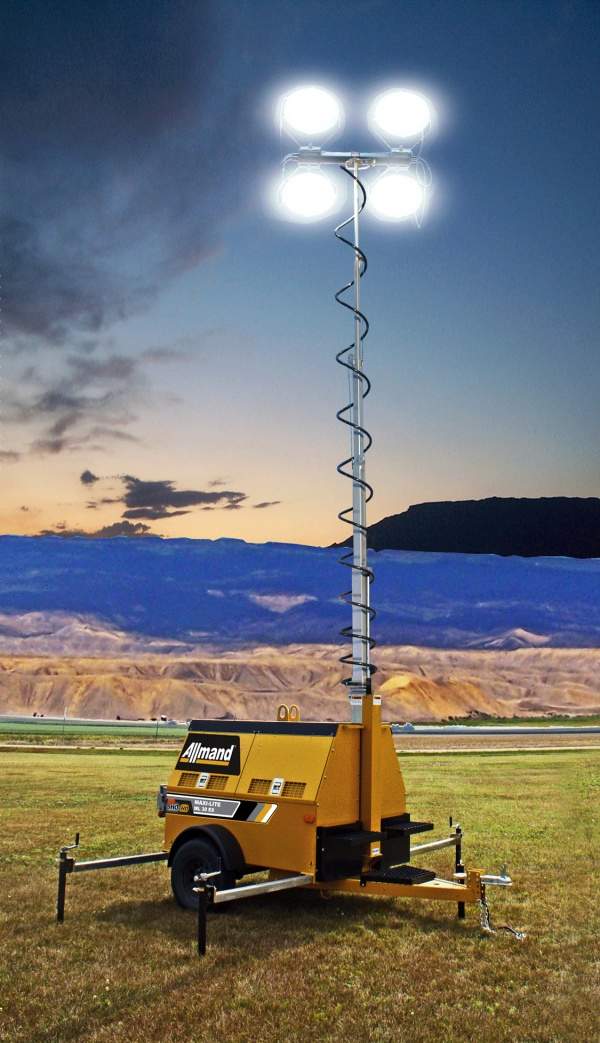 Maxi-Lite EX Power Series light tower, with up to 30kW three-phase power available, is the flagship of the Allmand line.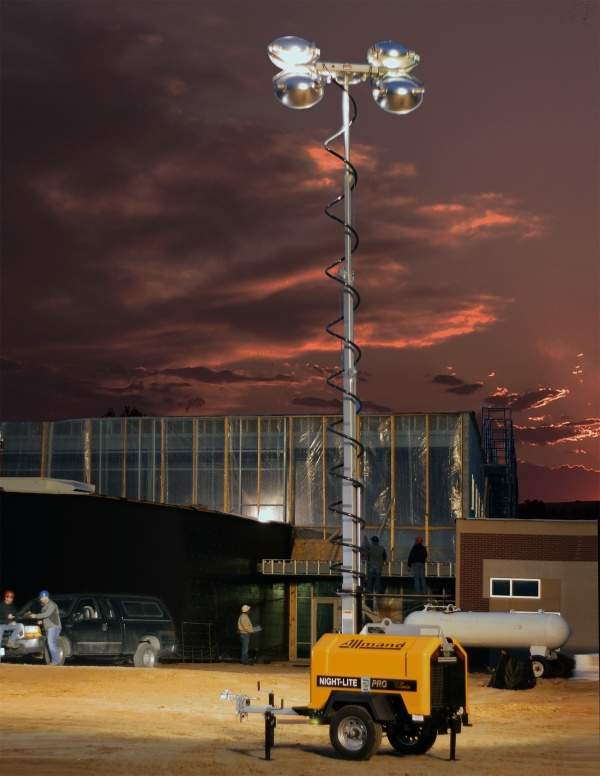 Allmand Night-Lite PRO II with SHO-HD 1250-watt lighting system provides more light to illuminate a greater area than any competitive light tower in its class.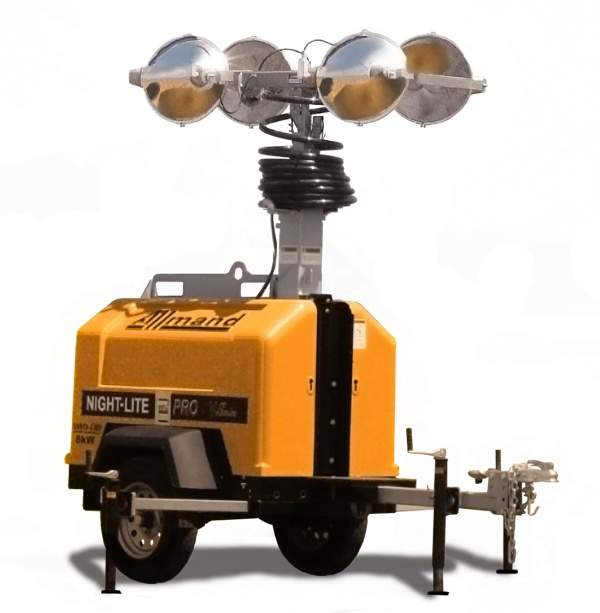 All Allmand V-Series light tower feature a mast that extends from its stowed position to full operating height in only twenty seconds. With no lights overhanging the rear of the trailer enclosure, V-Series towers are easier and safer to tow and store more compactly than any other light tower.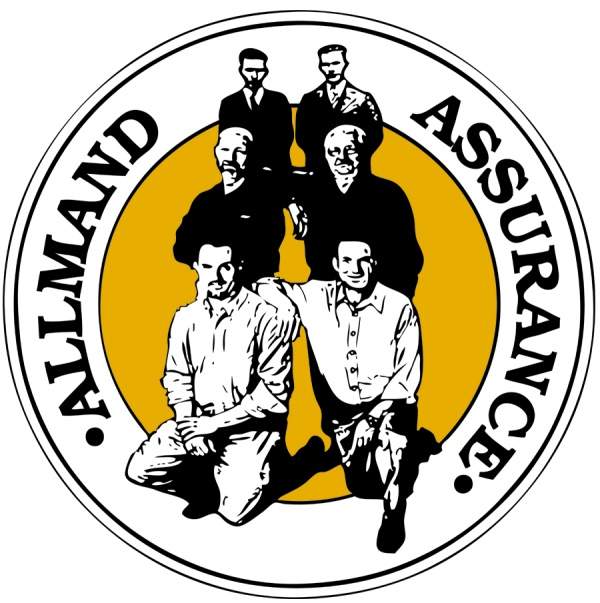 Allmand Assurance is your assurance of quality, integrity and reliability, backed by Allmand family ownership and operation since 1938.
Compact and portable light towers
Night-Lite PRO II™ series mine light towers are compact in size and power. They have a best-in-class light output of up to 600,000 total lumens and power from a diesel generator set that provides up to 8kW. The Night Lite PRO II's compact size makes it safe and easy to tow, ship and store.
Wide-body light towers
The Maxi-Lite® series of portable light towers provides more power and longer runtime, and a specific set of standard features designed for use in rugged applications.
Power is available from diesel generator sets ranging in size from 7.5kW single-phase to 20kW three-phase with a 50 gallon fuel capacity. An optional 70 gallon fuel tank is available for greater continuous runtime between fill-ups. When it is time to move, the Maxi-Lite's wider track provides greater stability when towed on rough (or non-existent) roads.
Powerful, long-runtime light towers
The Maxi-Lite EX Power series of portable light towers provides the greatest power and runtime of any Allmand light tower.
Power comes from diesel generating sets with 20kW or 30kW of three-phase power. The Maxi-Lite EX Power series has a 135 gallon fuel capacity to provide more than five days of continuous runtime, a torsion axle for rough towing conditions and a larger enclosure with room to store light fixtures and accessories.
Custom light towers for mining applications
Although Allmand manufactures a wide range of light towers, one in particular stands out as the model of choice for mining experts: the Allmand Maxi-Lite.
Allmand offers customised Maxi-Lite packages constructed to meet specific jobsite needs while continuing to offer superior light output and durability. The standard ML 7.5 and ML 8 models use 7.5kW and 8kW generators respectively, and each model is also available in customized packages: the Maxi-Lite Mine Spec, Maxi-Lite Arctic Spec, and CSA-approved models.
In addition, Allmand offers customised packages of portable light towers featuring diesel-powered 15kW and 20kW generators available in both single-phase and three-phase configurations. The ML15 and ML20 each come in a standard model, as well as mine spec, arctic spec and CSA-approved packages.
Six-light mine light towers
Allmand Maxi-Lite mine spec light towers are also available in a six-light configuration that produces as much as 900,000 total initial lumens of brighter, whiter light. An optional Saf-T-Visor™ attachment set is available to re-direct otherwise wasted light directly onto the worksite.
About Allmand
Allmand Bros. takes pride in building quality products and providing superior service after the sale. Now approaching 75 years as a family-owned and operated business, the entire Allmand family assures you that its products will make your work site brighter, warmer, safer and more productive. We have committed to stand behind our products through three generations of Allmand leadership. That's what Allmand assurance is all about.