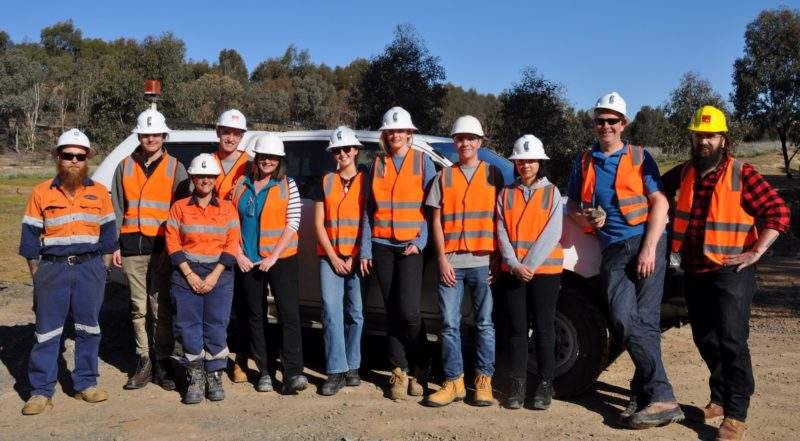 Deepcore Drilling, along with industry-partners Monash University and Kirkland Lake Gold, is proud to launch a new initiative, designed to improve drilling/mine site exposure to first, and third year Bachelor of Science (Earth Science) students.
Following attendance of an ADIA/AIG-sponsored conference held in March this year, entitled "Unlocking the Benefits of Better 'Driller-Geologist' Partnerships", concerns from both parties were raised at the seminar pertaining to an industry-wide shortfall on the lack of exposure to active field operations and down hole drilling issues for Geology students commencing graduate programs.
"Listening to the concerns raised from industry representatives at the seminar prompted us to think outside the box and introduce an initiative to support the industry moving forward," Deepcore Drilling Project Lead, Dona Carter stated.
"After an initial research period, we identified that, by allowing students' the opportunity to visit active mining and drilling operations, conducted through the course of their studies, will strengthen their field/practical knowledge when commencing on site and assist with forming stronger partnerships between our Drillers and future Geologists."
Partnering with Melbourne's Monash University and Kirkland Lake Gold, a new initiative has been developed to allow first year Undergraduate students the opportunity to visit operating mines and drill sites, scheduled to support to the students' curriculum, with the inaugural field trip (with Monash University's School of Earth, Atmosphere & Environment's first year students), held last Wednesday, 26th September, at Kirkland Lake Gold's Fosterville Mine Site in Bendigo.
Kirkland Lake Gold Exploration Superintendent, Nathan Phillips comments, "It's is a great initiative to provide more awareness to emerging scientists what a career in the minerals industry provides. Victoria has a long history of mining and with the discovery of the world class Swan orebody, there are exciting times ahead for the Victorian minerals sector. This new investment in exploration in Victoria will no doubt yield future employment opportunities that needs to be supported by developing the next generation of geoscience graduates."
Students attending the field excursion were granted access to the Fosterville mine surface operations including a guided visit to view the open cut pit and processing facility, core shed and Deepcore Drilling's Robin's Hill exploration site. Representatives from both Kirkland Lake Gold and Deepcore Drilling hosted information sessions, discussing Fosterville's mining history, the Geology, Extraction and Metallurgy process, career opportunities and the drilling process and how it pertains to the overall planning of mining operations.
Visitors were then able to view a bank of core samples taken from a variety of depths and locations within the region. The tour concluded with students visiting one of Deepcore Drilling's operating drill rigs located within one of the recent award nominated sound enclosure sheds used at Fosterville, designed to assist the mine manage an 24-7 drilling program with a range of environmental benefits, including the reduction of noise pollution to support the surrounding community.
Monash University's School of Earth, Atmosphere & Environment Assistant Lecturer, Dr James Driscoll comments: "We are very pleased to partner with Deepcore Drilling and Kirkland Lake Gold to provide industry-focused field trip opportunities to first year undergraduate students to showcase potential career pathways into the mining industry. This level of cooperation between the resources industry and universities is uncommon in undergraduate studies, and we certainly hope that this becomes an annual event so our students gain insight into both the mining and drilling sectors. Feedback from the students (from the recent excursion) has been very positive, and we look forward to supporting the next generation of Geologists graduating from Monash University!"
"Using the feedback provided by the students, will enable us to develop a clear and defined field excursion program, specifically formatted to support Monash University's future curriculum, assisting students with key information relevant to the area of study", Ms Carter remarked.
"Further opportunities have been identified to support future opportunities for first, and third year students for access to underground drilling operations, with the addition of a long-term plan to expand the program interstate, allowing students and our mining clients from QLD and NSW to join this initiative. Our goal is that, by working together to strengthen Geologists' exposure to the industry, we can bridge the gap and strengthen Geologist-Driller relationships. We look forward to continuing a long-term partnership on this project with Monash University and Kirkland Lake Gold."