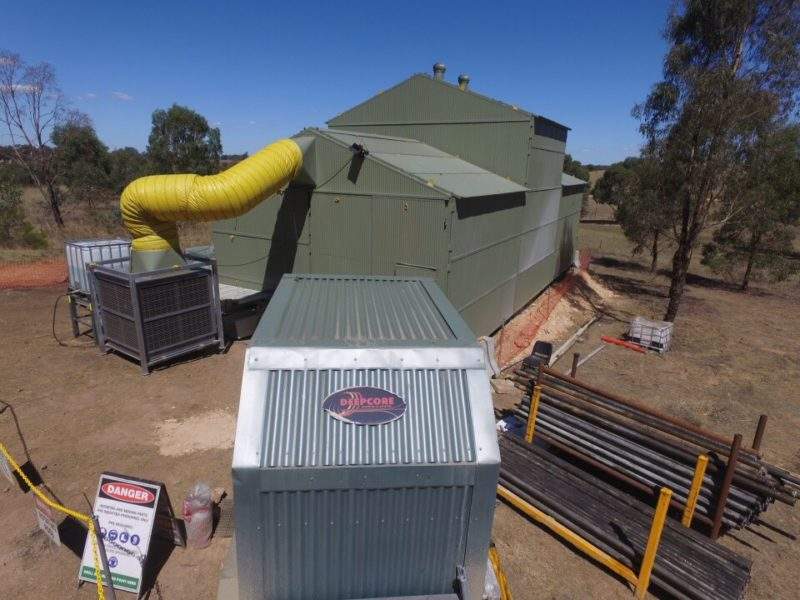 Deepcore Drilling is excited to announce our nomination as a finalist (Innovative Mining Solution category) for this year's Australian Mining Prospect Awards.
As the leading Australian specialists in underground mobile and surface diamond drilling, Deepcore Drilling has, in collaboration with our client, Kirkland Lake Gold, Fosterville, have successfully trialled the Sound Enclosure, to support the mines' environmental and community obligations.
Deepcore Chief Operating Officer Don MacDonald states: "The Sound Enclosure is the solution to the problem that many mining sites face; maximising their productive mining activities while successfully meeting all their stakeholder and community's needs of safety, minimal environmental impact (reduced footprint), low noise and visual amenity."
Designed and manufactured in Australia, the Sound Enclosure is a portable and dynamic engineered enclosure that can be situated on any surface to contain a drill rig. Its green exterior references a traditional barn and does not dominate its surroundings.
"The outstanding feature of this innovative world-first design is the dramatic reduction of the amount of sound that is made by a drilling rig, during a 24-hour-a-day, 7-days-a-week operation. Evidence from independent studies demonstrates that the Sound Enclosure significantly reduces noise emissions by 20%," Mr MacDonald commented.
The Sound Enclosure solution includes:
Industrial fans and newly increased air flow to ventilate the drill rig and control air conditions
Fresh air supply into the structure for the health and safety of the drill rig operators. Hygiene testing confirms that workers are not exposed to any harmful emissions while working in the Sound Enclosure
Engineering upgrades to exhaust fans to further decrease noise pollution
New improvements to shed access, to decrease trip hazards
Custom designed to be flat-packed and easily transported
Installation and demounting require limited manual handing, yet taking minimal time (under one day) to construct or remove
The Sound Enclosure means 24-hour-a-day, 7-days-a-week drilling is possible, maintaining community and stakeholder relationships to a high standard.
"For Kirkland Lake Gold Fosterville, they have achieved an outstanding commercial outcome, doubling their production capacity from 12 hours a day to 24 hours a day."
For more information on the Sound Enclosure or the range of Deepcore Drilling's service capability, visit www.deepcoredrilling.com, follow us on social media, or contact enquiries@deepcoredrilling.com.
The 2018 Australian Mining Prospect Awards will be held on 18 October. Deepcore is proud to be acknowledged for our commitment to innovative mining solutions and wish all nominees the best with these awards.