Oxylance Inc manufactures exothermic cutting systems that are ideal for a variety of applications in the mining industry.
Oxylance's burning bars and sure cut systems can be used for:
Gouging cracked welds
Removing frozen pins
Removing teeth from dozer blades and dragline buckets
Cutting liners from ball mills
Gouging hard surfacing material
Piercing starter holes in thick material for shape-cutting machines
Demolition work and cutting up scrap
Lancing tap holes in furnaces
Custom-made burning bars
Oxylance offers burning bars, which are also known as lance rods, mag rods, mag bars and exothermic cutting rods.
A burning bar is a steel tube filled with an alloyed wire. Burning bars manufactured by Oxylance are available in outside diameters from 0.540in (13mm) to 1.05in (27mm). Their standard length is 10ft6in (3.2m) and special order lengths are 5ft3in (1.6m) and 7ft (2m).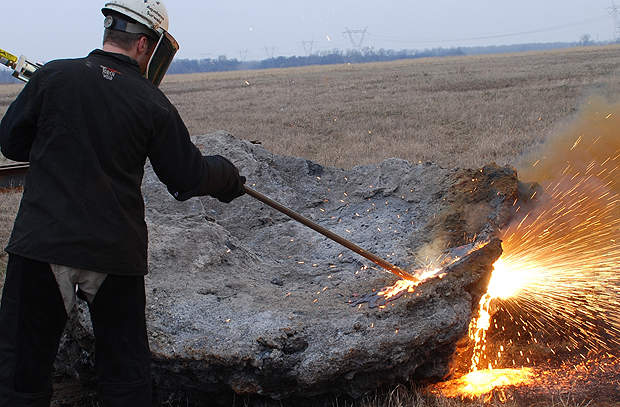 Oxylance burning bars being used to cut up slag in a steel mill.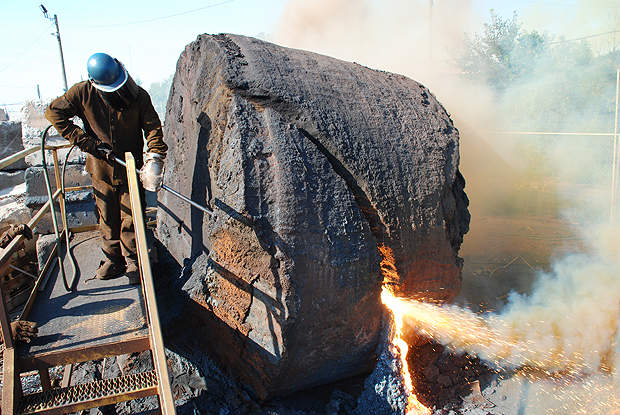 An Oxylance burning bar being used to cut 9ft diameter in stainless steel. This was in a mill where the ladle froze up and the slugs out of the ladle are being processed to go back in the furnace.
The sure cut system is ideal for removing frozen pins from heavy equipment.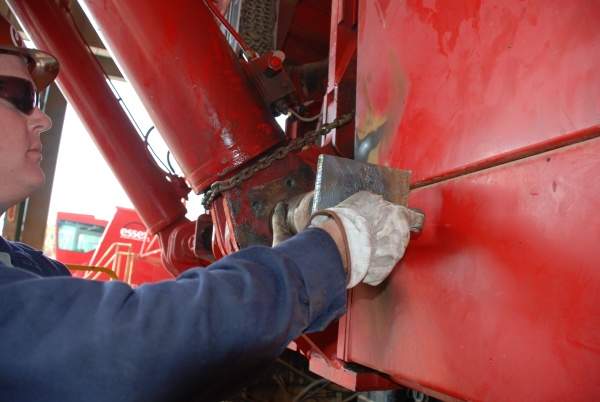 By piercing a hole in the center of the pin you heat the pin up from the inside. When quenched, the hole in the center gives room for the pin to shrink and be easily removed.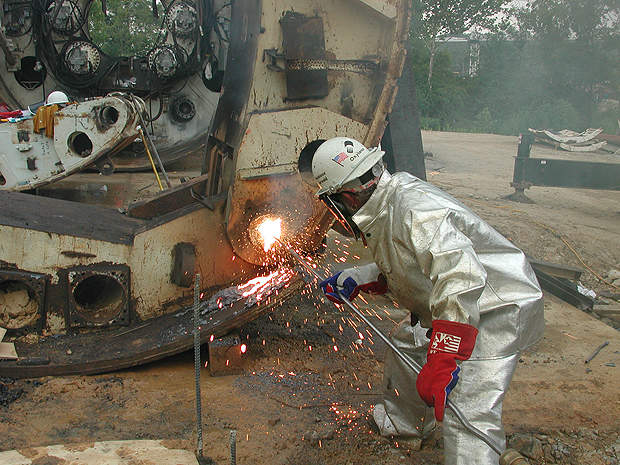 An Oxylance burning bar piercing a hole in a 6in diameter pin in a tunnel boring machine. Pin removal took 2hrs. To see the whole process of removing frozen pins, visit our website.
Sure cut system for gouging applications
The sure cut system by Oxylance is a smaller version of the burning bar.
The sure cut system is ideal for equipment maintenance and gouging applications. The system's rods are available in outside diameters of 0.250in (6.35m) and 0.375in (9.5mm), and in lengths of 2ft (610mm), 3ft (915mm) and 4ft (1.2m).
Oxylance's sure cut system is suitable for quickly gouging welds, removing frozen pins from mining equipment and light demolition cutting applications.
Accessories for oxygen and compressed gas equipment
Oxylance manufactures a complete line of accessories, including lance holders, oxygen hoses, oxygen regulators, hose reels and oxygen-cleaned brass fittings for oxygen systems.
All oxygen hoses, regulators and brass fittings are made in the US to Oxylance's exacting standards and meet or exceed the standards of the Compressed Gas Association.
Safety devices and cooling clothing
All Oxylance holders are supplied with the company's thermal shutoff / anti-slag safety devices. Oxylance stocks a complete line of aluminiumised Kevlar clothing and its own cool shirt personal cooling system.
Oxygen vaporiser systems
For applications where a permanent oxygen supply system is not in place, Oxylance offers a fleet of specialised oxygen vaporiser systems to enable operators to use liquid oxygen for a high volume gaseous oxygen supply.
Oxylance's OXYVAP 2500 will supply 2,500ft³ per hour of oxygen at up to 350psi. The OXYVAP 5000 provides 5,000ft³ per hour at up to 350psi. Vaporisers are available with cryogenic hoses and a manifold regulator with two outlets.
Lance pipe and calorised lance pipe
Oxylance manufactures lance pipe in sizes from 0.250in (6.35mm) to 1.66in (42mm) outside diameter and in lengths from 3ft (915mm) to 21ft (6.4m).
Oxylance lance pipe is available in both tube and pipe sizes. Lance pipe is cleaned for oxygen service and is available in plain end, quick connect, and as threaded and coupled. Oxygen lance pipe is used for cutting up spills, oxygen injecting, tapping furnaces, casters and ladles.
Burning bars and sure cut for exothermic reaction
Exothermic reaction is an oxidation process. It begins when the fuel (alloyed steel wires or tubes) in the burning bar are heated to their kindling temperature and pure oxygen is injected into the steel tube.
Where oxy / fuel torches produce a temperature of 4,500˚F (2,450˚C) to 5,000˚F (2,760˚C), burning bars produce heat in the range of 7,000˚F (3,870˚C) to 7,500˚F (4,150˚C).
Burning bar noise level standards
Oxylance burning bars and the sure cut system have been tested by an independent agency for compliance with OSHA CFR 29-1910.95(a) Occupational Noise Exposure limits standards. Detailed test results are available on the company website.
Oxylance cutting systems are in the 90db to 91.9db range and carbon arc gouging can exceed 125db. The complete OSHA CFR29-1910.95(a) guidelines can be found on the OSHA website.
Oxygen safety training for mining operations
The technical department at Oxylance provides complete oxygen safety information and can perform on-site oxygen safety and burning bar safety training.