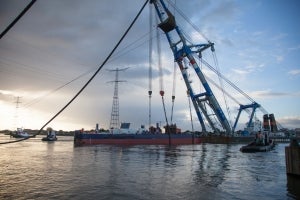 IHC Merwede has successfully launched the largest backhoe dredger in the world on 31 August 2012. The name of the vessel will be revealed at the end of the year during a special ceremony. The launch took place at the shipyard of its cooperation partner, NMC, in Nieuw-Lekkerland, The Netherlands. IHC Merwede is building the vessel for Autoridad del Canal de Panama (ACP).
The contract for the design, construction and delivery of the backhoe dredger was signed between ACP and IHC Global Production on 9 April 2011. The keel was laid on 13 December 2011 and the vessel will be transported to Panama in the fourth quarter of 2012.
The vessel has been designed and built using the latest technological developments. The width of the pontoon is greatly enlarged in connection with the stability of the dredger. The backhoe dredger will be equipped with a diesel-hydraulic modified Komatsu PC5500 excavator. Due to this the dredger has a maximum dredging depth of 19.5m with a 13.5m3 bucket. The vessel has been designed to be equipped with an even larger excavator in the future: the modified Komatsu PC8000.
The backhoe dredger will initially be used for the expansion of the Panama Canal and subsequently for its maintenance. It's not the first vessel that IHC Merwede has built for ACP. With the successful delivery of the cutter suction dredger QUIBIAN 1, IHC Merwede has already proved itself to be a professional and reliable partner.
Main Features
Type: Backhoe dredger
Customer: Autoridad del Canal de Panama (ACP)
Builder: IHC Global Production BV
Length: 60.2m
Breadth: 23m
Depth: 5.1m
Maximum dredging depth: 19.5m
Total installed power: 3,000kW
Daytime accommodation: 10 people