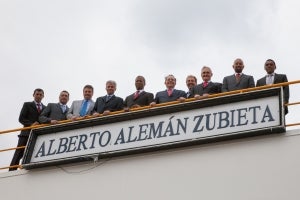 A new backhoe dredger manufactured by IHC Merwede was named ALBERTO ALEMÁN ZUBIETA during a special ceremony at the shipyard of its cooperation partner, NMC, in Nieuw-Lekkerland, The Netherlands, on 28 September.
IHC Merwede has built the vessel for Autoridad del Canal de Panama (ACP). The ceremony was performed by Mrs Ana Matilde Alemán, who is the wife of ACP's former CEO, Mr Alberto Alemán Zubieta. A large delegation from ACP attended the event, including the current administrator Mr Jorge Quijano, his deputy administrator Mr Benitez, the head of the dredging division Mr Gordon, the project manager, engineers and the future captain of the backhoe dredger.
The contract for the design, construction and delivery of the backhoe dredger was signed between ACP and IHC Global Production on 9 April 2011. The keel was laid on 13 December 2011 and the vessel will be transported to Panama in the fourth quarter of 2012.
The vessel has been designed and built using the latest technological developments. The backhoe dredger will initially be used for the expansion of the Panama Canal and subsequently for its maintenance. It's not the first vessel that IHC Merwede has built for ACP, however. With the successful delivery of the cutter suction dredger QUIBIAN 1, IHC Merwede has already proved itself to be a professional and reliable partner.
Main features
Type: Backhoe dredgerCustomer: Autoridad del Canal de Panama (ACP)Built: IHC Global Production BVLength: 60.2mBreadth: 23mDepth: 5.1mMaximum dredging depth: 19.5mTotal installed power: 3,000kWDaytime accommodation: 10 people
With vast experience accumulated over decades, IHC Merwede is the market leader for the design and manufacture of efficient and integrated dredging vessels and equipment....