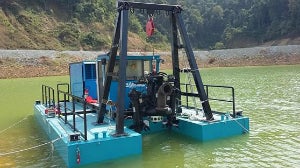 Dragflow supplied a Cable Dredge (DRH) to a large surface mine operation, primarily producing copper and small amounts of gold and silver. The mine is located in the southwest region of the island of Sumbawa, in the district of Sekongkang, West Nusa Tenggara Province, Indonesia.
The customer was looking for a complete dredging equipment, diesel driven, capable of creating and handling a high concentration of slurry, to be place in the open pit mine. The project purpose is to pump the settled material from the bottom of the tailing pond to a higher part of the mine in order to maintain the required water capacity.
The Dragflow solution was a DRH Dredge equipped with pump HY85/160HC plus cutters EXHY20 and supplied with an acid resistant package. The dredging unit is able to pump up to 800m³/h of mixture with high solid concentration and up to a distance of more than 500m.
The low PH package consists of:
A Hull with anti-corrosion protection by using epoxy-tar-polyamide paint and cathode protection made of zinced-coated sacrificial anodes welded on the structure
Dredging unit exterior painted with epoxy-tar-polyamide based product and with bolts and nuts in stainless steel
METALINE coating inside volute and discharge adaptor
Fresh water pump provided to flush seals pack (inclusive of 4,000l tank integrated in the hull)
Our solution worked perfectly, with customer's satisfaction.