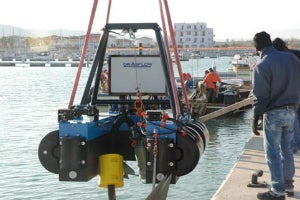 Dragflow recently supplied a remote controlled dredge for a harbor dredging project in Marina Sveva (Italy).
Due to the sea currents caused by a dam, too much sand sedimentation occurred along the inside harbor. So the sea bed was frequently raised, causing the boats a difficult access to the harbor.
Dragflow supplied a remote controlled dredge (DRP18), equipped with a dredging pump (EL 12.5S), with an output of about 70m3/h of mixture.
The beauty of Dragflow Remote controlled dredgers is that once the area is identified, the operator can safely move the dredge from the quay, by using a remote radio control, controlling either the dredge movement and the pump, also in its vertical movement.
The project target is to keep the sea bed controlled, by transferring the exceeded sand material to a distant of approximately 150m.
The system worked perfectly, with client's satisfaction, in fact the client decided to acquire a Dragflow complete dredging system, in order to be able to dredge the sea bed by himself, without expensive and recurrent external intervention.