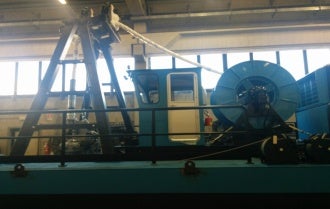 Dragflow has supplied a new (DRH85/160E22DFHD) dredge to a client in Central Africa for mineral extraction from a river.
After extraction, the materials (mainly silt and sand) are sent to a washing plant to separate mineral matter from other inerts.
Since dredging depth is about 50m, the dredge is provided with a hydraulic spooler with an umbilical for recovering the set of oil hoses feeding pump plus cutters.
The beauty of this dredge, designed by Dragflow engineers, is that the hose reel is not in the front, as is common, but instead between the power pack and the operator cabin, so the operator can have a better view of the work is doing.
This guarantees a better balance, an optimal management of dredging pipes and an easier access for pump maintenance operations.
This is an innovative dredging solution that guarantees better results.
Full equipment includes the Dragflow hydraulic pump (HY85/160B) and two excavators (EXHY20) with pressure compensators. This is necessary when you work in high depth, to equalise internal and external pressure and to avoid air penetration that can damage the system.
---
Image: The Dragflow dredge for mineral extraction. Photo: courtesy of Dragflow.