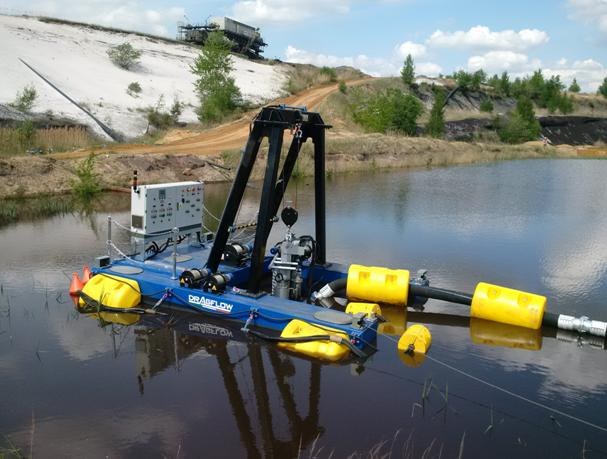 DRAGFLOW supplied a remote-controlled dredge to a company in Germany, for tailing ponds cleaning.
The request from the coal open mine (RWE) was to have a machine capable of dredging sediments from three ponds, where all the storm water of the mine was collected, as well as the water coming from the mining machines.
The drainage pumps currently used are not able to remove the solid material from the bottom of the ponds, affecting the capacity of the ponds, which was continuously decreasing. The dredging system had to be remote-controlled and capable of removing the settled fine sediment from the bottom.
So they chose to use a DRAGFLOW Remote Controlled Dredge.
Our solution
DRAGFLOW supplied remote-controlled dredge equipped with a high head pump EL1204HH. Two electric cutters EXEL20 have been used in order to have an effective dredging of sediments, together with a jet-ring that is capable of mixing the fine material through pressurized water jets.
The dredging system has an output of 150 cubic meters per hour at a distance of 200m, overtaking a 60m hill. The discharge is located on a conveying belt that takes the material to a specific area inside the mine.
To move the dredge around the mine the maximum width possible was 4m.
This takes to a system which is much smaller and lighter compared to the installed power and the pump performance. The three modular floaters can be easily transported on containers thanks to small dimensions.
The system can be continuously operated by a single operator.