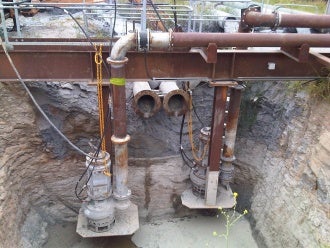 Dragflow and its partner Tsurumi Pumps South Africa are proud to say that they supplied six Dragflow electric pumps high head (EL1204HHB) units to their appointed distributor for the Local Power Generation Group – Eskom, by the name of Biz-AFrika 925, near Johannesburg, South Africa.
Dragflow and Tsurumi Pumps were up against other slurry pumps suppliers on this project.
The client chose this team based on the following aspects: good pricing, time of delivery, the fact that the pumps could also handle the abrasiveness and SG up to 1.5.
They can handle lower pH conditions without being constructed out of stainless steel.
The client has ordered another two units to keep in the store as back-up and assistance to the six units in operation.
---
Image: Dragflow supplied six electric pump EL1204HHB units. Photo: courtesy of Dragflow.