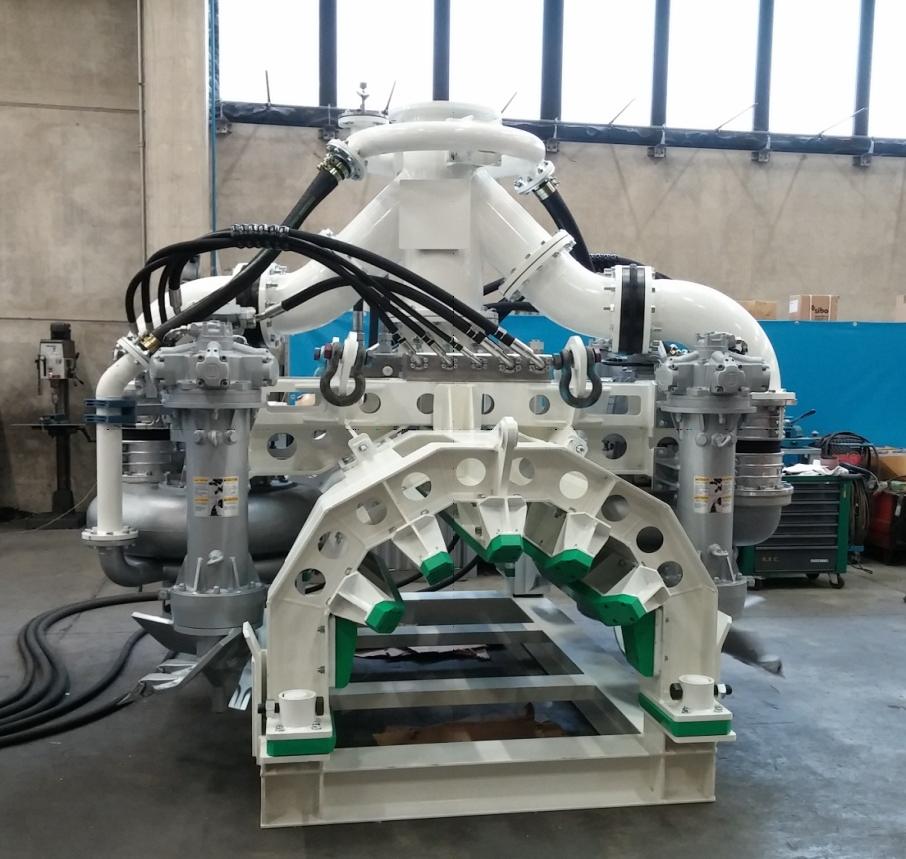 Dragflow has delivered a specifically designed machine to one of the largest contractors in the oil and gas industry in order to remove sand from sea bed and allow the oil pipes' maintenance.
The client's problem was to remove the sand completely, have the work done and then put the sand back in place.
Dragflow is a specialist in customising equipment according to clients' needs and its engineers study the perfect solution to satisfy special requests.
For the project, Dragflow attached two HY85 hydraulic pumps to a shell using a steel structure, that the company designed and created, to cover the pipe (diameter is approximately 1m). The symmetrical and reversible pumps are a special version of Dragflow's classic HY85 that the company specifically modified, for increasing the performance, as per the client's request.
The solution is a unique system that can be used in different ways, according to each specific situation.
Every pump is assembled with two hydraulic excavators, EXHY20.
This hydraulic system has been delivered for use in the Caspian sea, Kazakhstan. The whole project involved paying great attention to the severe climatic conditions, static and dynamic strains and to the restricted space for operations.
The system will be put on the pipes, on the seabed for sand extraction. It can be easily moved, along all of the pipe's length, as the client chooses. Once maintenance work is over, the system will put the sand back, to recover the pipes.
By carefully working with the client, Dragflow has designed equipment that can be used as an optimal method for this challenge.
Full equipment used in the project:
Two HY85/180HC
Four hydraulic excavators
Structure designed by Dragflow
---
Image: Dragflow's system removes sand from the seabed for oil pipe maintenance. Photo: courtesy of Dragflow.