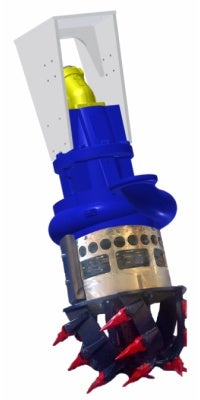 Dragflow will be presenting at Big 5 Exhibition, the International Building and Constructor Show is to be held on 17 – 20 November at Dubai World Trade Center, where Dragflow will reveal for the first time its new Cutterhead.
The Dragflow Dredge Cutterhead is a custom-engineered system.
The company's dredging specialists carefully analyse customer requirements and operating conditions to arrive at the design criteria; cutter profile, size, beta, arm quantity and shape, tooth size, tooth orientation. What's more, the combination of the Cutterhead with the agitator avoids any clogging problem at the pump suction.
The new Dragflow Cutterhead can be used with every Dragflow hydraulic pump to increase efficiency, particularly in presence of hard and compact material.
Cutterhead completes Dragflow's excavating tools series.
---
Image: Dragflow to release new Dreadge Cutterhead at the International Building and Constructor Show in Dubai. Photo: courtesy of Dragflow.