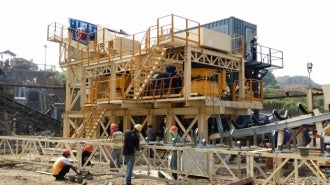 In late December 2013, Trimax Machinery was invited by Indonesian company, PT. Indocement Tunggal Prakasah (part of HeidelbergCement Group, Germany), to submit a tender to upgrade its existing quarry plant in Rumpin, West Java, Indonesia (approximately two hours drive from Jakarta).
The tender called for secondary and tertiary cone crushers capable of 300t an hour of combined 0mm to 28mm products, a grizzly feeder, vibrating screens, as well as skid-mounted structures inclusive of conveyor belt structures.
Stringent requirements and specifications were placed on fabricated structures, including allowing only pre-approved internationally recognised brands to be used on all peripheral equipment such as conveyor rollers, conveyor belts, plumber blocks, bearings and gear boxes, etc.
On 22nd January, Trimax Machinery was successfully awarded the tender. An integral part of this tender was two deadlines. All crushers, equipment, fabricated skid-mounted and conveyor structures were given the deadline to reach Jakarta port, Indonesia within four months. Thereafter, Trimax Machinery would have a brief respite whereby the customer, PT. Indocement Tunggal Prakasah, would be responsible for the import customs clearance and delivery to the quarry site.
However, once all goods had arrived at the quarry site, the second deadline would commence. Trimax Machinery was further tasked to supervise and to ensure that all crushers, structures, and equipment were to be fully operational within six weeks.
For the first deadline, Trimax Machinery met the required date almost exactly to the letter. We are now into day 14 of the six-week deadline for plant installation. From the onset, with regards to the skid-mounted structures and conveyor structures, Trimax Machinery aimed for the maximum amount of modular fabrication and construction to be done at the factory. Emphasis was place at
constructing standard sized structures to allow easy and swift assembly at the quarry site.
Due to adequate pre-planning and consideration for on-site assembly, all crushers, vibrating screens and most of the conveyor structures have been put up. Trimax is on schedule to meet the six-week plant installation deadline. At any point, up to ten Trimax machinery engineers and staff are onsite to provide supervisory assistance as well as to be directly involved in various aspects and areas of the plant installation.
Staff from both PT. Indocement Tunggal Prakarsa Tbk in Jakarta as well as HeidelbergCement Group's Regional Office in Singapore have expressed their satisfaction at the swift progress made thus far as well as the high-quality of equipment and fabricated structures supplied.
---
Image: PT. Indocement Tunggal Prakarsa Tbk; the Tarabatuh project. Photo: courtesy of Trimax Machinery.