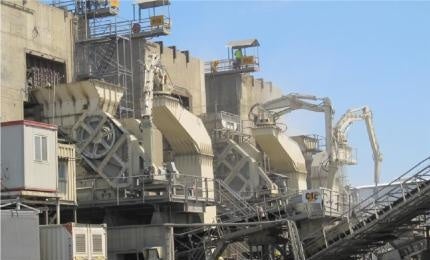 Tecman is the world's largest manufacturer of custom rock breaker pedestal boom systems for mine and quarry applications. Tecman specialises in rock breaker booms for jaw, impact (HSI), gyratory and mobile crushers, also grizzly bars and smelter applications. To work alongside rock breaker boom systems, Tecman also has a large hydraulic hammer, rock grapple and demolition grapple range, which is also used extensively in aggregates, quarry, mining and demolition applications.
Rock breaker booms for jaw crusher applications
Tecman is the world leader in rock breaker solutions for jaw crusher applications. The Tecman rock breaker range can be adapted to fit all jaw crushers. Integrated column technology allows for the rock breaker boom to be easily aligned to the jaw. Together, the integrated column and custom designed rock breaker is a simple, cost-effective solution to fitting a rock breaker boom to new or existing jaw crusher plants.
Rock breaker booms for impact (HSI) crusher applications
Tecman has developed the world's leading rock breaker boom design technology for impact (HSI) crusher applications. With the utilisation of the articulating dipper arm and offset integrated column systems, Tecman can offer the perfect rock breaker boom geometry to remove bridging material within 200mm of the rotor, without the need to stop the and open the HSI crusher. This system can installed to new and existing plants anywhere globally.
Rock breaker booms for gyratory crusher applications
Tecman UA rock breaker booms are large heavy-duty systems designed for high production gyratory crusher installations with a hydraulic hammer carrying capacity of up to 6,900kg (16,000ft.lb). All Tecman UA rock breaker boom systems can be fully customised to suit individual requirements and come with a full set of greasing, climate, altitude, mounting and control options. Fabrications are also constructed of steel capable of resisting extreme cold of -62°C.
Rock breaker booms for grizzly bar and underground applications
Heavy-duty, compact and fully customisable, Tecman has a rock breaker boom and hydraulic hammer configuration to suit any grizzly bar size, low roof configuration, compact mounting position, material hardness or high production requirement, whether it below or above ground.
Mobile crusher rock breaker booms
Tecman mobile crusher rock breaker boom systems are compact, tough and fitted with high-powered mine and quarry duty hydraulic hammers to give maximum performance. Tecman mobile rock breaker boom systems are also custom designed to fit each individual crusher giving the correct working geometry and transport storage position. Tecman mobile rock breaker boom systems can be fitted to mobile crushers with hydraulic or electric drive systems.
Mine duty hydraulic hammer range
Tecman hydraulic hammers are primarily designed for heavy-duty mine applications. With low input power requirements and high output power the Tecman hydraulic hammer is designed to give high efficiency and high performance. Whether you need a hammer for an excavator, tractor back hoe or rock breaker boom, with a range from 100kg (350ft.lb) to 6,900kg (16,000ft.lb) Tecman has the high performance hydraulic hammer to suit your rock breaking application.
Rock grapples with bite
From 500kg (1,100lb) to 8,000kg (17,600lb) lifting capacity the Tecman rock grapple range is designed to work on rock breaker booms, tractor back hoes or excavators. Designed with a heavy duty 360˚ slew arrangement and speed valve the Tecman rock grapple range can support all mine and quarry requirements.
The rock breaker boom master class
For more than 20 years Tecman has led the way in innovative rock breaker boom and hydraulic hammer design for the mine and quarry industry. So if you are looking for solutions to your rock breaking requirements then we invite to contact us on the form below and we will show you the difference a Tecman rock breaker boom can make to your crusher installation.
TECMAN
Rue Paul-Emile Victor
Z.A. Bois de la Chocque
02100
France