DCD Heavy Engineering (or HE) is a leading mechanical manufacturing business in Africa with expertise in the production of engineered, heavy mechanical equipment for the mining, steel and allied industries.
A division of DCD, HE was first established in 1946, initially to support the ISCOR (now ArcelorMittal) steelworks. It has leveraged over six decades of experience, skills, technology and machinery to establish itself as a respected global industry leader at the forefront of technology.
With facilities in Vereeniging and Vanderbijlpark 65km south of Johannesburg HEV today boasts over 75,000m2 of unique, world-class facilities that manufacture to the highest international standards and accreditations.
Manufacturer of mills, scrubbers, winders, coolers, crushers and kilns
HE has a well-deserved reputation for precision and exceptional quality. Its high-level machine-muscle and a dedicated and skilled workforce have resulted in a production line that boasts an array of outstanding products, including many world firsts.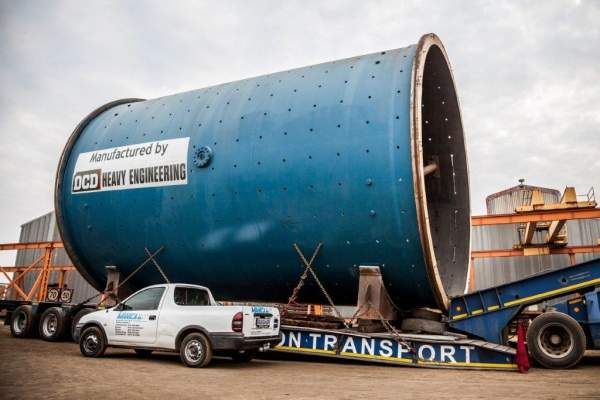 Heavy Engineering Vereeniging (HEV) is an expert in the production of engineered, heavy mechanical equipment products for the mining industry.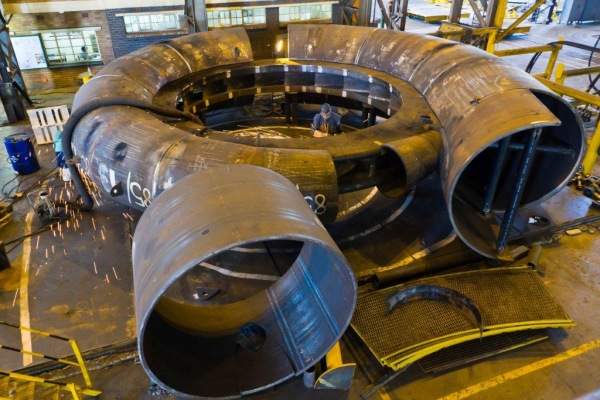 A division of the DCD Heavy Engineering group, HEV was established in 1946 under the name Dorbyl Heavy Engineering (DHE) and is the longest serving of the DCD Heavy Engineering business units.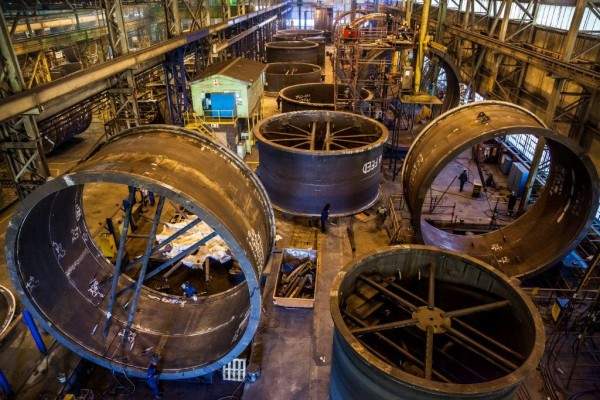 Originally a large organisation with over 2,500 staff, DCD Heavy Engineering has gradually become a more specialised unit.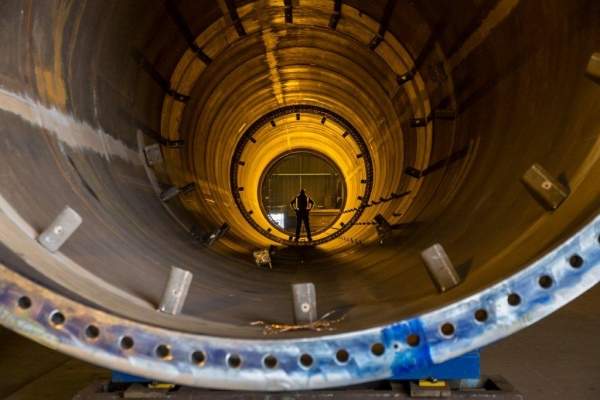 HEV manufactures a range of products suitable for application in the mining industry, including mills, scrubbers, winders, coolers, crushers and kilns.
The company's services range from engineering jobbing and refurbishing of capital equipment to multi-million Rand projects, with up to 90% of components made for export. Some product highlights include the manufacture of the largest shell supported sag mill in the world for German company Polysius, international mill manufacture, dragline manufacture, valve blocks, storage vessels and a core unloading device for the pebble bed modular reactor for IST Nuclear (now known as Westinghouse Nuclear ).
Material handling, metallurgical and petrochemical products
HE's world-best-practices policy with regard to manufacturing, project management and performance levels has entrenched it as a leader in the heavy engineering industry and a partner of choice. The company operates across a broad span of industries, but in particular in the mining and energy industries, where precision and detail go hand-in-hand with heavy engineering.
HE also produces highly-engineered products for specific applications in the materials handling, metallurgical and petrochemical industries.
Winder drums, sag and ball mills, gyratory crusher components and drum reclaimers
HE has positioned itself as a global industry leader and has established worldwide alliances with OEM companies. The company manufactures a range of winder drums, sag and ball mills, gyratory crusher components, drum reclaimers and kilns and is the preferred supplier of grinding mills to many global clients.
HE's mining product portfolio includes the production of quality crushers, with full assembly and cold commissioning; converters, scrubbers, winders, coolers, materials handling and dragline components. It also manufactures cement kilns and associated equipment such as mill bearings, fabricated gears, mill heads and trunnions and shovel components.
In addition to new product manufacturing HE also offers a refurbishment and reconditioning service.
Horizontal and vertical machining and rolling, shot blasting and painting services
With facilities totalling 48.7 hectares of land, Heavy Engineering Vereeniging splits its manufacturing between the cities of Vanderbijlpark and Vereeniging, situated some 65km south of Johannesburg.
Its South works fabrication site boasts 20,750m² of covered space and a crane capacity ranging from 20t to 70t. Heavy Engineering Vereeniging's North works fabrication site adds a further 4,630m², with a crane capacity ranging from 20t to 60t. Its North works machining site of 11,856m² and crane capacity range of 7t to 40t, and the Vanderbijlpark machining station with 10,500m² of covered space and crane capacity of 20t to 100t, completes the set up.
Production facilities
HEs manufacturing capabilities, combined with the convenient location of its facilities and a good road and harbour infrastructure, allows the company to manufacture large components in excess of 100t.
The HE network of facilities spans over 75 000m2 and offers an impressive array of heavy engineering services including:
200t fabrications (via tandem lift)
Vertical and horizontal rolling to a maximum of 260mm thick x 3.5m wide
Turning to a maximum size of 8.3m diameter x 23m in length
Vertical machining up to 16m diameter x 6.3m height, with a table capacity of 180t
A self-leveling machine with a capacity to machine to 44 feet in diameter with unrestricted mass and height
Horizontal machining with a bed capacity of 15m long and a vertical reach of 5.5m high
Heat treatment furnaces with a capacity of up to 8.3m width x 6.3m height x 12m length
Shot blasting and painting
Project management
Individual projects are managed from order receipt through to final delivery by a team of highly-experienced and dedicated project engineers. Management systems are in place to afford cost, regular progress reporting, scheduling and quality assurance requirements.
Accreditations
The HE name is synonymous with quality, delivery and accountability. Their Quality Management Systems are ISO 9001-2008 TUV Rheinland accredited with ISO 3834-2 welding certification by the International Institute of Welding. In keeping with the highest environmental, health and safety standards the facilities are OSHAS 18001 accredited while an extensive focus on health and safety is fostered throughout operations.
HE's project management systems ensure a seamless production process and the company believes in building and maintaining long-term relationships with its customers. These include a number of high profile brands such as FLSmidth, Outotec, Polysius, Krupp Materials Handling, Metso Minerals and Caterpillar (Bucyrus).