FKK is a rubber, plastic, Vulkollan and polyurethane spare parts manufacturer for local and international projects in the mining, petrol, automotive and marine industries. Founded in 1957, FKK's products are manufactured and delivered according to international standards ISO 9001:2008, TS EN ISO/IEC17025, ISO/TS16949:2002 and ISO 14001:2004.
Rubber linings and lifter bars for grinding mills
FKK was one of the first local companies in Turkey to produce rubber linings and lifter bars for grinding mills. Since 1989, FKK rubber mill liners have provided optimal grinding solutions in major mineral processing plants in Turkey and abroad.
We have considerable experience designing and producing linings for different types of grinding mills. This includes: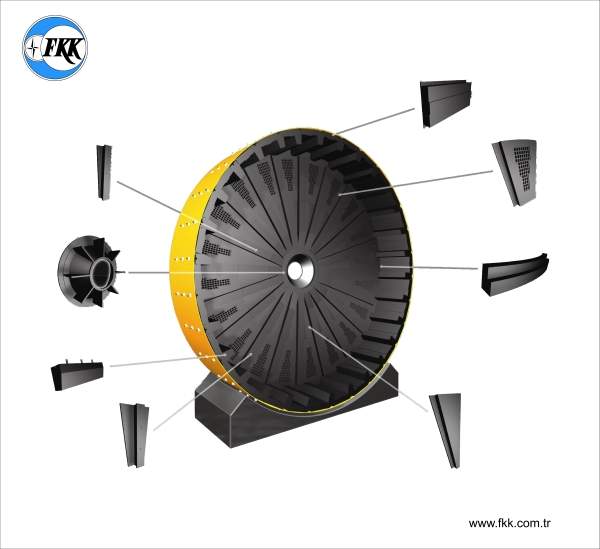 FKK is one of the leading rubber lining manufacturers in Turkey.
FKK rubber linings are designed to attain the best wear lifespan possible.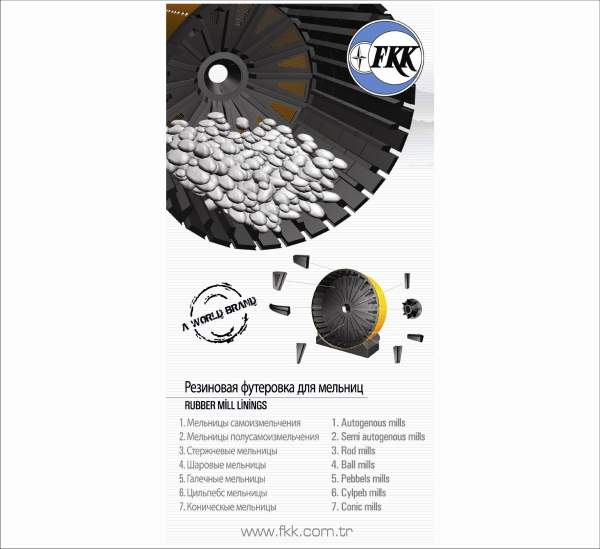 The company has years of experience in producing rubber linings for AG, SAG, ball, batch and other grinding mills.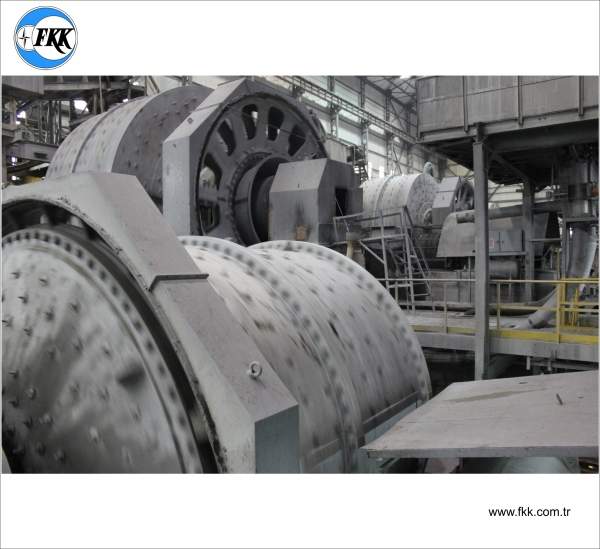 Rubber linings can adapt to different grinding conditions, and are safe to operate.
Ball mill project design for our customer.
Autogenous (AG) mills
Semi-autogenous (SAG) mills
Rod mills
Ball mills
Pebbels mills
Cylpeb mills
Conic mills
Batch grinding mills
Our rubber linings are used in copper, silver, iron, gold, diamond, chrome, zinc and other ore enrichment plants, as well as in the ceramics industry.
Complete rubber mill lining service
The main benefits of using FKK for your rubber mill linings are:
More than 20 years of experience in developing, improving and producing rubber mill linings
Design of rubber lining components
Rubber compound development in-house
Design and production of own moulds
Product quality control and testing in own laboratory
Support and supervision of rubber lining installation
Advantages of rubber linings
The advantages of rubber linings are as follows:
Adaption to different grinding conditions
Resistant to wear and hardening
Long lifespan
Low operation noise
Safe operation
Resistance to corrosion
Resistance to up to 80°C
Lightweight compared to metal liners: weight reduction of up to 80%
Easy, fast and safe installation; fewer maintenance interruptions
Reduction of liner costs per tonne of material processed
FKK's quality control and testing procedures, as well as its close cooperation with mineral processing industries and experienced engineers, ensure that FKK rubber linings attain the best wear lifespans and grinding performances possible.
PU screens, scrapers and conveyor band rollers
The product range for the mining industry also includes other products such as PU screens, scrapers and conveyer band rollers. In addition, FKK also manufactures products made of rubber (SMR, NBR), polyurethane, polyamide and other elastomers according to customer requirements. Possible production processes are injection moulding, extrusion moulding, casting moulding and compression moulding.
To find out more about FKK's products and services, please contact us using the details or form below.