Megadoor is a world-leading ASSA ABLOY brand focusing on solutions for exceptional access needs within specific industry segments such as aviation, shipyard, mining and waste and recycling. As a leading manufacturer of doors for oversized, unusual and difficult applications since 1971, Megadoor manufactures vertical lifting fabric doors for use in a range of mining applications, including doors for truck, weld, tyre and pit shops.
Doors for mining wash bays, maintenance and shop facilities
The challenge in the mining industry is to provide doors that will withstand harsh, dirty environments. Additionally, many mining operations have added new, larger trucks to their mining truck fleet, which require larger door openings for access to wash bay and maintenance facilities. Traditional larger doors have been rendered inoperable under high-wind conditions and require considerable maintenance due to the corrosive environment.
Corrosive-resistant mine doors
Available in almost any size, our highly durable and reliable Megadoor mine doors can withstand harsh, dirty environments and are operable in high-wind conditions. All mining doors are constructed with corrosive-resistant components with few moving parts and come with the Megadoor lifetime-guarantee lifting belt system, which requires no lubrication and ensures virtually zero maintenance for the doors.
The structural design of the Megadoor ensures smooth operation even under high-wind conditions and gives an excellent seal, virtually eliminating air and dust infiltration.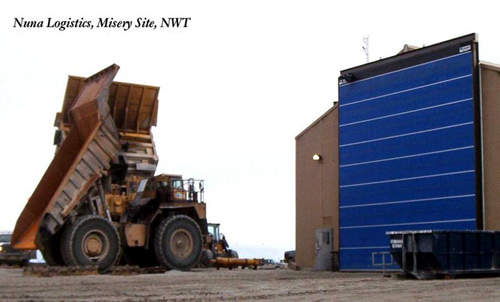 The large vertical-lifting fabric Megadoor can withstand harsh, dusty environments and is operable in high wind conditions with virtually zero maintenance.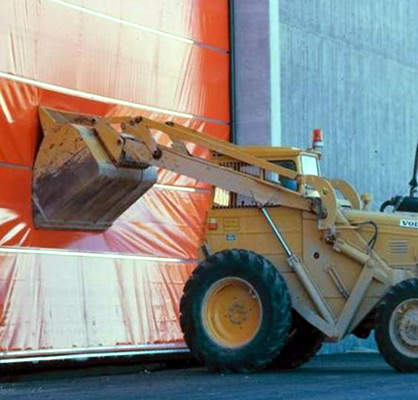 The extremely robust Megadoor vertical-lifting mine door is capable of operating if accidentally damaged, which prevents downtime, and is routinely serviced by local firms who specialise in working in the mining industry.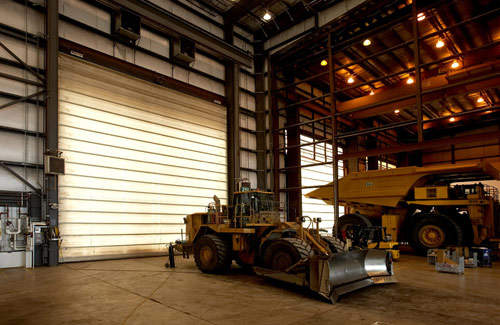 The Megadoor with translucent fabric for truck workshops gives maximum natural light to the interior, providing a dust-free and optimum working environment.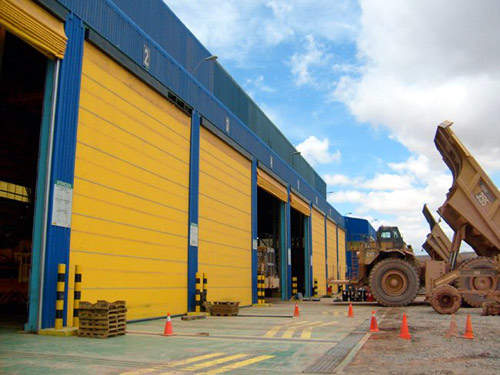 Multiple Megadoors for truck maintenance shops, incorporating wash, lube and tyre bays, are engineered for extremes with reliable and robust operation to any size; even for the largest haul trucks and dumpers in operation.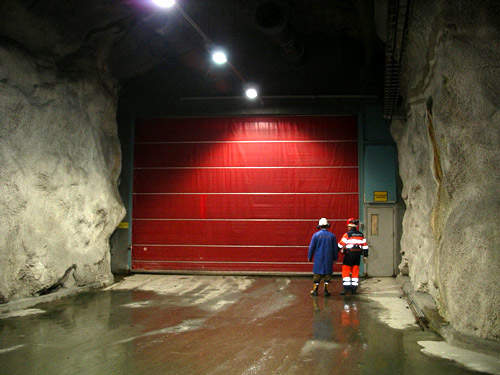 The versatile vertical-lifting fabric Megadoor can also be used for underground vent and access doors in mines.
Vertical-lifting fabric doors
The vertical lifting fabric doors are specifically engineered for the particular application being installed and maintained by local firms who specialise in servicing the mining industry.
Mine doors for harsh environments
Megadoor provides a solution for mining engineers, architects and the truck maintenance team through an overhead door that requires no ground tracks and is suited to extreme conditions, providing a reliable performance and reducing construction and operating costs.
The optional translucent fabric door material also allows a high degree of natural light into the maintenance facility and greatly improves the working environment. Designed to provide in excess of one million cycles, the Megadoor continues to operate even if damaged.
Industrial heavy equipment doors and systems
Megadoor's System 800 and 1,000 door systems have been specifically designed to cope in harsh environments, providing durability, tightness, operational reliability and minimum maintenance requirements for the heavy industry.
For extremely severe environments, the door systems are available in extra corrosion-proof versions. To cope with openings exposed to intense traffic, System 800 is available in a high-speed version.
Craneway doors
The Megadoor craneway door system is designed for openings that depend on reliability due to critical or unusual circumstances. Because of the extensive use of aluminum and polyester, the craneway system is extremely lightweight, and is designed for a very tight fit with weather seals on both sides of the vertical guides and on the bottom beam.
There are virtually no limitations to the height, width and configuration of a Megadoor. Size restrictions are limited only to what is practical, and because of the company's custom engineering capabilities, each and every Megadoor craneway system is specifically built to fit the need, whatever the size or configuration.
Industrial medium-sized doors
The Megadoor S800 is the door model for medium-sized openings in industrial environments where doors are exposed to moisture, cold, heavy wind loads or dust.
The doors have a leaf thickness of 100mm and are designed for daylight width up to 8m and daylight height up to 12m. They can also be supplied in a self-supporting version and are available in a range of colours and, if required, with windows.
Large-sized industrial doors
The Megadoor S1000 is the door model for large-sized openings in industrial environments where doors are exposed to moisture, cold, heavy wind loads or dust.
The doors have a leaf thickness of 160mm and are designed for daylight width up to 14m and daylight height up to 16m.
Custom mine special doors
Megadoor's special Series 1500 doors are designed for individual customer needs, normally with extreme size requirements. Doors can be supplied in widths up to 50m and heights up to 100m. In multiple door design, dimension possibilities are almost unlimited. Numerous reference objects are available on request.
The doors have a leaf thickness of 290m and 580mm. In multiple door designs, daylight widths are unlimited and have a daylight height up to 100m.
About Megadoor
Megadoor is a part of ASSA ABLOY Entrance Systems, which also includes the globally recognised Crawford and Besam brands. To learn more please visit the Crawford and Besam company websites.
ASSA ABLOY Entrance Systems is a leading supplier of entrance automation solutions for residential, commercial and industrial applications in a number of market segments like retail, health, transportation and logistics. With 6,300 employees worldwide and manufacturing facilities in Europe, Korea, the USA and China, ASSA ABLOY Entrance Systems provides a wide number of products and services to a global customers in more than 75 countries. Learn more about ASSA ABLOY Entrance Systems by visiting the company website.