Krohne, founded in 1921 in Duisburg, Germany, is a world leader in the supply of process control and industrial instrumentation. Krohne provides complete solutions in the ranges of volumetric and mass flow meters, level gauges, pressure and temperature measurement, and water analysis for the mining industry. The name Krohne stands for innovation, reliability and high-quality products.
Flow and level measurement devices
Krohne has unique expertise in the field of flow and level measurement. With our advanced knowledge we are able to offer solutions not only to standard applications but also with demanding applications that require custom–made solutions.
In addition we offer electromagnetic flow meters with a ceramic lining for highly corrosive applications; mass flow meters with only a straight pipe, making them ideal for highly viscous media and flow rates; ultrasonic flow meters for when calibration is required, working according to the time-of-flight methods; and vortex meters with integrated pressure and temperature compensation; and variable area flow meters.
The Optiflux range has just one signal converter and the widest range of flow sensors covering all applications, from a simple water measurement to corrosive or abrasive products or even pulp in the paper industry. Our factory in the Netherlands can build these flow meters with up to a 3.5m diameter.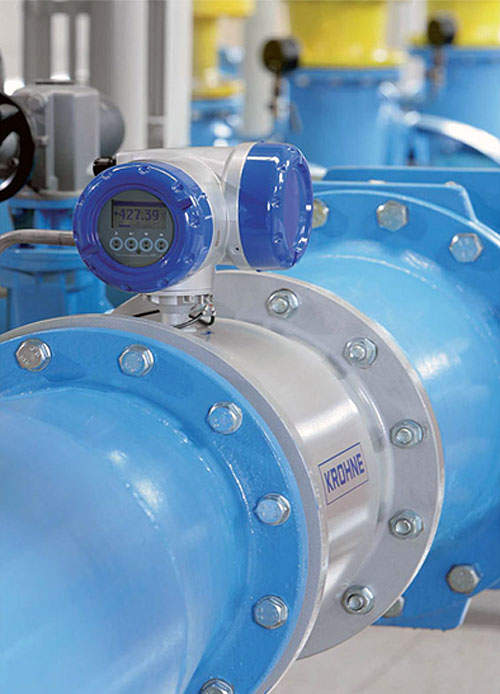 At Krohne process engineering is our world.
The Optiflux 4300 electromagnetic flow meter measures slurry in a flow cement production plant.
The Waterflux 3000 flow meter offers more independence.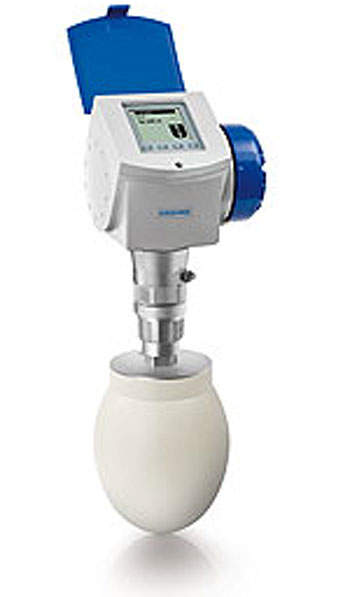 Krohne's Optiwave 6300 provides solid performance.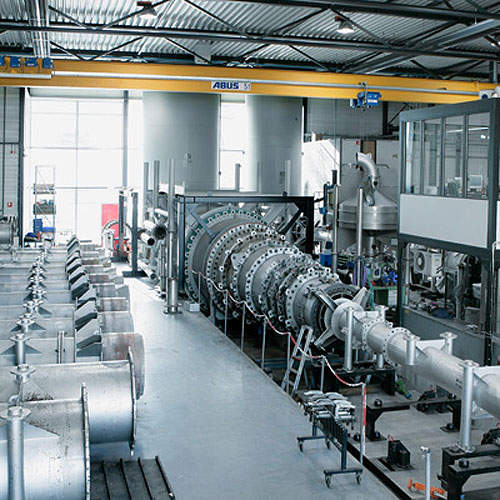 The largest and most accurate calibration rig for flowmeters in the world: the Krohne Altometer in Dordrecht, the Netherlands.
Heavy-duty flow meters for the mining industry
As it is abrasion, chemical and vacuum resistant, the Optiflux 4000 is particularly well-suited for the mining industry where there are harsh and extremely abrasive slurries, aggressive processes and difficult environments.
Based on years of experience in the mining industry in South Africa, Krohne has been able to offer the Optiflux 4000 electromagnetic flow sensor as the proven choice when selecting a flow meter. It has been used over the years by mines in South Africa and the rest of Africa where a reliable and accurate flow meter is required to perform under harsh conditions.
The Optiflux 4000 has special features such as different liners (PTFE, PFA, ETFE, soft rubber, irathane), various electrode materials, conductivity non-water >1µS/cm and water >20µS/cm and process temperatures of up to 180°C. It is also a robust and fully welded construction for tough mining environments.
Wear-free flow meter for wastewater applications
The Waterflux flow meter is a new standard for wastewater. With its wear–free measuring tube and no moving parts, the Waterflux offers more independence. The unique rectangular flow sensor design with rectangular cross-section allows for a significant reduction of magnetic field excitation. Features of the system include:
Service life of up to 25 years over several custody transfer periods
Battery operation for up to 15 years
Easy installation, no inlet and outlet, no filters and bi-directional flow
Flow profile optimised measuring tube
No maintenance, minimal operating cost
Subsoil installation (IP68 + additional protective coating) Installation without measuring chamber
Level measurement technology
Krohne has unique expertise in the field of level measurement technology. With the introduction of Optuwave and Optiflex, the market discovered the latest generation of radar and TDR technology. These devices are characterised by their high accuracy and reliability, even in difficult applications, and by a unique, innovative operating philosophy.
The Optiwave 6300 / 7300 is a non-contact radar (FMCW) level meter for distance, level, volume and mass measurement of powders, granulates and other solids. It gives a stable measurement than pulse radar and is well suited to dusty process conditions. The device can operate at very low and very high process temperatures as long as the process connection temperature limits are observed.
Flowmeters with wet calibration
Krohne provides flowmeters with wet calibration only. Each and every instrument leaving the factory is subjected to wet calibration by direct volume comparison. This calibration method is the most accurate one for volumetric flow meters. The calibration of each meter generally is certified by an individual calibration certificate. 
The accuracy of the calibration rigs is typically ten times better than that of the flow meter being tested. This provides a large margin of safety and guarantees the accuracy of all flow meters tested under the reference conditions.