Since its foundation in 1996, KIMA Process Control has established itself as a trusted partner to a wide variety of industries. In our work, we focus on development, production and marketing for industrial measurement and autonomous control technologies. KIMA Process Control unites science with industrial demand and is your expert for all purposes of increasing efficiency and optimizing your carbon footprint by the use of tools from industrial 4.0.
Innovative sensor systems, closed-loop controls using the best from APC and AI
With MILLMASTER, KIMA Process Control offers the most robust, open and easy to handle Advanced Control System in the Cement Industry. Since 1996 this 'Auto-Pilot' system was installed in hundreds of cement plants to operate mills fully autonomously. The rule-based expert system for Ball Mills includes the latest technologies of Artificial Intelligence. The software can be also used for VRMs and combined systems of Roller Presses and Ball Mills. It secures permanent optimum production and energy efficiency – without any manual interaction necessity.
The development of the so-called "electronic ear" SMARTFILL system started around the year 2000 and was under continuous enhancement and adaptation to modern requirements over the last few years. SMARTFILL was, and is, a serious revolution in sensor technology as a high-precision, interference-free level measurement method in ball mills. Over 850 systems installed in more than 50 countries worldwide underline the success of this product. It gives the most reliable and useful input values for the MILLMASTER expert system.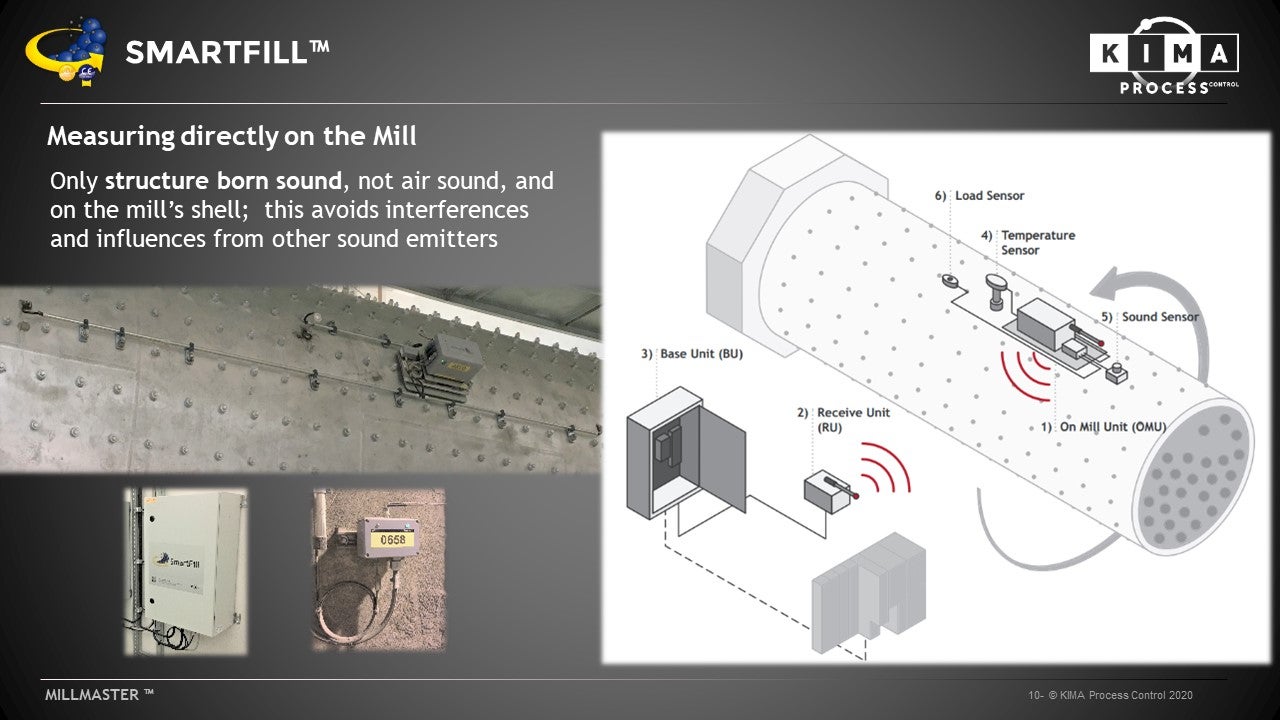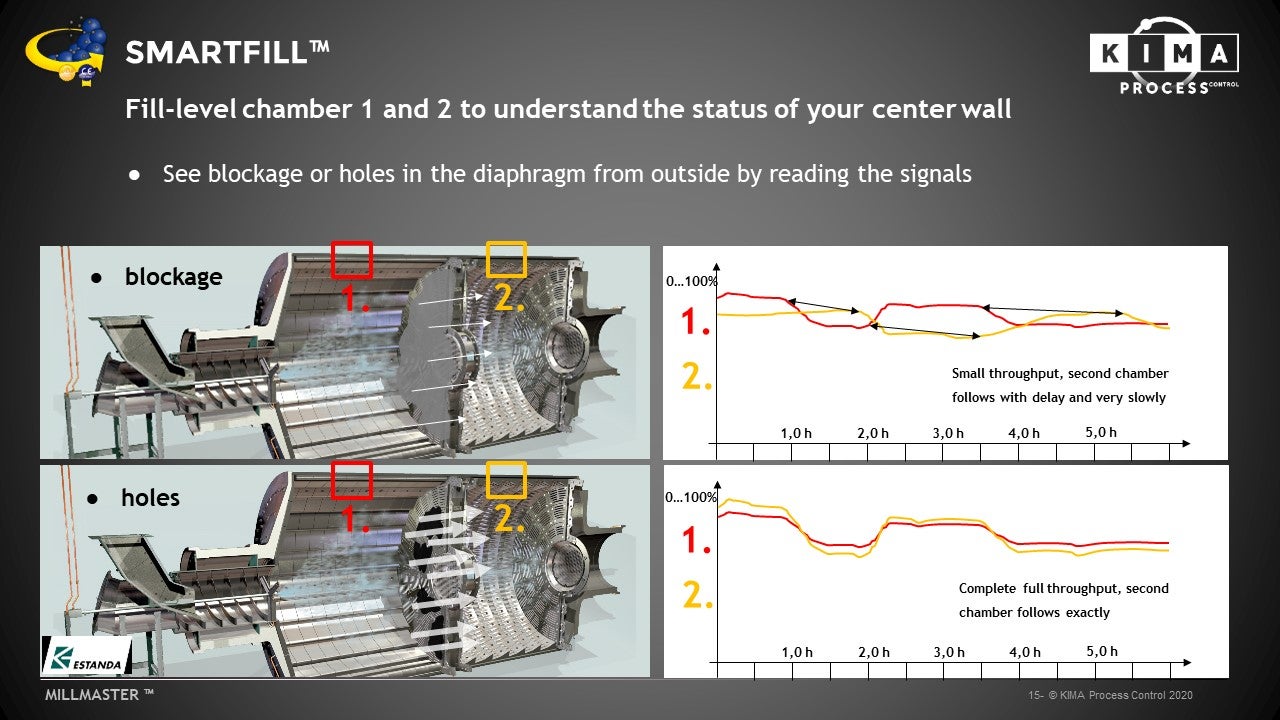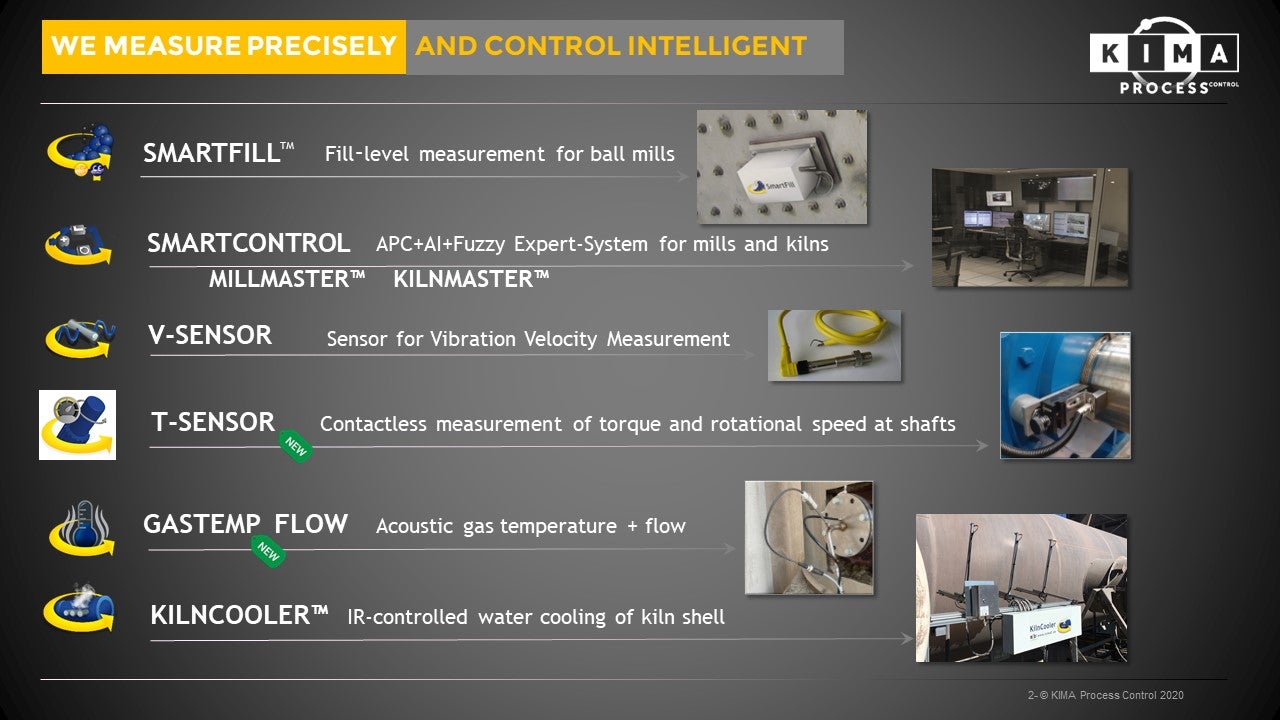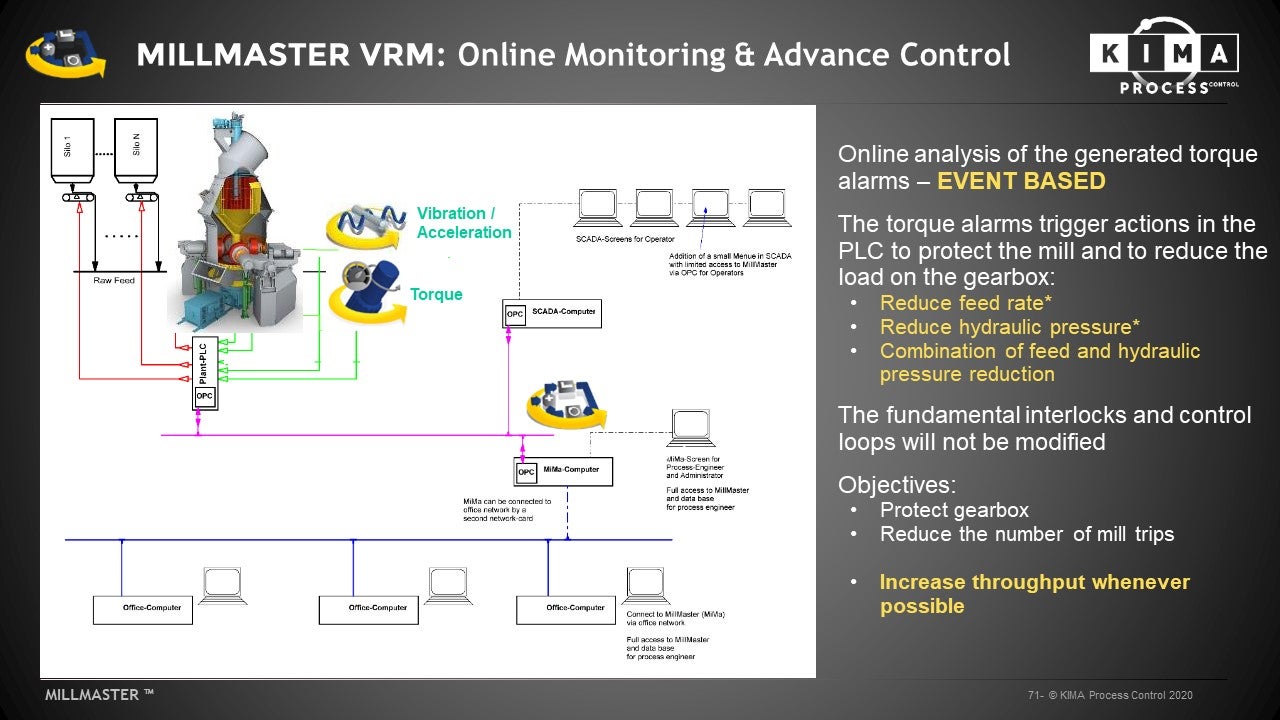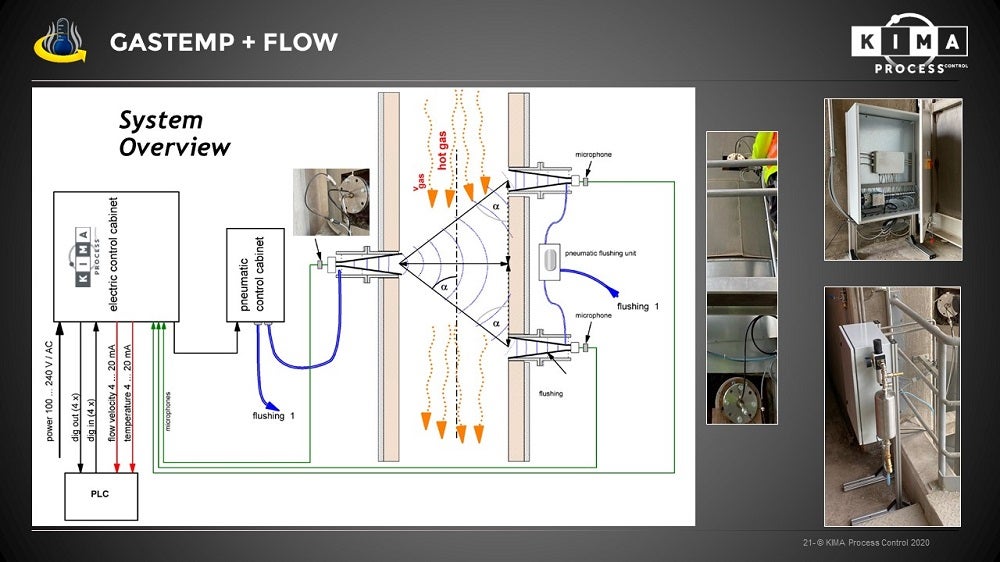 KIMA Process is market leader in fill-level sensor
Precise control needs precise measurement. In comparison with microphone-based systems and vibration sensors on bearings, SMARTFILL does not conflict with other sound and signal sources. In contrast to all existing classical methods of ball mills' fill level measurement SMARTFILL is the only system, which measures the sound directly where it occurs: on the mill shell. The structure-born sound sensor only receives the signal directly on the mill body itself. SMARTFILL is operated in buildings with 16 mills, side-by-side without any interference between the measurement systems.
The signals from SMARTFILL can and should be used as set-points in an advanced controller.
Benefits:
Easy installation
Zero crosstalk
Free frequency band
Almost no maintenance
Process interface (4—20 mA)
Up to 3 sensors of free choice
Up to 16 product types
Industrial proved: IP65 / Atex
Mill-mounted (self-powered)
Customised control strategies for industrial processes
Due to its modular design, the APC software developed by KIMA Process Control, the product SMARTCONTROL, allows the customised implementation of control strategies to nearly every industrial process. SMARTCONTROL comes with more than 120 blocks, including digital filters, bit-field manipulations, programmable blocks, classical closed-loop controls (PI, PID) and free programmable calculation blocks, as well as components from Artificial Intelligence (AI), including machine learning. By connecting different blocks, integrated groups can be created individually with functions of MPC, NN and APC and thus control can be applied to the relevant process.
Predictive control of grinding processes
MILLMASTER can control grinding circuits both fully automated and unattended, and, with one MILLMASTER system, up to six mills can be operated at optimum status. At the same time, the availability of the grinding facility increases due to the protection of the system against overfilling or similar malfunctions.
Keeping the fill level at a constant optimum level leads to a smooth operation, which significantly results in less wear-out and a more homogeneous product. The production increases while the specific energy consumption decreases.
Integration of grinding circuit control systems
MILLMASTER can be integrated with any automation system, connecting via a standard interface (OPC) and optimising the process without changing the formerly existing control system. This means the old controls can be reactivated immediately at any time
The Millmaster system can be customised using our pre-designed modules which relate to the part of the grinding process that needs to be controlled such as vertical or ball mills, roller presses, separators, hot gas generators, water injectors and ventilation systems.
Due to its modular design, customisability and an extensive bundle of functionalities, MillMaster provides a number of great advantages for grinding facilities. These include:
Higher energy efficiency
Increased production
Improved product fineness
Less wear-out
Higher facility availability
Reduced maintenance costs
Contactless measurement of dusty or clean gases temperature and volume
GASTEMP is a brand new acoustic measurement for high dust loaded and high-temperature gases as an average along a path through a duct. This is performed by an acoustic measurement of the speed of sound against – and in the direction of the gas flow. Using the cross-section of the duct, the gas flow can be converted to the volume flow. As the gas temperature is measured also, the correct gas volume is calculated.
For closed-loop control systems and automatic balancing, two configurable analogue outputs (4…20 mA) are provided.
Vibration velocity sensor for monitoring bearings and plants
V-Sens is KIMA's innovative solution for monitoring rotating machines and bearings such as fans, turbo-engines, mills, kilns, classifiers, cylones and drives.
The V-Sens consists of an M12 screw and can be easily mounted. All electronics are included within the M12 screw, allowing the sensor to be connected directly to any automation system without any further external electronics.
The V-Sens features a self-testing function, which can be initiated by a digital signal from your automation system. The sensor is available for radial or axial direction of measurement and can be adapted to nearly any rotating machine. The standard version measures vibrations in the range of 10Hz – 100Hz; however, customised versions for other frequencies are also available.
Contract-based development of proprietary products
KIMA has a great deal of experience in developing products and strategies in the fields of high-precision measurements, predictive controls, all kind of sensors, etc. for other companies based on OEM contracts. In this business field, KIMA is able to look back on many product developments, such as metal detectors, control systems for oil rigs/drills, and specialised sensor systems.