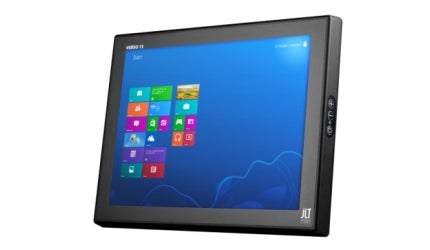 JLT Mobile Computers is a leading developer of rugged mobile computers for demanding environments. These PC-type computers are developed and manufactured in Sweden for professional use and are characterised by very high reliability in the face of moisture, dust, vibrations, electromagnetic fields or extreme temperatures – reliability that is required for use in mining and other heavy-duty applications.
JLT VERSO series: high-performance vehicle-mount computers
The JLT VERSO series is the latest generation of high-performance rugged vehicle-mount computers from JLT that combine leading-edge performance with the highest reliability for tough environments. The VERSO series is specifically developed for use in extreme environments and for business-critical functions, where performance and reliability are of utmost importance.
Equipped with an Intel Core i7 processor and an LED display bright enough to use in direct sunlight, the new VERSO computers have the performance required to run the most demanding applications, such as HD video streaming, GEO calculations and real-time data processing.
As with all JLT computers, the VERSO computers can be used in many different fields, but are specifically developed for the heavy-duty segment, such as mining and construction machinery, off-shore and harbour applications.
Rugged computers combined with cutting-edge performance
Since its establishment in 1994, JLT has shipped more than 80,000 rugged computers. The VERSO computers are the latest of JLT's successful PC platform of computers, the reliability of which has been proven through many years of global field operations.
The VERSO series is constructed from the bottom up for a long operational life in the most demanding environments, such as mining. All critical functions are integrated in the VERSO computers, which makes installation in a vehicle both quick and easy. Order it with your unique image pre-loaded, and the deployment is even easier.
The JLT VERSO series gives customers the most rugged computers available combined with cutting-edge performance.
Peace of mind with the JLT:Care service agreement
With the JLT:Care service agreement customers are guaranteed an uptime of the JLT computers at a predictable cost. The agreement covers all failures that affect the functioning of the computer. In addition, if the pick-up and drop-off service is selected with the contract, all shipping costs to and from the JLT service centre are included. With the JLT:Care Service Agreement, JLT guarantees a repair time of three days or less, 'no questions asked'.
Swedish quality, global sales and support of rugged computers
JLT undertakes product development and service from its headquarters in Växjö, southern Sweden. Production is undertaken by Swedish sub-contractors, and with a network of sales partners, JLT serves customers around the world. JLT's turnover in 2011 was SEK 125m ($19m / €15m). Since 2002 the company has been listed on the NASDAQ OMX First North under the symbol JLT, with Remium as its Certified Advisor.
Please visit our website for more information.
JLT Mobile Computers AB
Isbjörnsvägen 3
SE-352 45 Växjö
Sweden