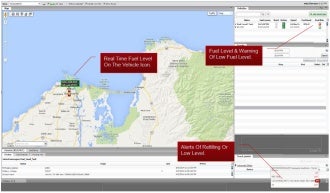 The Samarco iron ore mine in Brazil has installed the SAFEmine Collision Avoidance System (CAS) on 120 vehicles, consisting of haul trucks, graders and light vehicles.
Samarco stated: "The system is easy-to-use and reports only the information needed, avoiding excessive amounts of information for the drivers and operators, so that they receive the most important information. This assures a focus on the vital signal when a change in behaviour is critical. We have had no accidents or incidents involving vehicles since we have installed the SAFEmine Collision Avoidance System. The CAS information is reliable and easily understood by operators and drivers."
On top of Collision Avoidance, protecting more than 18,000 vehicles around the world, the well proven SAFEmine CAS can fulfill many more functions, which leads to solutions for interesting problems.
Some examples
At the Cerrejon coal mine in Colombia the roads are watered to reduce dust, which is of course a common practice in the mining industry. Until recently, however, Cerrejon did not know where or when the water tankers were spraying.
Bill Surraco of SAFEmine said: "We worked with Cerrejon on this problem and developed a system that provides real-time information on water pump activity (e.g. when the pumps are on or off) and tanker locations to control room staff. Control room alerts (e.g. when a tanker has not watered for a predefined time) are then used to enhance mine operation. Alerts are configured using SAFEmine TRACK, which is a web-based application that monitors the entire fleet.
SAFEmine is working with Cerrejon also to monitor fuel levels in fuel bowsers. Cerrejon had been using fuel sticks to determine how much fuel was in each tank. They installed fuel-level sensors and connected these to the MainUnit of the Collision Avoidance System. SAFEmine TRACK can now monitor bowser locations and fuel levels in real-time. This greatly improves the dispatching and efficiency of the fuel bowser fleet, optimising the refueling schedule, thus improving bowser productivity. Journey replay and performance analysis can also be used to optimise the performance of the fleet.
The maintenance module of SAFEmine TRACK provides maintenance teams with an innovative tool for optimising vehicle performance. It shows in real-time, in the control room or on a mobile device, engine hours and travel distance for each vehicle, thereby facilitating maintenance scheduling. All vehicles are continuously monitored, providing location and status of the entire fleet. Specific notifications are triggered when a vehicle exceeds a service interval. The live web interface also includes seat belt alerts, journey replays, idle time reporting, incident alerts, bucket position alerts and more.
As a further example, the Cerrejon mine is using SAFEmine DriverID to study the effectiveness of its light-vehicle fleet. DriverID determines who is operating each vehicle, making sure that only authorised operators are associated with specific vehicles. At the same time, SAFEmine TRACK generates reports concerning trip durations for each of these light-vehicles.
SAFEmine said: "TRACK is able to provide Cerrejon with reports and real-time information on which driver was using what light-vehicle, length of each trip and stop time at a particular location. Cerrejon uses this information to increase the efficiency of their light vehicle fleet."
---
Image: Samarco iron ore mine in Brazil has installed SAFEmine's Collision Avoidance System on 120 of its vehicles. Photo: courtesy of SAFEmine.