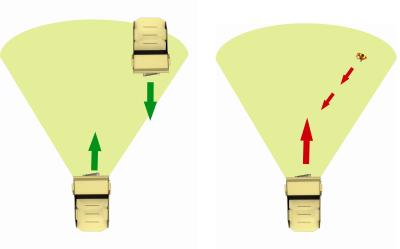 SAFEmine is presenting their revolutionary TrackingRadar at the Queensland Mining & Engineering (QME) Exhibition on 22 to 24 July at stand A162. The new TrackingRadar offers improved protection for mining personnel and the vehicles they operate, while increasing overall efficiency of mining operations.
Mining vehicles have poor visibility from the cab due to their large sizes. It is crucial that additional steps are taken to ensure that drivers of these machines are aware of any object which is in their path, especially at start up or when reversing. The SAFEmine TrackingRadar enlarges SAFEmine Collision Avoidance System (CAS) capabilities by detecting unprotected objects and ground personnel.
The TrackingRadar is a revolutionary object-tracking system that utilises the latest radar technology to characterise a potential hazard's position and motion. Combined with the SAFEmine CAS technology, the TrackingRadar uses risk-based algorithms to differentiate between obstacles which can lead to imminent collisions and others which represent non-threatening situations.
The detection range of up to 30m is segmented into multiple zones to improve performance and reduce nuisance alarms from ground reflections, passing vehicles and objects. The system has two main functions: traffic awareness and collision avoidance based on object tracking. The traffic awareness function tells the vehicle operator that another obstacle is nearby, indicating the distance and location of obstacles on a display.
The second function object tracking monitors the motion of the object within the detection area and calculates whether the vehicle is on a collision path or not. When a risk of collision is detected, the operator receives an audible and visual warning. The system works in real-time and has accurate analysis capabilities that significantly improve alarm effectiveness and operator focus.
SAFEmine's TrackingRadar also provides the following operational features and benefits:
Detects vehicles, fixed hazards such as rocks or buildings and ground personnel
Risk-based algorithms to minimise nuisance alarms
Detects and tracks multiple objects simultaneously
Configurable to site specific requirements such as maximum detection range, speed and geo-fences
Range up to approx. 30m (approx. 33 yards)
Multiple detection zones for increased performance
Fully integrated with SAFEmine Collision Avoidance System
Engineered for harsh environments and poor visibility including snow, fog and darkness
SAFEmine's CAS is a Collision Avoidance System for surface mining that improves operational safety within the mining environment and can reduce vehicle downtime, thus increasing both productivity and cost-effectiveness. The SAFEmine CAS offers 360° protection at any speed or visibility conditions as well as three display screen options to meet any driver's needs. In addition, the system can be easily upgraded and customised to a particular mine site's requirements. Finally, the CAS has optional features that include over-speed alarm, rollover alarm, voice output, fixed hazard map and boom gate activation.
Adopting the combination of SAFEmine's CAS with TrackingRadar makes it clear to each operator that their safety, as well as the safety of surrounding personnel and the mining equipment, is valued every time they start the engine and conduct their work.
---
Image: (Left) A non-threatening situation where eg. two vehicles are passing, generates a simple visual notification on display. (Right) A critical situation where the paths of eg. a man and a haul truck cross, generates a visual and an acoustic alarm. Photo: courtesy of SAFEmine.