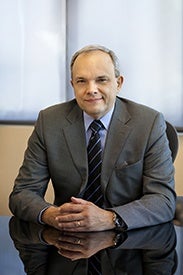 Hexagon Mining has announced the appointment of Helio Samora as president, effective immediately.
Born and raised in Brazil and fluent in English and Spanish, Samora has degrees in mechanical engineering and industrial marketing. Samora began his career at Semco SA before spending seven years at Sisgraph, now a Hexagon business, where he was responsible for sales.
After Sisgraph, Samora spent 18 years at PTC (formerly Parametric Technology Corporation), one of the world's top 15 independent software companies. Prior to joining Hexagon Mining, he was the area vice-president for PTC Latin America.
Samora said: "I am excited to take on this role and look forward to working with our employees, customers and partners as together we shape the future of the industry.
"Hexagon Mining is positioned to truly effect smart change with innovative technologies for mining enterprises that are ready to invest in their future."
Samora starts this week as Hexagon Mining brings its bold vision of smart change to the Society for Mining, Metallurgy and Exploration (SME) conference in Denver, Colorado.
Considered the pre-eminent mining event in North America, SME attracts the industry's best and brightest, making it the perfect platform for Hexagon Mining to present its innovative technologies. This includes HxM Athena, a powerful business intelligence and analytics solution, HxM Live Terrain, a solution that delivers the latest terrain surface data from multiple sensors, and HxM Blast, a smart blast design and optimisation solution.
Additionally at SME, founder of MineSight, now a Hexagon Mining brand, Fred Banfield will be inducted into the International Mining Technology Hall of Fame.
Hexagon Mining was officially unveiled last week in Cape Town, South Africa, at Mining Indaba, the world's largest mining investment conference. In addition to its presence this week at SME, Hexagon Mining will feature at many more global events this year, including its MineQuest events and HxGN LIVE, Hexagon's annual international conference, in Las Vegas and Hong Kong.
---
Image: Hexagon Mining president Helio Samora. Photo: courtesy of Hexagon Mining.