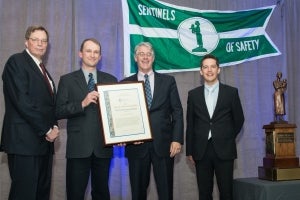 Hecla Mining Company is pleased to announce the Greens Creek mine near Juneau, Alaska, received the National Institute for Occupational Safety and Health (NIOSH) Mine Safety and Health Technology Innovations Award. This award recognizes companies that have made extraordinary efforts to apply technology to improve the safety and health of mine workers.
The Hecla Greens Creek mine received the award for the implementation of a collision avoidance system for its surface mobile equipment. This system, created by SAFEMINE Technology USA, is a ground-based collision avoidance system used in the aviation industry and uses GPS and radio technology to monitor vehicle speed and the proximity of vehicles to one another.
Surface operations at the Greens Creek mine are primarily located on a single-lane road that winds through Admiralty Island in the Tongass National Forest. Implementation of the collision avoidance system significantly enhances safe operations by providing warnings of other vehicles as well as allowing for establishment of speed restrictions in certain areas.
"I continue to be impressed by the safety initiatives undertaken by employees of Hecla. Never satisfied with the status quo, they are always looking for ways to improve the safety and efficiency of our operations, " said Phillips S. Baker, Jr., President and CEO. He added, "This award demonstrates the priority safety has at Hecla."
Dr. Jeffrey Kohler, associate director for mining and director of the Office of Mine Safety and Health Research at NIOSH, said: "The NIOSH Technology Innovation Awards recognize the significant advancements that the mining industry is making — above and beyond minimum regulatory requirements. Hecla and SAFEMINE Technology USA's success in deploying a collision avoidance system is a great example of adapting a technology used in aviation and applying it to improve mining safety."
The award was presented at a dinner hosted by the National Mining Association in Washington, DC on October 30, 2013.
---
From left to right: Director at NIOSH OMSHR Jeff Kohler, surface operations manager at Hecla Mining Brain Eckson, CEO at Hecla Mining Phillips Baker, general manager at SAFEmine Cyrille Sauvain