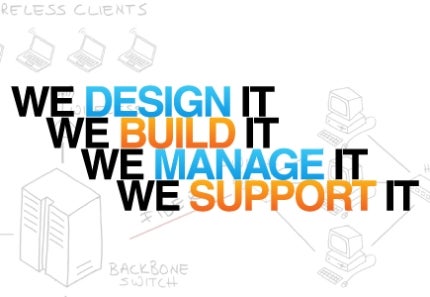 Next Generation Voice (NGV) Services brings together technologies to deliver smart and reliable communications and TV solutions for mining and gas sites.
We develop a point-to-point and point to multi-point solutions that bring TV, Wi-Fi Broadband and phone services to common areas and individual dongas, regardless of the site's location and connection difficulties.
Being a full service provider, we design, construct, deploy, manage and support scalable communications and master antenna television (MATV) services in both existing and new mining sites.
As a licensed telecommunications carrier, NGV provides retail services to users, such as competitive broadband plans, user logins and data management.
Television solutions for mining and gas camp sites
NGV's digital MATV solutions bring stable and clear free-to-air and Foxtel pay TV channels directly to mining and gas camp sites. The number of watchable channels depends on the availability and requirements for the pay TV channel numbers.
Our solutions also allow clients to have their own on-site television channels, which can be used to run training programmes, provide staff updates, deliver safety briefings or distribute any other information that needs to be circulated. We guarantee quality signal strength to every room, so MATV can be used 24/7 by the whole camp.
Smart Wi-Fi broadband solutions for mining and gas camp sites
High-speed internet access is essential for workers in any campsite. NGV deploys field-proven smart Wi-Fi as the basis for delivering wireless broadband in remote campsites.
This solution reduces the capital costs associated with broadband infrastructure and provides a guaranteed complete end-to-end solution for high-speed wireless access for every user in every room.
Phone services for mining and gas camp sites
Whether clients need a phone in every donga or a bank of phones in a common area, NGV also provides on-site phone services. Our voice solution is delivered through our IP-PBX, which is integrated with the network.
As voice calls are carried over the internet (VoIP), clients benefit from low-cost calling, as well as extension dialling to and from all phones.
Site admin facilities
An NGV solution accommodates a wide range of site admin facilities. These can incorporate anything on the network that needs to be monitored or accessed.
This includes keyless entry to rooms or common areas, monitoring of cleaning progress, remote CCTV monitoring and real-time tracking of people and devices.
Superior network support for mines
No matter how robust a network may be, it is important that any downtime is minimised in the event of unexpected outages. NGV qualified technicians are available 24/7 to support all MATV and internet networks.
In addition, our network monitoring and alert systems ensure that any network incidents are examined by our technical team as they happen, and appropriate actions are taken to ensure that any potential network-wide issues are fixed before they become critical.
Managing campsite communications networks is a fundamental focus for NGV. Our rigorous support systems ensure that regular maintenance of the network is scheduled, monitoring and alerts are in place, appropriate change control procedures are embedded and that the network meets compliance standards.
Network efficiency audits
NGV can perform an obligation-free audit on a site's existing TV and Internet network infrastructure to ensure the network is working at optimum levels.
The free audit evaluates the cost-effectiveness and performance of the existing system, determines any weaknesses and identifies options for improvement.
A key focus of the audit is to pinpoint any areas for cost reduction and improved quality of service, and to improve resident well-being.
Network capacity planning
Capacity planning is an essential element of NGV's management services. Whether it is increasing bandwidth or deploying more equipment to service a growing workforce, we work closely with our campsite partners to ensure network capacity is always available when you need it.
A fundamental component of capacity planning is to ensure that adequate backhaul is in place as it provides the bandwidth needed to accommodate the many user activities that occur on the network.
NGV works with telecommunications wholesalers to ensure appropriate backhaul capacity is in place to meet the challenge of user demand.
NGV Services
Unit 1/37 Expansion Street
Moldindar
Queensland 4214
Australia