MeshBlox
Site Data and Telecommunications Solutions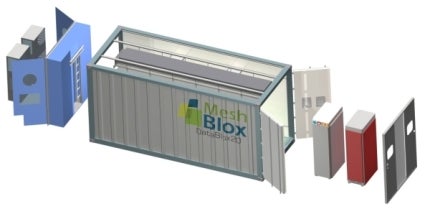 MeshBlox is a specialist engineering company providing proven, scalable, prefabricated ready-to-deploy data and communications infrastructure for rapid commissioning in harsh or remote environments globally.
Ask about MeshBlox's ability to provide modular and relocatable business continuity sites, flexible staging, scalability and relocation when it suits your business needs. Contact MeshBlox today to see how a MeshBlox partner can work with you to meet your complete distributed data and telecommunications requirements.
Modular ruggedized asset appliances for simplified logistics
MeshBlox provide a range of ruggedized asset appliances in deployable modular form factors for simplified logistics, end-of-use recovery, staging and even permanent installations in the field, customer premises, or MeshBlox facilities.
Designed to safely house and shield sensitive data, telecommunication, or scientific equipment, MeshBlox systems provide protection from the most corrosive conditions in clean, regulated environments with MilSpec-rated HVAC (heating, ventilation, and air-conditioning) and simplified operational maintenance, minimal on-site intervention, and secure partitioned access for component swap-out.
Rapid, modular data and telecommunications provisioning
Implementing world-wide through strategic partners, provisioning time from order is rapid. MeshBlox customers have found that data and telecommunications provisioning is no longer the critical path or the source of greatest risk in establishing infrastructure and often can be put in place ahead of other installations.
Commissioning can even be performed independently through versatile staging and autonomy options that don't depend upon site readiness. Unit construction often involves secure partitioned access for different components (for example, rack-mounted 3G telecommunications equipment can be accessed through separate areas from HVAC, which means staff with different certifications can perform the duties that they are qualified for).
Maintenance is simplified due to specifications of industry-standard interchangeable components that can be swapped in/out with minimal on-site intervention. A range of maintenance options are available including full remote monitoring, sparing stock storage, and pro-active reporting (manufacturer diagnosis).
Scalable self-contained ICT systems
Whether you need to house computer equipment or telemetry systems, or to build a 3G network with full carrier roaming, you'll find MeshBlox has already thought of it in a way that will give you lower total cost of ownership (TCO) and extended asset utility.
MeshBlox customers are typically mining and industrial companies setting up work camps, large industrial infrastructure or mine sites needing ICT systems close to the 'coal-face' with complete communications (including telemetry) coverage and back-haul. And fast – ICT systems no longer slow down a project; they enable it to be implemented quickly and effectively.
Fast deployment of free-standing data centers
MeshBlox is geared to assist with fast deployment and eventual full asset retrieval, anywhere in the world. MeshBlox containers or sheds, and antenna, range from conventional concrete footings through to non-ground intrusive mountings for greater mobility and lower environmental impact.
Either way, due to the self-contained nature of the patented design the pre-installation environmental impact assessments or lead-times for local regulatory approvals are fast-tracked. With fully certified fire and safety systems and Mil-Spec cooling units, MeshBlox systems integrate seamlessly with any existing site HVAC, fire and electrical maintenance contracts.
As an industrial appliance, MeshBlox units are IP65 (NEMA 4) rated and are insurer compliant, including clean-room triple airlock, multiple cooling units in 20kW capacity, and other options to bring stable environments to the wilderness or city in a micro-container format.
Ask about MeshBlox's ability provide modular and relocatable business continuity sites, flexible staging, scalability, and relocation when it suits your business needs.
Press Release
MeshBlox, a global provider of remote data and telecommunications systems for use in hostile environments, today announced a new unit shipment into Hail Creek Mine in the Bowen Basin for mining giant Rio Tinto.
Read more
MeshBlox announces world first mining industry-specific data and telecommunications solution for rapid deployment in extreme environments.
Read more
25 Colebard St. East
Acacia Ridge, Queensland
4110
Australia
+61 7 3835 9095
+61 7 3217 8737