Wire Rope Industries (WRI) is a manufacturer of high-performance wire ropes for the mining industry. Since its formation in 1876, WRI has been at the forefront of product development, helping our customers to outperform with ropes that are designed to reduce their overall operating costs. WRI is certified to the ISO 9001 standard.
Hoist, crowd, retract and drag ropes
For the surface mining market, WRI specializes in hoist, crowd, retract and drag ropes used on shovels and draglines, as well as a full range of pendant assemblies.
Full-lock coil, half-lock coil, flattened-strand and multi-strand ropes
For the underground mining market, WRI produces a full range of products for both Koepe and drum hoists, including full-lock coil, half-lock coil, flattened-strand and multi-strand ropes for hoisting and balance ropes, including the WRI patented cushion balance ropes.
Shovel ropes
For many years, the standard rope used on electric mining shovels has been an eight-strand, compacted, plastic-filled cushion rope. For customers looking to improve their operating efficiency, Cushion Pac Ultra (CPU) was developed to outperform any existing shovel rope on the market today.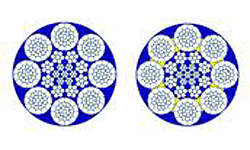 WRI offers both the standard cushion rope and the market-leading Cushion Pac Ultra (CPU) rope.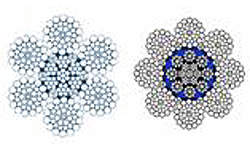 WRI's dragline ropes are available in both six and eight-strand designs, and with protection for all the internal moving parts.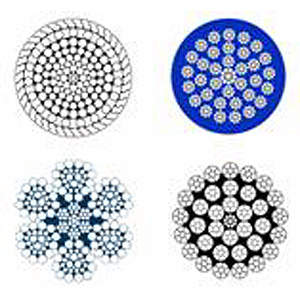 From full-lock coil to flattened-strand and multi-strand ropes, WRI offers a complete product range for underground mining.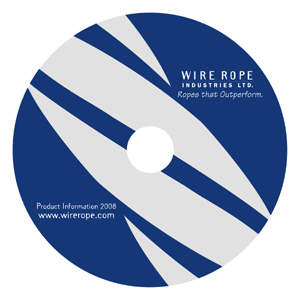 WRI's CD catalogue gives you all the information you need to select the correct rope for your application.
CPU incorporates improved protection for the core of the rope while offering a plastic outer jacket for improved cleanliness and wear resistance. CPU has set performance records in both North and South America, and around the world.
Dragline ropes
Dragline excavators are known to be one of the most demanding rope applications in the world. WRI offers both six and eight-strand dragline ropes, based on customer preferences and operating conditions. The use of plastic coverings to protect the core has also been pioneered by WRI.
Following the successful introduction of CPU for shovel rope applications, we have now been able to obtain similar performance improvements using cushion ultra ropes on draglines. WRI can produce fully plasticized ropes up to 5in (diameter).
Pendant lines
WRI operates among the largest stranders in the world and is capable of producing structural strand to ASTM A586, up to 6in in diameter. A state-of-the-art pre-stretching and socketing facility ensures that the exacting requirements of length accuracy and socket alignment are always met. For increased corrosion protection, pendant line ropes using Bezinal® wires with a zinc aluminum coating combination are also available.
Underground mining ropes
Deep shaft mines require special underground mining ropes to safely and efficiently hoist personnel and materials from underground. Deeper shafts, higher payloads and higher speeds have resulted in changes that can impact on the safety factors used.
WRI produces a full range of products for use in underground mine hoisting, and has developed special underground ropes to overcome the obstacles that many mining companies face.
Wire rope technical service
WRI has technical services staff to help customers with all wire rope application advice. We can offer advice to customers on rope selection, use and maintenance.
Steel wire ropes for the mining industry
WRI is committed to the mining industry and offers a wide range of wire ropes for a variety of applications. Our investment in R&D has resulted in many unique solutions to wire rope problems, aimed at reducing the user's overall operating costs.
WRI's technology is backed by its parent company, Bekaert, one of the world's largest producers of steel wire. Our manufacturing facilities are second to none. We are part of a group of companies with manufacturing facilities in Latin America, making the group one of the largest producers of wire ropes in the Americas.