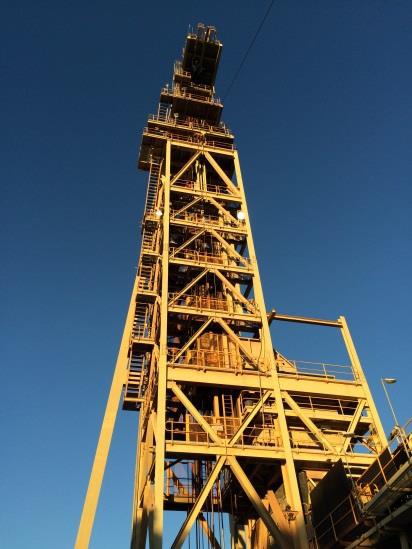 CASAR has always been known for the extraordinary performance of its mining ropes. Now the company has set a new world record in Australia's Northparkes mine, establishing a new milestone in the process.
After 652,239 completed cycles, a service life of 46 months and more than 22 million tons of moved rock, the Turboplast M used for the work was gracefully retired.
The rope was discarded according to plan in mid-January 2015 under the supervision of Roger Smith, an experienced expert for high-tech mining ropes in the service of CASAR, and Alexander Fäh, sales engineer for mining ropes.
The Northparkes mine is located in a rural area of the state of New South Wales, approximately 450km to the west of Sydney.
This set increased the service life to 245,000 cycles and only had to be discarded due to mechanical damage caused by roc
At the end of 2013, the Chinese company China Molybdenum took over 80% of the shares of the Rio Tinto Group, while the remaining 20% are still owned by the Japanese Sumitomo Group.
Gold and high-quality copper concentrate are mined and extracted in the Northparkes mine.
The hoisting machine is a ground mounted friction winder with a motor power of 3MW, which transports a maximum payload of 16.5t at a speed of 15.3m/s from a depth of 590m to the top. Four hoist ropes with a diameter of 32mm and a length of 750m are used, two ropes right hand Lang's lay and two ropes left hand Lang's lay.
When underground mining began in 1997, the triangular strand ropes that were used reached a service life of approximately 100,000 working cycles. The rotation-free 19×7 hoist ropes that were subsequently used only had a very short service life so that the first set of CASAR ropes was used in 2000.
This set increased the service life to 245,000 cycles and only had to be discarded due to mechanical damage caused by rockfall. The following change to a competitor caused nothing but problems for Northparkes and left them with a short rope service life, which is why the company went back to CASAR.
Since going back to CASAR, three additional sets of CASAR ropes have been used, and with each set it was possible to increase the service life further. With the fourth set, CASAR managed to increase their own world record of 485,300 cycles on a friction winch, which they had previously broken with the third set, to an incredible 652,239 cycles.
This performance ought to be rated even higher as important parameters, such as speed, payload, acceleration, and utilisation were increased over time, while maintenance measures were reduced.
Normally all this would rather lead to a reduced service life. However, with an intensive examination of the discarded ropes and a comprehensive study of the relevant damage mechanisms, the rope experts of CASAR managed to continuously develop the rope for Northparkes, successfully managing to prevent the rope reaching discard maturity prematurely.
When the rope was changed in January, again a CASAR Turboplast M was installed to confirm its world record performance. In the long term they hope to exceed this record again significantly, aiming for a service life of 800,000 cycles.
This should be achieved by using Turboplast MF for the six set of CASAR ropes, a rope which is even better adapted to the requirements and circumstances on a friction winder.
For this reason the now discarded world record rope has been transported back to Germany for intensive examination by CASAR. This is the only way to guarantee a continuous improvement of our product and to come a bit closer to our goal.
The relevant managers at Northparkes will also be present during the rope examination.
For more information, please contact CASAR.