Caman Engineering manufactures pipeline flanges from locally produced forgings for the petrochemical and mining industries.
We offer a wide range of steel valves, heat exchanger tubes, nozzles and pipeline flanges.
Caman also imports an array of job-specific components such as specialised flanges, tube sheet blanks, dished heads, fittings and large forgings.
Stainless-steel, forged steel and cast steel valves for the mining sector
Caman offers valves with sealing options such as EDDM, viton, nitrile, Teflon and metal seated for fire-safe, high-temperature and chemical applications.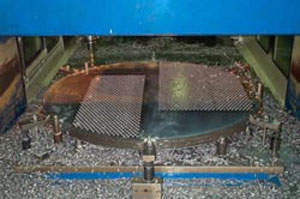 We have invested in a range of state-of-the-art computer-operated drilling machines.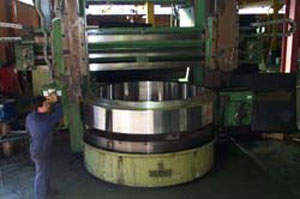 Caman manufactures large diameter pipeline flanges for the petrochemical and mining industries.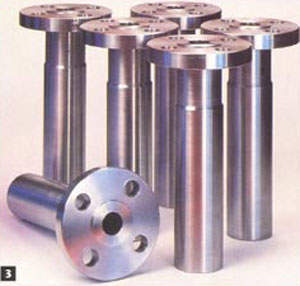 We provide manufactured and imported pipeline flanges, as well as heat exchanger components for the mining industry.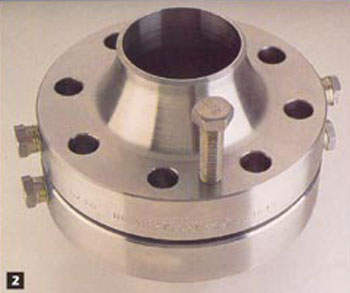 Caman can machine a variety of orifice flanges.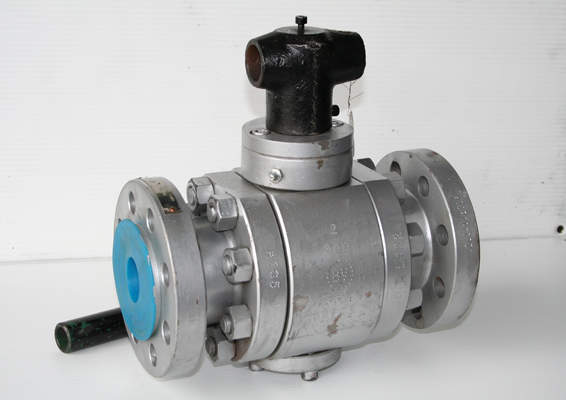 We provide valves in a number of options including flanged 150lb - 900lb screwed or socket weld.
Our portfolio includes:
Gate valves
Globe valves
Check valves (swing, wafer duo, wafer single disc and piston)
Ball valves: reduced and full bore (1,2,3 piece ball, 3-way L port and 3-way T port ball)
Butterfly valves (wafer and lugged)
Needle valves
Y strainers
Actuation (electric, double action pneumatic and single return pneumatic
We also offer electric and pneumatic actuation with accessories such as limit switches and solenoid valves.
We also have an extensive library of data sheets covering our entire range, providing additional information on materials, capabilities and dimensions.
Heat exchanger tube sheets and baffle plates
Caman is an approved manufacturer and supplier of pipeline flanges and heat exchange components to all mining companies operating in Australia.
We are also accredited to comply with Quality Assurance Standard ISO 9001 by Lloyds Register-certificate number 400278, and Workcover Australia certificate number MMT/33/96.
In addition to all commonly used flanges, we specialise in stocking flanges to suit heavy wall pipe / high-pressure petrochemical applications.
All forged flanges stocked are supplied by leading manufacturers and fully approved by all major oil, petrochemical, mining and contracting companies.
Pipeline flanges for the mining industry
Caman manufactures a wide range of components for the mining sector, including:
Pipeline flanges to Australian, US, British, Japanese and European specifications
Orifice flanges and orifice plates
Special pressure vessel flanges
Long weld neck flanges
Heat exchanger tube sheets and baffle plates
Spectacle blinds
Forged pipe fittings
Hydro test blinds
Subcontract machining
The following flanges are imported and stocked by Caman:
Carbon-steel forged flanges to ANSI B16.5 specification
Mild and stainless steel plate flanges to AS2129 and AS4087 specifications
Stainless-steel forged flanges to ANSI B16.5 specification
Carbon-steel forged flanges (large diameter) to BS3293 specification
Carbon-steel forged flanges (large diameter) to ASME B16.47 Series A and B
Caman also imports large forgings, special flanges and tubesheet blanks.
Large forged nozzles
Caman's capabilities include machining large forged nozzles on vertical borers.
We manufacture these nozzles from imported and locally sourced forgings.
In addition, the company has seven vertical borers with a maximum turning capacity of 2,650mm diameter by 1,900mm high.
Large tube sheets and baffle plates for mining
Caman provides large tube sheets, which are produced by a specialised computer numerical control (CNC) drilling machine.
We also offer baffle plates for applications in heat exchangers to complement our tube sheets. Baffle plates are stack drilled together on our CNC machining centre using special tungsten carbide drilling components.
Baffles are available from 2,000mm in diameter and are drilled with 2,858 holes.
Long weld neck nozzles, radius end nozzles and orifice flange sets
Caman manufactures flanges ranging in sizes up to over 2,500mm in diameter.
We produce weld neck orifice flange sets for metering applications and stainless-steel orifice plates that insert between the two flanges.
Caman manufactures radius-ended nozzles to suit mounting on a vessel side. Machining is performed on a state-of-the-art CNC machining centre using tungsten carbide or ceramic cutting tips.