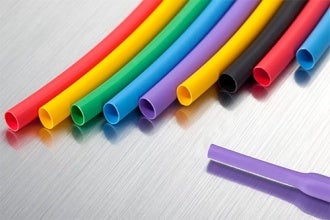 Amphenol Industrial Products Group proudly introduces a new line of heat shrink tubing for the electronics, energy, rail mass transit, heavy equipment, hybrid / electrical vehicles, telecommunications, mining and oil and gas markets.
The RoHS-compliant Amphe-HST (heat shrink technologies) is widely used in low-voltage applications and medium-voltage transmission and distribution, as well as insulation protection.
This new HST line comes in a variety of styles, including thin wall tubing that protects all types of electronic and electrical applications and dual wall tubing that seals and insulates splices, junctions, Ys and Ts, back shells and terminations where environmental protection is required.
In addition, Amphenol's high-temperature products operate in environments up to 260°C.
---
Image: The Amphe-HST for heat shrink technologies. Photo: courtesy of Amphenol Industrial Products Group.