Tim Cousins Australia is a multidisciplinary forensic firm that performs numerous investigations entailing failure of assets, defective materials, industrial accidents, property damage, intellectual property matters for the insurance, commercial and legal sectors.
We can assist clients with the coordination of multidisciplinary and complex investigations, including laboratory testing and field examinations.
Materials failure analysis of metals, ceramics and polymers in the mining sector
Tim Cousins Australia team provides sophisticated, scientifically rigorous failure analyses involving a broad range of products and materials using a wide variety of analytical techniques such as electron microscopy and X-ray spectroscopy.
These technologies assist us in conducting material failure analysis following various physical and environmental assisted degradation processes, including Fracture, Fatigue, Wear, Cavitation Erosion, Radiation Damage, Stress Corrosion Cracking, Corrosion Fatigue, Fretting Corrosion, Cavitation Corrosion, and Radiation Corrosion.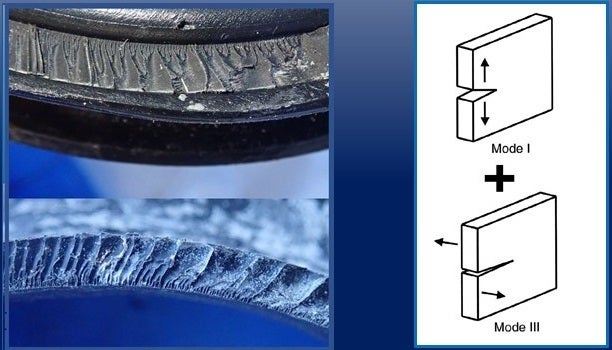 Twist hackles are generated in mixed Mode I/III loading.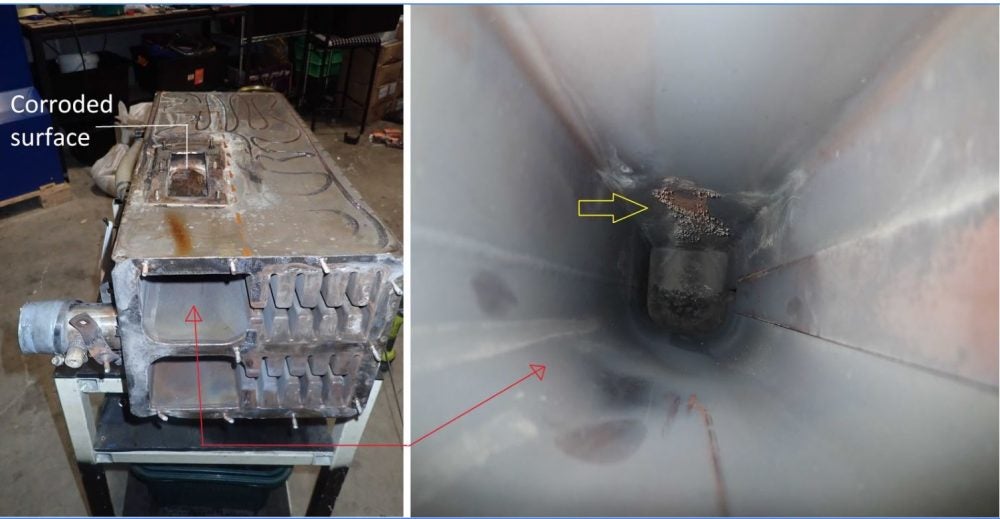 Impurities in the potable water resulted in pitting corrosion a pit in the water jacket of the steam generator.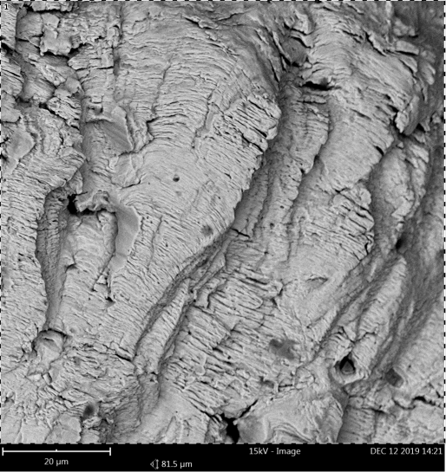 SEM photograph of the fractured surface of a pipe showing fatigue striations.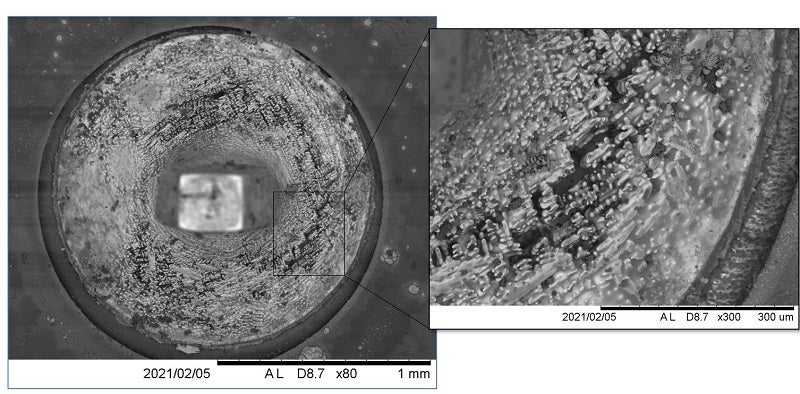 Shrinkage defects in Pb-free solder alloys.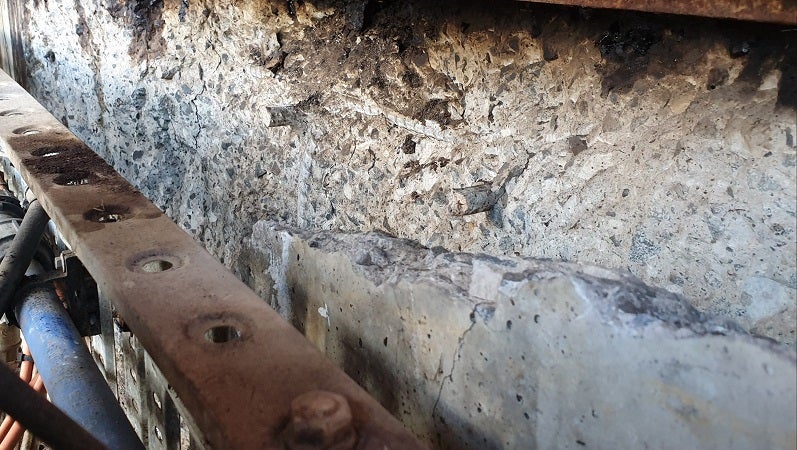 Spalling is the violent or non-violent breaking off of layers or pieces of a structural element.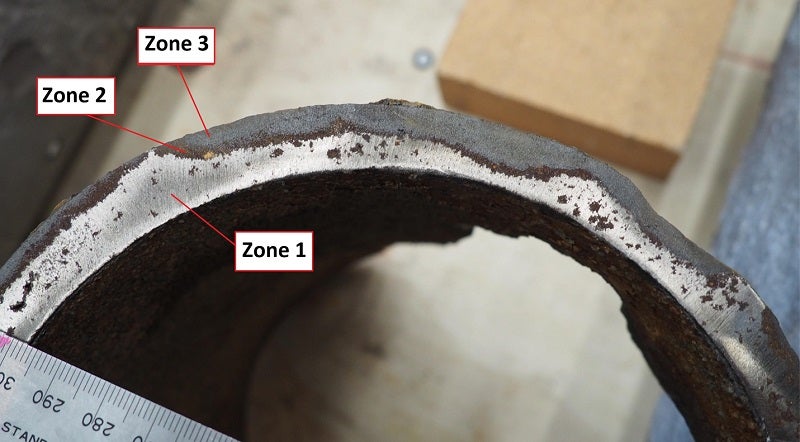 Graphitic corrosion and its three zones of an uncorroded grey cast iron (zone 1), the fully transformed product of the graphitic corrosion process (zone 3) and a transition zone that lies between the uncorroded and fully transformed material (zone 2).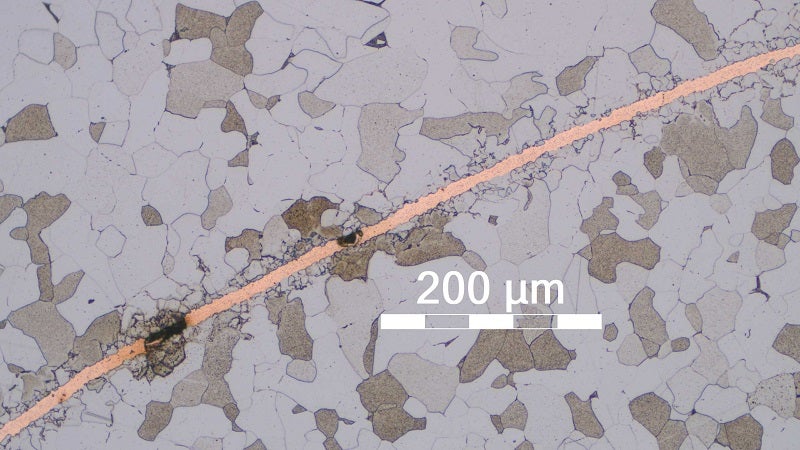 Micrographs showing brazing defects in a double-walled brazed steel tube.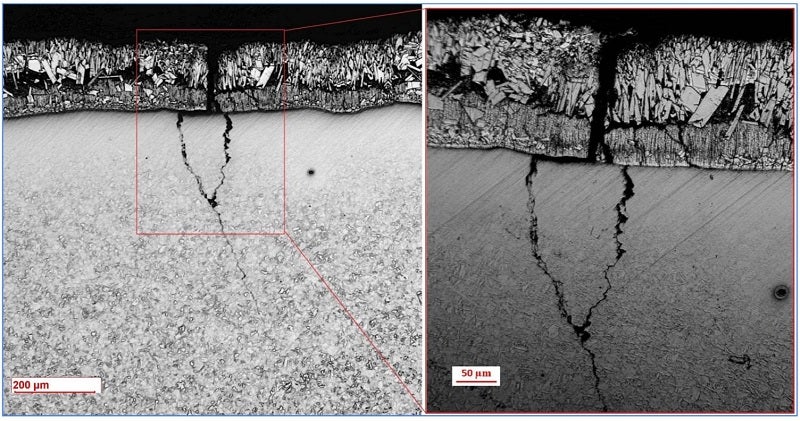 Micrographs showing the presence of vertical and horizontal cracks in the galvanized coating and crack propagation from the zinc layer to the steel substrate.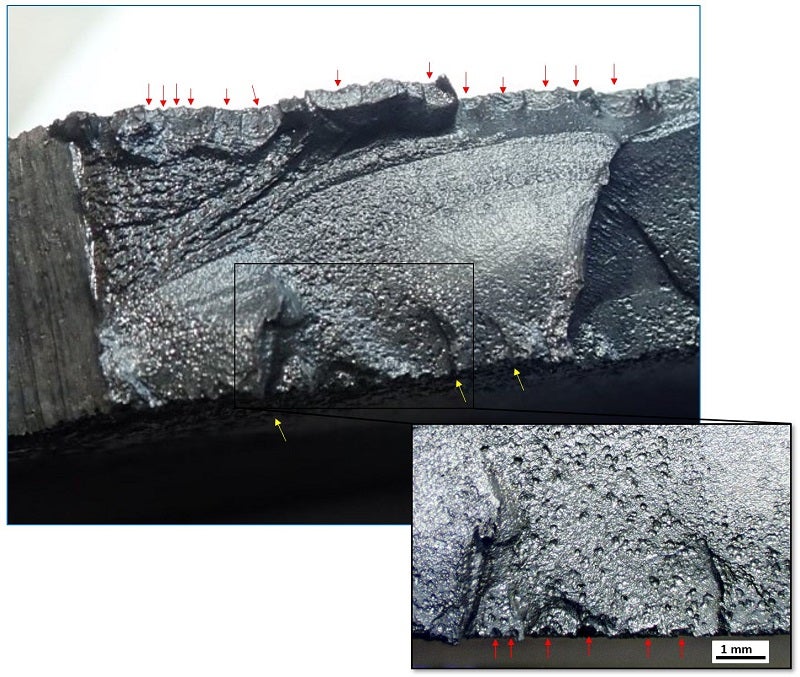 Close-up view of fracture region in a fan blade; crack initiation sites are arrowed red and beach marks are arrowed black.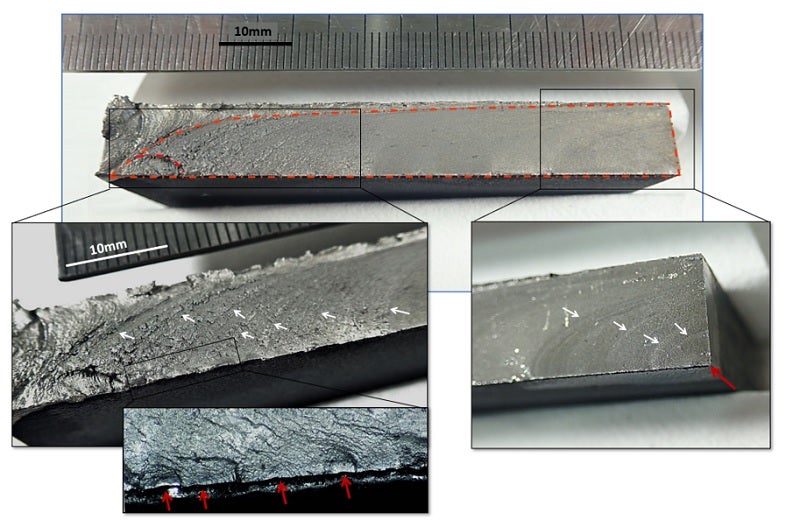 Pictures showing crack initiation sites (arrowed red), ratchet marks (arrowed yellow), and beach marks (arrowed white).
Our familiarity with industry standards such as the American Society for Testing and Materials (ASTM), the Society of Automotive Engineers (SAE), the American Society of Mechanical Engineers (ASME) and the International Organization for Standardization (ISO) makes us uniquely qualified to investigate all types of material failures, specifically metals, ceramics, and polymers.
Desktop assessment and review capabilities
Desktop assessment is an evaluation of documents and evidence from a desktop rather than in the field.
This is used in various circumstances, including poor or limited documentation available for review, site visit unavailability, restricted budget, or limited time for full assessments.
Our experts review all data from a desktop and provide expert analysis of product failures in a wide range of industries such as oil and gas, mining, marine, transport, agriculture, water industry, insurance, and loss adjusters.
Expert inspection and testing
Tim Cousins comprises a highly licensed professional team that includes metallurgists, engineers, technologists, material scientists and inspectors. With respect to the diversity of our professionals, clients will always be assured by performance of the most cost-effective inspection regime that will comply with the regulatory requirements.
Legal and forensic reporting
Our team provides independent failure analysis services for contentious matters entailing investigating material failures, mechanical failures, electronic and electrical engineering system failures.
Our experts have prepared forensic failure expert reports and given expert evidence in the Australian Courts in relation to the various complex multidisciplinary dispute.
Secure evidence storage solutions
Tim Cousins Australia offers secure evidence storage, which is dedicated space for the sole purpose of securely storing forensic evidence that the forensic laboratory may process or has processed.
Our secure evidence storage facility is supported by robust evidence management. Evidential storage is the most secure storage area in the forensic laboratory and the most rigorously controlled area with full close circuit television (CCTV) and alarm coverage. All access is regularly reviewed and limited to the minimum possible number of employees.
Our secure evidence storage facility is designed so that it can withstand any forced or otherwise unauthorised entry, as well as any environmental threats.