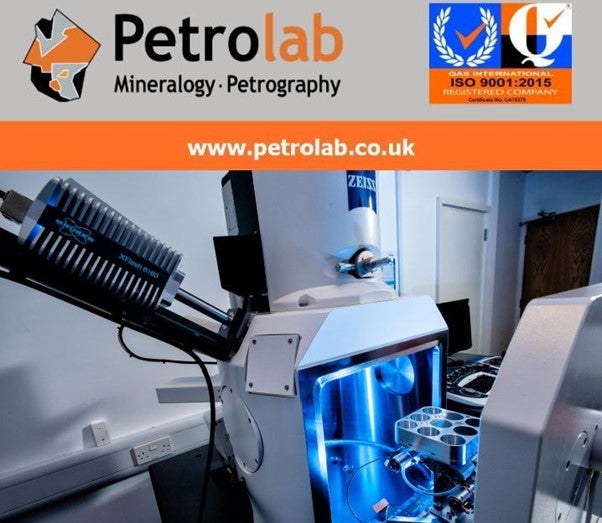 Petrolab specialises in automated mineralogy, including ore characterisation, geometallurgy, gold deportment studies, routine plant monitoring and auditing.
Suitable for exploration, geotechnical studies, mine planning or concrete for civil engineering projects, we provide petrographic investigation and characterisation on a wide range of grab samples, drill cuttings and diamond drill core.
Petrolab also offers metallurgical consultancy, and aggregate and concrete investigations for the geomaterials industry and operates a thin section and sample preparation laboratory.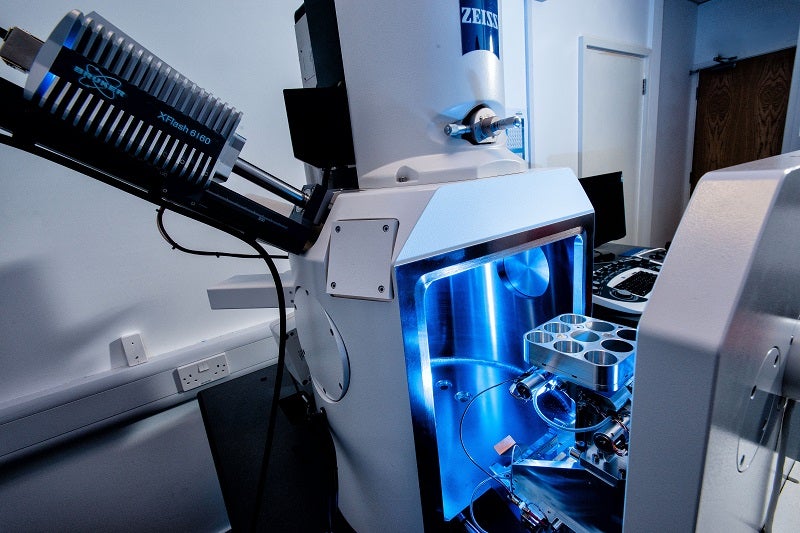 Petrolab performs automated mineralogy using the innovative Zeiss Mineralogic mining platform.
Automated mineralogy provides images to enable reports regarding particle and grain size distribution.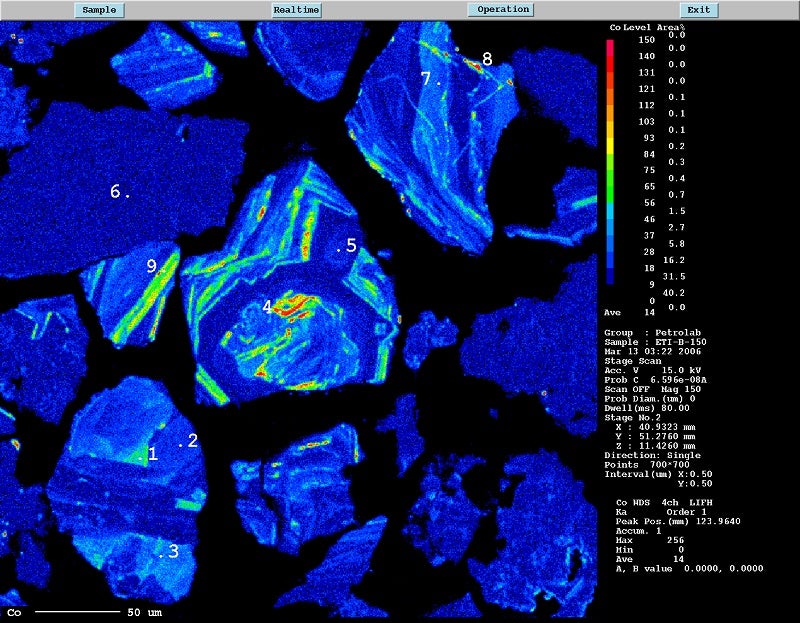 The Zeiss Mineralogic platform allows adaptable X-ray scanning modes for elemental mapping.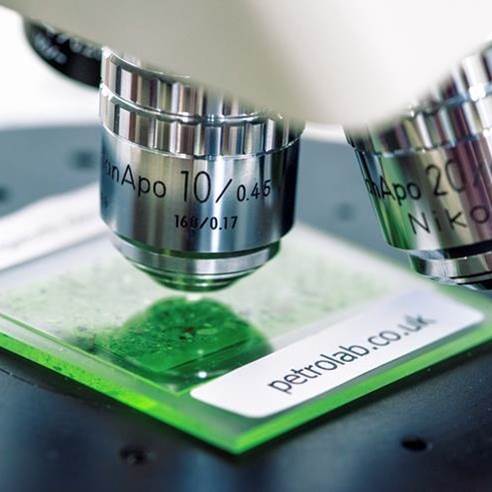 Optical microscopy cost-effectively offers information on ore concentrates and exploration prospects.

Our services can be used for concrete for civil engineering operations.
Our services are used in gold deportment studies.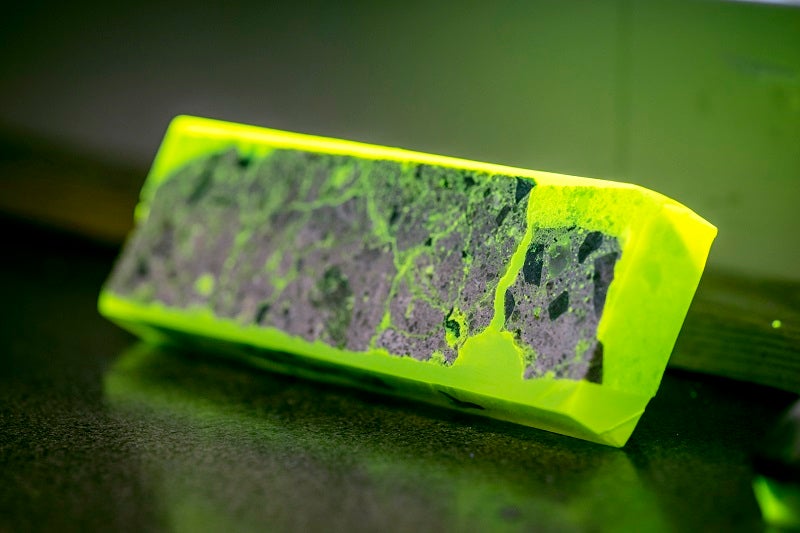 Petrolab operates a commercial thin section laboratory.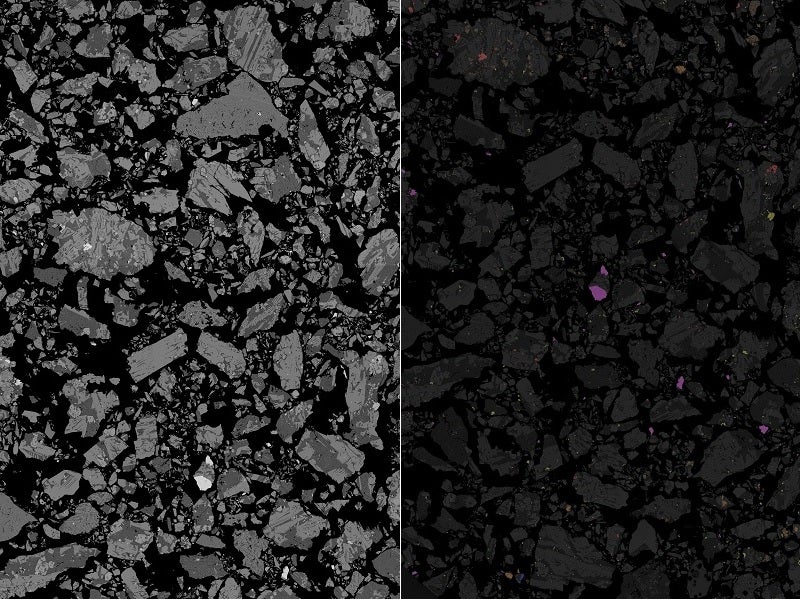 The left-hand image shows Cu smelter slag while the right-hand image shows its overlay.
Automated mineralogy solutions for mines
Automated mineralogy and petrography refer to analytical solutions based on scanning electron microscopy (SEM) and energy-dispersive X-ray spectroscopy (EDS).
Petrolab uses these technologies to offer a fast and quantitative assessment of mineralogy and texture. The company runs the state-of-the-art Zeiss Mineralogic mining platform, a next-generation tool for the Quantitative Evaluation of Materials by Scanning Electron Microscopy (QEMSCAN) system.
Petrolab operates Zeiss EVO MA-25 with two Bruker EDS detectors. The highly versatile platform allows configurable X-ray scanning modes that include line scan, feature scan, spot centroid and full mapping mode. This allows us to provide a customised analysis to address our client's mineralogical questions, with a core focus on concise reporting and database / plant historian integration.
Automated mineralogy is typically used to report on:
Modal mineralogy and metal(s)
Deportment of the target
Mineral locking and association
Particle and grain size distribution
Bright phase search (e.g., for gold or contaminants)
Ore and gangue characterisation
Regular mineral processing circuit audits to enhance efficiency
Metallurgical problem-solving and test work
Due to growing demand, Petrolab are proud to announce the acquisition of a second SEM, a state-of-the-art Zeiss EVO MA-15 fitted with Oxford X-Max 80mm² Silicon drift detector. This doubles its in-house effective capacity to provide automated mineralogical studies as well as cope with the increasing demand for point-and-shoot targeted analysis.
Optical microscopy petrography
Optical microscopy is a cost-effective method of providing information on ore concentrates and exploration prospects. These include clarification of current mineral phases, textural controls, modal abundance and estimated deportment of key metals. The technology includes transmission, reflected light and fluorescence microscopy, and can also be used in conjunction with automated techniques.
Petrolab's personnel has extensive experience in petrographic analysis and use their eight in-house microscopes to identify and interpret a wide range of sample types, including rock, aggregates, stone, slate, concrete, mortar and smelter slags.
We are also proud to announce the purchase of our Zeiss Axio Imager, which has allowed us to further expand our petrographic capabilities. It gives us the opportunity to acquire high-resolution scans of our thin sections in multiple light sources and will push our future research into machine learning.
Materials testing capabilities
Petrolab uses microscopic and macroscopic analysis techniques such as visual examinations and transmitted and reflected light thin-section observations. We also use methods such as XRD, chemical testing and scanning electron microscopy to create comprehensive reports.
Our standard range of reports covers the examination of reservoir rocks to evaluate porosity and texture; the evaluation of quarried rocks as potential for aggregate and other end uses; and conformance testing of aggregate stockpiles to identify lithologies and consistency.
We also run tests to verify conformance and/or degradation of slate roofing tiles, and the examination of potential repair material to match existing building stones.
All testing is performed by Petrolab in line with relevant industry standards such as British Standards (BS) and the American Society for Testing and Materials (ASTM).
In 2021, we secured our own in-house XRD system – the Bruker D2 Phaser and high-quality, high-speed LYNXEYE detector with DIFFRAC.SUITE software and mineral identification and quantification achieved using BRUKER.TOPAS V6 software.
Sample preparation laboratory
Petrolab has its own sample preparation laboratory which produces petrographic thin sections, polished blocks and large area sections from mineralogical powders, specimens of rock, drill core, aggregate, concrete and other similar materials.
Our thin section facility uses a Pelcon Automatic Thin Section Machine to develop high-quality sections from aggregate, concrete and rock. Fixed diamond abrasives are used to produce flat, uniform sections with high preservation of microscopic fine detail, as well as ensure that the finished section is not contaminated with carborundum powder.
Automated mineralogy requires high-quality polished blocks and precise sample preparation to give the most accurate liberation data. Petrolab produces polished blocks to a high standard using accurate preparation techniques with a high-quality finish, using a Buehler EcoMet350 Grinder Polisher.
By producing and analysing our own samples, we have been able to conduct extensive research and refine our sample preparation techniques and have become experts in combatting common automated mineralogical issues including density settling, sample deagglomeration and conducting analysis on low sample masses.
Using this research and advanced techniques have allowed us to use our expertise to offer quality control and troubleshooting courses for other sample preparation labs including consultancy visits to overseas mine site laboratories to improve their onsite throughput and processing plant performance.
Preparation and analysis of future resources
As the global demand for resources changes, we have seen an increasing demand for the preparation, analysis and quantification of unconventional resources and critical metals. This has enabled us to gain a wide knowledge of the preparation and analysis of these sample types and we are able to offer analysis of resources such as:
Lithium-bearing drill cores and powders
Fuel ash and coal ash products
Graphite-bearing rocks and concentrates
Identification and quantification of these resources are possible using our range of in-house services detailed above including automated mineralogy, optical microscopy and XRD analysis.