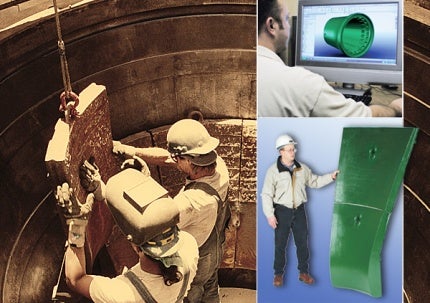 Columbia Steel engineers and manufactures wear-resistant parts for the mining industry. Columbia Steel engineers steel replacement components for all popular cone, jaw and gyratory crushers, and supplies a broad range of wear part styles and designs for any manufacturer in the industry. The company also makes complete rope-to-rope dragline rigging assemblies, designed for increased safety, reduced weight and improved productivity.
Wear parts for crushers
Columbia Steel provides complete crusher wear part solutions. The company offers design and pattern making, as well as alloy selection and casting.
Crusher productivity and increased wear-life
Columbia Steel's product engineers are experts in designing crusher wear part profiles to increase overall wear-life, as well as to improve production. The company's engineers regularly service crushing profiles to handle oversized materials and reduce recirculation, resulting in better overall plant performance. Columbia Steel's engineers and onsite pattern shop provide solutions for custom designs.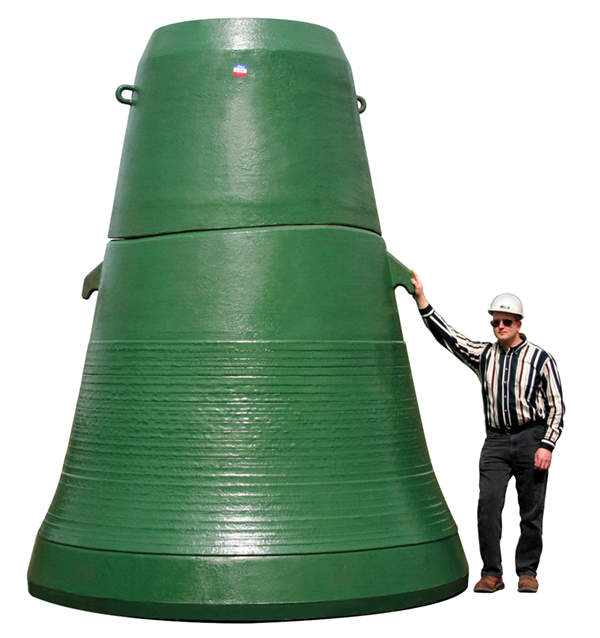 Columbia Steel can provide matched gyratory crusher mantles and liners for improved performance in any size up to 36,000lbs.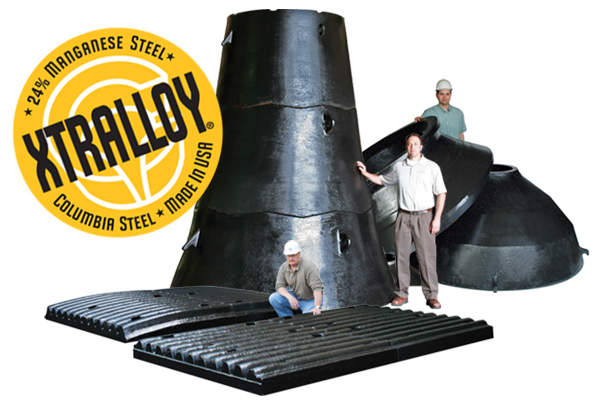 Columbia customers rely on Xtralloy 24% manganese steel for longer crusher wear part life, lower cost per tonne of material crushed and savings in labour, backing material and downtime.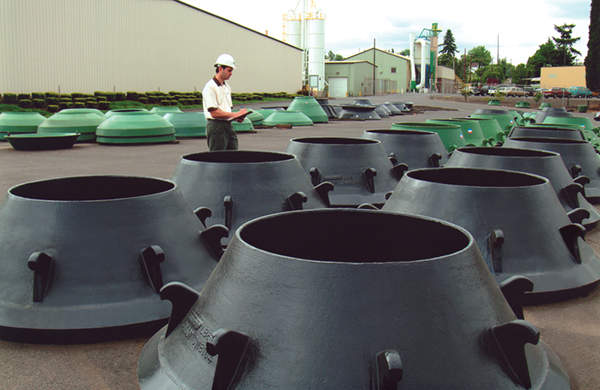 Columbia Steel inventories hundreds of cone liner patterns that can be customised to improve your productivity.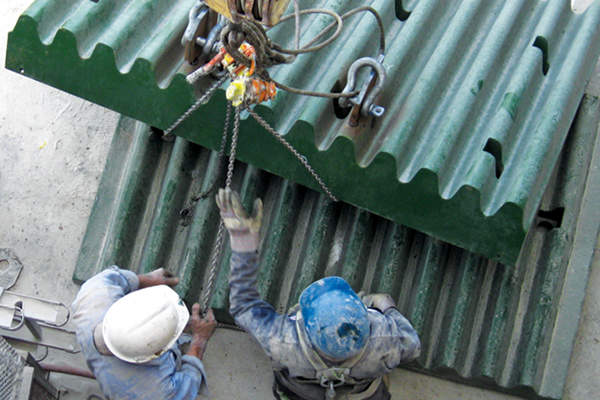 Jaw crusher manufacturers generally offer a limited choice of plate designs, but Columbia Steel regularly creates new designs to improve specific applications.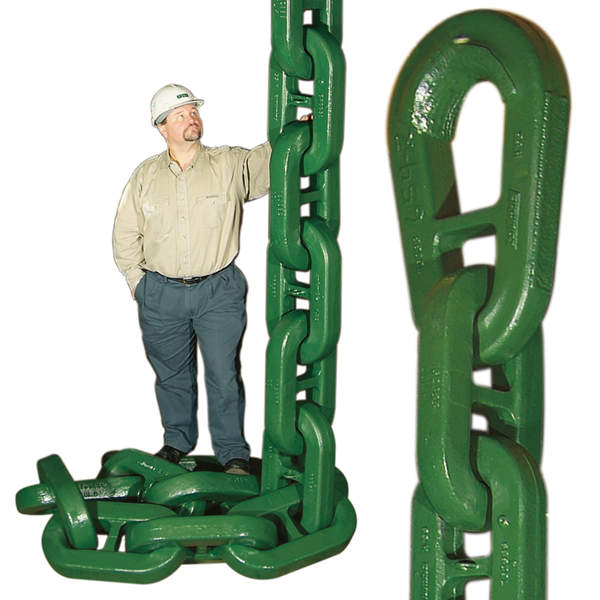 With a bite area that's greater than conventional chains, Columbia's long-wearing, integrally cast XtraLife dragline chain is the industry standard worldwide.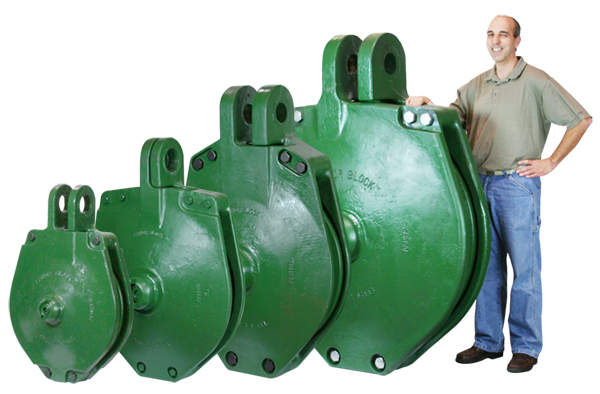 Columbia Steel's Armor Block dragline dump block has a simplified bearing arrangement for more efficient rebuilds and provides superior service life in difficult environments.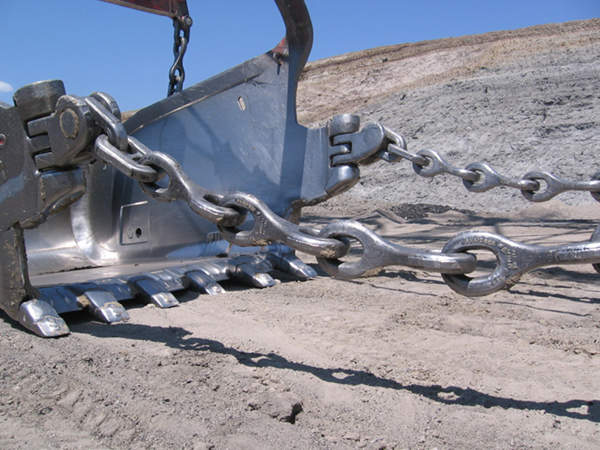 Unique TwistLink drag and hoist chain is designed with rigging weight reduction in mind, without sacrificing resistance to abrasion and impact.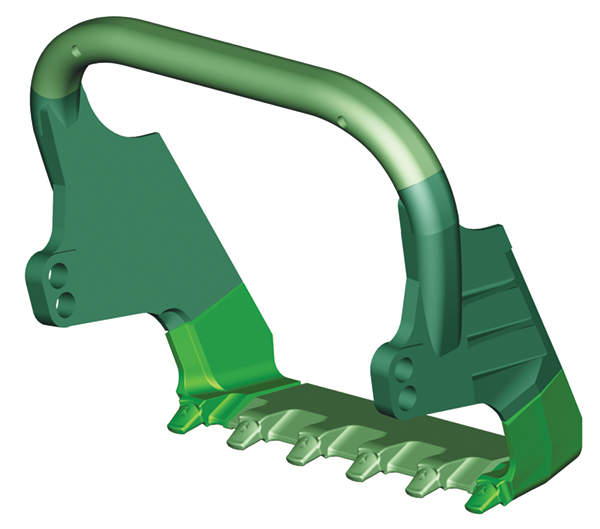 Whether it's bucket lips, arches, wear plates, replaceable guards or more, Columbia Steel manufactures the dragline bucket components that take a beating.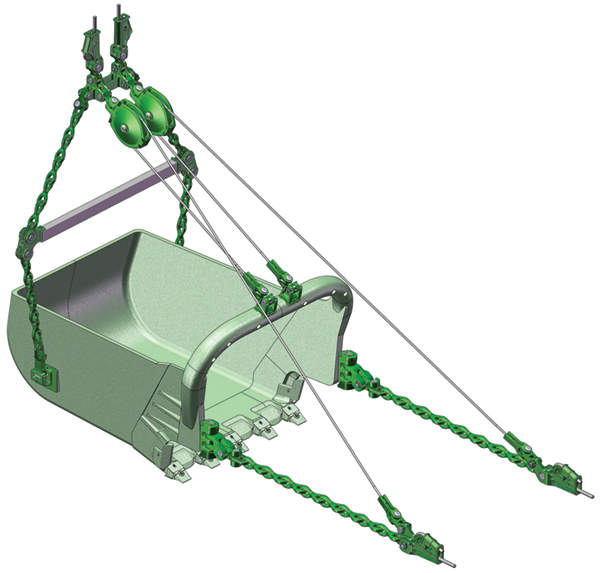 Columbia's engineers are always innovating dragline rigging designs to boost productivity with improvements in safety, longer wear-life and lower rigging weight.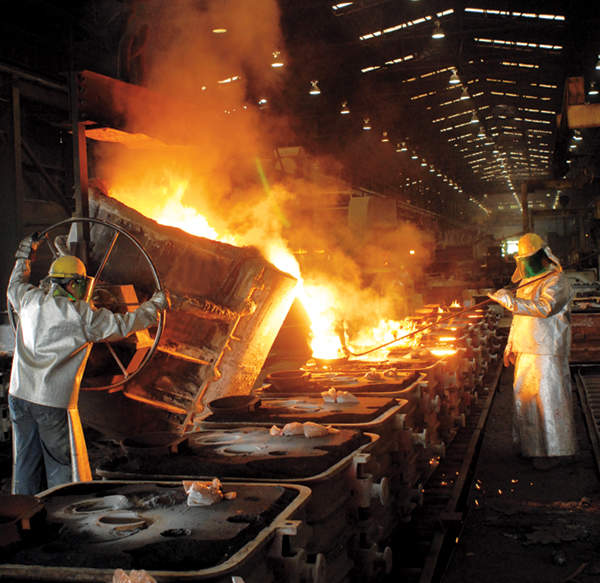 From engineering to pattern making to foundry, Columbia Steel is a full service, fully integrated manufacturer of crusher and dragline wear parts for mining.
Reduced downtime with advanced alloys
Columbia Steel can recommend alloys to meet the level of impact and abrasion encountered in specific operations; e.g. the Xtralloy® 24% manganese steel provides a longer life in many cone and jaw crusher applications. Alloys of appropriate hardness are available for each level of a gyratory crushing chamber to greatly reduce maintenance costs.
Crusher wear studies for wear part recommendations
Crusher wear studies by Columbia Steel take the guesswork out of wear part choices. Columbia Steel's district managers and engineers begin by collecting data on customer equipment, such as feed and discharge information, throughput rates, change out records, and measurements on worn parts. This is the basis for effective wear part recommendations.
Alloys for mine crushing
Columbia Steel's Xtralloy is the trusted choice of alloy for mines, with its ability to crush the toughest and most abrasive material. Xtralloy has a significantly higher carbon and manganese content than conventional Hadfield's manganese steel, resulting in excellent wear-resistance and reliability.
Complete dragline rigging packages
Columbia Steel maintains numerous existing patterns for rope sockets and wedges, complete dump block assemblies, spreader bar assemblies, hoist links and a full array of rigging connection links, cast pin/keeper assemblies, and manganese steel bushings. The company can provide direct replacement parts to fit current rigging, or implement more streamlined rigging configurations to reduce overall rigging weight, maintenance costs and parts inventory.
Hoist, drag and dump chain
Columbia Steel's XtraLife® chain is the industry-wide standard for cast dragline chain, engineered to efficiently accommodate an operator's digging style and requirements. A tailor-made chain assembly is formulated to fit specific rigging configurations and wear conditions.
Lightweight drag chain
To reduce chain weight and chain wear surface area, Columbia Steel introduced the TwistLink® chain. A single TwistLink is as long as two standard links and is cast in the same material as XtraLife chain, providing resistance to abrasion, excellent ability to handle impact and considerable weight reduction. The TwistLink chain can provide up to a 22% reduction in weight and offers a cost-saving option to dragline operators.
Dump blocks
Columbia Steel dump blocks can be used for every dragline. The Armor Block™ is fully-enclosed for excellent material exclusion, while the Bantam Block is designed to help reduce rigging weight. Columbia Steel's same-plane and opposite-plane dump blocks use standardised pin lengths and diameters, with bushings at the pin holes, and are compatible with ferrule ropes.
Dragline teeth and adapters
Columbia Steel manufactures a full range of sizes and styles of large dragline teeth and adapters. They are also available with Xtend Process® surface wear armor. The EZ Drive® tooth and adapter system uses a unique positive-lock top-drive pin, for safe and rapid tooth replacement.
Rope sockets and wedges
A range of sockets and wedges is designed for better safety, productivity and ease of maintenance. Columbia Steel's ferrule rope socket provides up to 50% weight reduction over conventional socket and wedge systems. The EasyOut system and WedgeOut™ hydraulic system both permit wedges to be removed quickly and safely.
Links, clevises and equalizer bars
Columbia Steel offers all of the linking components used in large draglines and has patterns and inventory for the most common items.
Bucket and structural components
Columbia Steel produces entire bucket front-end rings, as well as replaceable guards, such as wing shrouds. The company welcomes enquiries about bucket components, repair items, or bucket front-end rings.
Quality assurance testing
Before any part is shipped, Columbia Steel's quality assurance department conducts thorough product testing. Depending on the application, parts may receive hardness testing, x-rays, and ultrasonic examination to ensure soundness and achievement of final properties.