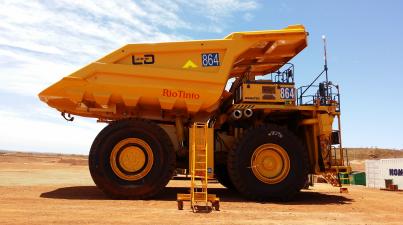 The JEC LD truck body has been designed to increase productivity while being durable and cost-effective.
The JEC LD truck body's initial body design was based on the Komatsu 930E-4SE haul track, but it is not limited only to this fleet. The body design can be adapted to suit any original equipment manufacturer (OEM) chassis. It is a high performance dump truck body with unique features that enhance the efficiency of haul trucks.
Its design has been largely simplified, with 25%-30% less components, resulting in improved manufacturing efficiencies and lower ongoing maintenance costs to the end user.
Incorporated in the base design of the truck body is an anti-hang up feature, consisting of large radius transitions that assist in the reduction of material carry back and provide superior impact resistance. Over the full length of the body, tapered sides minimise wear over the rear two thirds and further assists in carry back reduction.
Its fixed floor design is permanent within the body structure to allow adjustment of the structure for a predetermined life and maximised payload over the life of the body.
Constructed using high strength materials, all inner main plates of the body consist of heat-treated abrasion resistant steel plate in the 450 nominal Brinell hardness range for superior impact resistance. The JEC LD has a 10%-15% weight saving over standard conventional bodies, which maximises payload depending on application.
Fully optimised body shape – The rear shape of the body floor and sides have been optimised to better suit real world loading conditions and better utilisation of structural material in critical areas.
Also, impact resistant plates have been incorporated into the base design offering side impact protection. These protect the upper side bolster from damage in the main loading zone.
A low profile rear floor shape and reduced high bolster provides additional ground clearance when dumping. The laminated plate design offers additional resistance to damage from berm dragging.
The JEC LD dump truck body's design has been verified utilising advanced 3D modelling software (Pro Engineer CREO 2.0) and analysed with the latest FEA and load simulation software (ANSYS / EDEM). Significantly improved fatigue resistance has been realised within the results of FEA analysis.
The JEC LD's design is fully customisable, meaning that can be adjusted to suit any mine specific application or fatigue life requirement (from 20,000h to 60,000h).
The segmented body design lends itself to varying shipping configurations.
This article was originally published in Investment Monitor