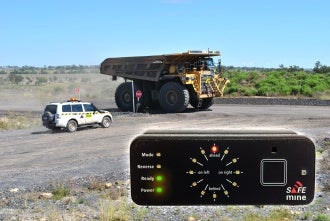 Another South African mine has turned to Hexagon Mining for a safer, more productive future.
Exxaro's Grootegeluk coal mine will implement SAFEmine, Hexagon Mining's world-leading collision avoidance and fatigue monitoring technology.
The SAFEmine Collision Avoidance System (CAS), which includes SafetyCentre, TrackingRadar, and FatigueMonitor, is a complete safety package for Grootegeluk. CAS will be installed in Grootegeluk's entire fleet, which comprises more than 60 haul trucks and over 180 other vehicles.
SafetyCentre will provide Grootegeluk's haul truck operators with a single touchscreen, showing surrounding vehicles and untagged objects such as ground personnel. SafetyCentre uses TrackingRadar, up to three cameras, and includes alerts from CAS.
Operators will also benefit from FatigueMonitor, which integrates data from fatigue detection and collision avoidance units to minimise accidents involving mining vehicles.
The mining industry is paying increasing attention to developing systems that can protect drivers and operators from collisions in busy surface mines, particularly where large haul trucks are interacting with smaller personnel vehicles. Earlier this year, South Africa's Department of Mineral Resources introduced regulations compelling surface mines to enhance safety for all trackless mobile machinery such as trucks.
SAFEmine CAS is proven to drastically reduce mining accidents and save millions by reducing the risk of business disruption and maintenance costs.
The system is installed in more than 20,000 vehicles in more than 45 mines worldwide. In South Africa, over 9,000 mining vehicles, including many operated by mine contractors, use SAFEmine CAS.
More highlights of SAFEmine:
360° protection around trucks and shovels, can increase productivity
Radar technology to protect pedestrians
Integrated operator fatigue monitoring system
Technology to slow down and stop equipment such as trucks
Driving behavior tracking, viewable on smart phone, computer, or tablet
---
Image: Exxaro's Grootegeluk coal mine will implement SAFEmine collision avoidance and fatigue monitoring technology. Photo: courtesy of SAFEmine.