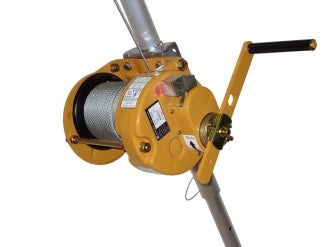 Globestock's G-Winch is a manually operated winch for the routine raising and lowering of personnel, as well as personnel rescue.
The unit is available with cable lengths of up to 50m and for maximum working loads of 150kg or 250kg. Galvanised steel cable is fitted as standard, with the option of a stainless steel cable for damp or salty environments.
The G-Winch offers high mechanical efficiency and a light, smooth action, making day-to-day personnel hoisting effortless. Its anti-run braking mechanism grants complete control for the winch operator, enabling him to hold the confined space operative completely steady at all times.
Brackets allow the winch to be securely fitted to Globestock's G-Tripod, for confined space access situations. Other brackets are available for anchoring to different positions such as scaffolding.
The G-winch boasts durable, hardened gears and a tough pressed steel casing, delivering a long, wear-resistant working life.
---
Image: The Globestock G-Winch for personnel. Photo: courtesy of Globestock.