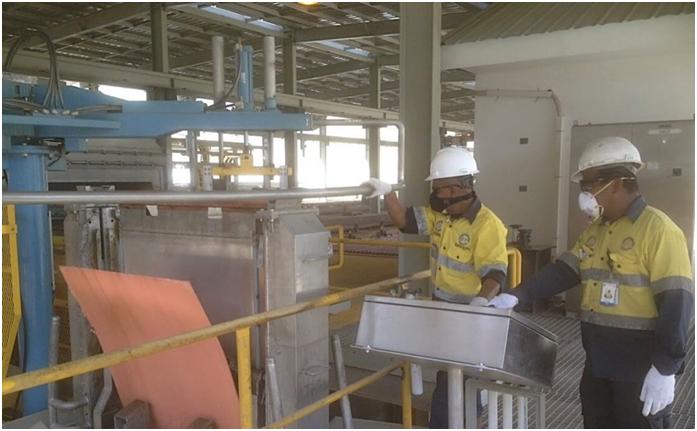 PPM Global has been assisting the Wetar Copper Project team with an operational ramp up of production and developing training documents to further assist training of the local work force. The project is on the north central coast of the island, which supports round 9,000 people.
Perth-based Finders Resources operates the project held through Indonesian subsidiary and industrial copper plate manufacturer PT Batutua Tembaga Raya (BTR). The project involves developing, open pit mining and processing of high-grade sulphide deposits within 3km of the coast.
PPM Global director Steve Potter said the project suited PPM Global's preferred approach to work closely with the client's operations team from the outset of commissioning: "This minimises costs and facilitates early opportunities to begin training site personnel in the technical and operational aspects of the process," he said. "All projects at this stage are feeling the pressure to complete construction and get into production as soon as possible."
With significant experience in both commissioning and operations, the team at PPM Global identified critical equipment and process streams to allow for a 'First Copper Circuit' that prioritises and manages critical path items for construction completion.
"Commissioning preparation has been focused mainly on the unit operations that will facilitate a safe and efficient start-up, rather than trying to complete every last construction item at a time when resources are stretched," Steve said.
"One of the main concerns with this approach is how we manage the completion of non-critical items if the plant is in operation.
"There are a number of criteria we take into account. First and foremost is safety. Once a plant becomes live we have to manage construction around energy sources, chemicals, heat, pressurised process steams and rotating / moving equipment, just to name a few."
PPM implemented processes and procedures to safely manage commissioning under these conditions, thereby allowing the operational plant to produce and the construction team to continue safely with the final items for construction completion.
BTR project manager Russell Dwyer said PPM Global's personnel accelerated PT BTR's drive to project completion with their immediate focus on system readiness to first copper.
"PPM Global provided sustained support in mechanical, process and commissioning activities," he said. "Their people were flexible and knowledgeable and brought copper on line quicker than would have been the case without them. PPM is assisting to ramp up production – teaching operational personnel modern techniques that are supported by their many years of industry experience. I would be happy to recommend and reengage them."
Background
In February 2016, PPM Global was awarded the contract to implement and manage project commissioning.
The project is designed to produce 25,000 tonnes per annum (tpa) of high purity copper cathode via the processes of Heap Leach (HL), Solvent Extraction (SX) and Electrowinning (EW).
The PPM Global team arrived on the island in April 2016 for a preliminary review of construction progress and kick off meetings.
"Getting to site was interesting, not the usual drive along dusty tracks," said Steve.
"Travel from Australia to Bali is followed by an hour's flight from Bali to Kupang. Once there we boarded a 70m boat, leaving the main harbour early evening for a 15 hour trip that would see us arrive at Wetar Island at around 10am the following day."
A review of the site construction progress was underway shortly after arrival and the PPM team met with both BTR personnel and representatives from the client's engineer, GR Engineering Services (GRES). Before the site visit, meetings were held with GRES in Perth to discuss in detail the respective work scopes and agree on the safest and most efficient way to move the project from a construction site into plant commissioning and on to production and ramp up.
"PPM's people were flexible and knowledgeable and brought copper on line quicker than would have been the case without them."
Discussions with GRES focused on anticipated timing for completion of various plant areas, while meetings with BTR focused on preparedness for start-up and operations.
"At completion of these meetings and site walk throughs, it became evident that construction was sufficiently advanced to allow the commencement of commissioning in certain areas of the plant," Steve said. "BTR's instruction to PPM was to begin mobilisation of personnel as soon as possible."
PPM had commissioning specialists en route to site within a week and promptly mobilised a commissioning manager followed by two process specialists and a mechanical supervisor.
"While some companies are new to copper hydrometallurgy, BTR was in the fortunate position of having operated a small SX / EW demo plant at Wetar for a number of years," Steve added. "This allowed us to keep numbers to a minimum and furthermore: allow an integrated and capable commissioning team to be developed comprising PPM supervisors and BTR operations personnel."
In early July over 300t of LME Grade A copper cathode had been stripped from the recently commissioned SX-EW plant.
The rate of copper cathode stripping is continuing to increase as production levels from the SX-EW plant ramps up.
Concurrently, the 3,000tpa copper cathode SX-EW plant continued to perform at capacity during June bringing the combined site total to approximately 550t of copper cathode.