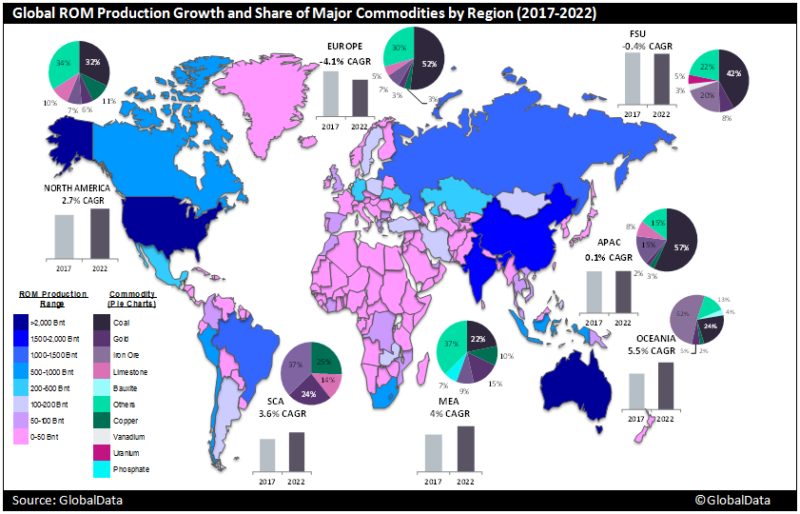 Global run of mine (ROM) production, from over 100 mineral commodities and 150 countries, reached 18.5 billion tonnes in 2017, according to GlobalData's Mining Intelligence Center. By 2022, this figure is expected to reach 20.5 billion tonnes, an increase of 3.1% per year.
This growth signals more encouraging times for the mining equipment, technology and services sector with growth in mining aftermarket sales in particular linked to growth in ROM production.
Through to 2022, iron ore mine ROM production is forecast to grow at a compound annual growth rate (CAGR) of 5.9%, while coal will decline, albeit by a marginal 0.4%. Among the other commodities, gold and copper will grow by 8.6% and 5.9% per year respectively.
Asia-Pacific is the largest contributor to the global ROM production, accounting for 23.7% in 2017, followed by South and Central America (18.8%), North America (16.8%), with the top ten countries being Australia, United States, China, India, Russia, Brazil, Chile, Canada, South Africa, and Peru. These markets collectively accounted for over 70% of the global total. Highest growth is expected in Oceania at 5.5% per year, followed by the Middle East & Africa, whilst mine closures in Europe are expected to lead to an annual decline of 4.1% in the region through to 2022.
Vale, Rio Tinto, Coal India, BHP, Freeport, Glencore, China Shenhua Energy, Codelco, Barrick and Anglo American were the top ten companies in 2017 jointly accounting for approximately 25% of the global share.