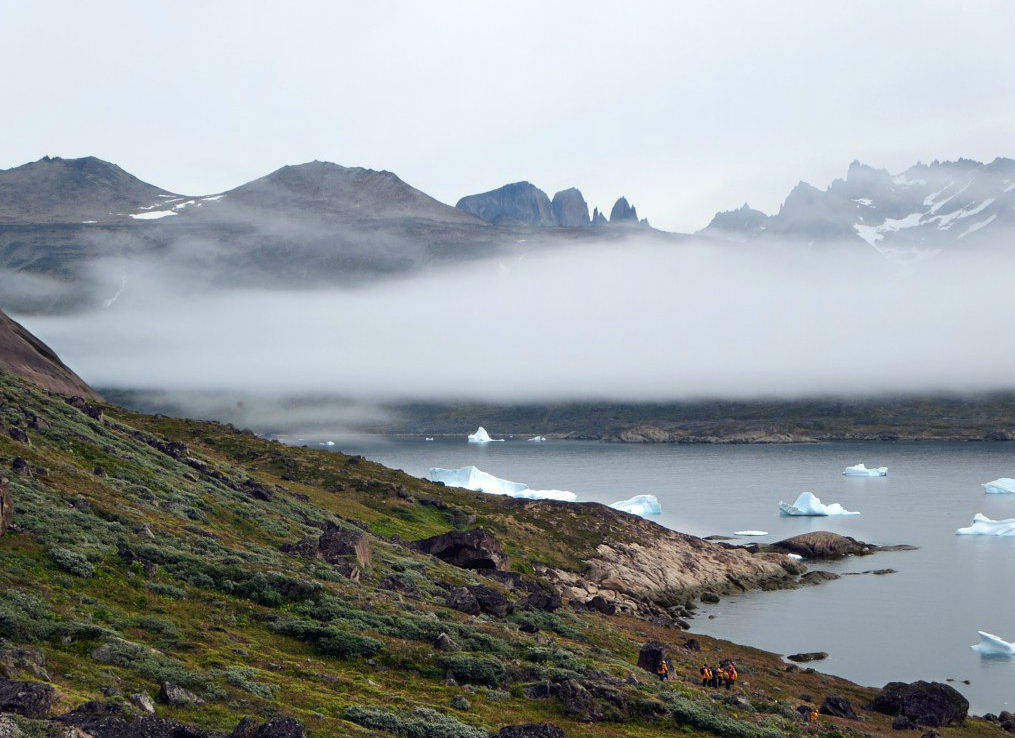 Currently, around 95% of the world's demand for rare earth metals is supplied by China. The country started mining for precious materials in 1986 and now has a near-monopoly on the sector.
However, due to increasing demand for the materials used in devices such as smartphones and wind turbines, there is increasing concern that worldwide demand for rare earths will exceed supply by 40,000 tonnes unless major new sources are developed.
As a result, there are around 200 projects underway around the world, and one country that could become a prominent new player in the market is Greenland.
Greenland's major projects
One of the country's largest projects is called TANBREEZ, which may hold the biggest deposit of dysprosium in the world. The site is close to some of Southern Greenland's major towns, but project owners say that it there will be minimal impact on the local environment.
Another major site for exploration in Greenland is the Kvanefjeld rare earth mine, located at the northwest corner of the Ilimaussaq complex in Southern Greenland. Australia-based Greenland Minerals and Energy (GME) started exploration in 2007, and found that there are at least 15 rare earth metals available at the site, including tantalum and zirconium, both of which are very resistant to corrosion and used in alloys.
How well do you
really

know your competitors?

Access the most comprehensive Company Profiles on the market, powered by GlobalData. Save hours of research. Gain competitive edge.
Company Profile – free sample
Thank you!
Your download email will arrive shortly
Not ready to buy yet? Download a free sample
We are confident about the unique quality of our Company Profiles. However, we want you to make the most beneficial decision for your business, so we offer a free sample that you can download by submitting the below form
By GlobalData
The incidence of the precious metals is large enough to cover 25% of the world market's needs for generations, according to the GME geologists who studied the site. It also has a very low waste to ore ratio.
"The incidence of the precious metals is large enough to cover 25% of the world market's needs."
GME will soon apply for a licence to begin operations at Kvanefjeld – which is the sixth largest deposit of uranium in the world – now that both Greenland and Denmark's parliaments have passed legislation to regulate exports of uranium.
"The parliamentary approvals that have completed this process represent a significant milestone, and set a solid foundation for Kvanefjeld's progress toward development," said GME executive director John Mair. "The developments provide a further demonstration of Greenland's efforts to support the resources industry and attract foreign investment."
Kvanefjeld was first discovered by scientists in the 1950s, and extensive exploration programmes were carried out through the 60s, 70s and 80s, which were funded by the Danish government and mostly focused on uranium extraction.
GME acquired the project in 2007, and since then has shifted more towards the extraction of rare earth minerals, as this was believed to be the more valuable route to take. Uranium will be a by-product of the process.
The impact of uranium
GME will have to extract uranium in order to access the rare earth ores, and as a result must prove that the mine is safe and profitable. An outright ban on uranium mining in the country was only overturned in 2013, so the government is cautious about any projects that involve the radioactive mineral.
The legislation was passed by the Danish government in early June, and the conditions are set to come into force on 1 July.
Regardless, GME believes it will get the necessary permits in place by 2018 to start drilling in 2020, and estimates that the site could produce 3 million tonnes of rare earth minerals per year, proving to be an attractive asset for investors.
"Uranium gets politicised and it catches the attention of the NGOs. That's why it's assumed to play an important role in whether the project gets off the ground," says Mair. "The amount of uranium we would produce is closely related to the amount of rare earths we would produce, so we wouldn't be able to suddenly produce more without permission."
Breaking barriers: independence and China
Mair recently attended and spoke at the Arctic Circle Greenland Forum in May. The main focus of the event was how Greenland can diversify and grow its natural resource development and strengthen the economy.
Over the past few months, Greenland has made advances towards managing the production and export of resources, but there have been concerns over the country's ability to make these adjustments appropriately.
Greenland became a Danish colony in the 19th century, but has been building up its own powers since World War II, achieving self-governance in 2009. However, the country still relies heavily on Denmark for funding, and so needs a stronger economic plan to gain full independence.
"Greenland needs a stronger economic plan to gain full independence."
A person involved in a rare earth project in Greenland who wished not to be named has been left unimpressed by the government over how they have handled mining and exploration licences, which he believes is a result of the country's very small population.
After a few investment problems and setbacks with a certain project, the government threatened to seize all the assets on an exploration site and issue them to other companies.
A lengthy legal battle ensued, as did a virulent media campaign against the company, which are both still ongoing. From his perspective, the government handled the situation badly, finding itself unprepared to correctly issue mining and exploration licences.
Another hurdle for Greenland is China's unavoidable presence in the rare earth sector. In January last year, China made the decision to drop export quotas on rare earth minerals, which it had previously put up to halt the over-mining of precious resources.
Investment in rare earth projects outside of China have largely relied on the expectation that produce from the Asian nation would be limited. But without quotas, interest may be more difficult to drum up. China is also unlikely to want to ease its dominance in the market, which could either lead to Chinese investment in global projects, or fierce competition with them that smaller countries like Greenland just can't match.
A positive future
Greenland's Prime Minister Kim Kielsen has been positive about the emerging rare earth industry and is confident in the country's resources. He said that the country will work on developing its mineral wealth, despite the current low prices of a range of resources, including oil and iron ore.
Kielsen said: "As yet we're not aware of the mineral potential, how extensive it is. We will not find this out until we have turned the last stone."
According to a May 2016 report by Transparency Market Research, the global rare earth metals market is projected to expand 13.0% between 2012 and 2018. Greenland could very well play a big part in that if the country's resources are indeed as vast as they claim.
However, in order to be a major contender, the country has a long road ahead in setting out a plan on how to regulate the market.
here will be considerable pressure from the outside, especially from China, and the government must get its affairs in order, but the emerging rare earth industry could be an important milestone in Greenland finally gaining its true independence.