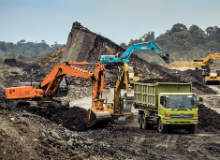 David Cormack is a partner within Deloitte Consulting's strategy and operations practice, where he helps clients formulate strategy and implement projects. Cormack is the consulting national mining sector leader and has over 25 years of extensive mining industry consulting and operations experience.
Nicki Ivory is the National Mining Leader and lead partner of Deloitte Financial Advisory in Western Australia, with over 20 years' professional experience in Australia and South Africa. Ivory provides valuation advice and advises clients on the buy and sell-side of transactions, with a focus on the resource industry.
Julian Turner: What's the state of innovation in the Australian mining industry?
David Cormack and Nicki Ivory: The Deloitte report reveals a clear acceptance among operators that innovation is imperative if the industry in Australia is to achieve its productivity goals. However, we see evidence of some confusion between continuous improvement and transformational innovation.
There is a lot of talk from senior leaders and a strategy that embraces innovation, but organisational structures that are not yet well-equipped to implement formal, measurable innovation programmes.
Deloitte's recent research also reveals that junior mining companies in Australia are the most agile, followed by the service providers, and that both are embracing collaboration better than the majors.
Finally, we conclude that the mining industry needs to be educated about the long-term benefits of holistic innovation programmes, and that includes investors whose expectations have become too narrowly focused on the short-term. The relative immaturity of the industry means that it stands to benefit significantly from a holistic approach and by driving multiple types of change as it strives to become 'advanced' and ultimately 'excellent' at innovation, rather than merely 'competent'.
JT: Why are Australian mining companies failing to innovate fast enough?
DC/NI: Many operators lack a coherent innovation strategy and the 'why innovate' message is not well enough articulated and understood throughout the organisation. A focus on cost reduction is often confused with genuine innovation and therefore transformational change is not prioritised.
There is also an inability to collaborate across the organisation and with external entities, and a lack of metrics to measure innovation outcomes and processes that don't facilitate decision making.
JT: Why does the report stress the need for 'transformative' as opposed to 'core' innovation?
DC/NI: Core innovation is primarily focused on existing products, markets and customers, while transformational innovation looks at new products and assets and/or new markets and customers.
Companies have a higher probability of achieving transformational change if they embrace multiple types of innovation. The report identifies ten: profit model, network, structure, process, product performance, product system, service, channel, brand, and stakeholder and customer engagement.
Deloitte's innovation unit, Doblin, finds that transformational innovation delivers significantly more value than core innovation, but that it needs to be delivered in the context of a balanced approach – the generic recommendation is 70:20:10 between core, adjacent and transformational change.
Transformational innovation goes beyond inventions, beyond technology and beyond new products. New products are just one of the ten innovation types and they tend to deliver both the lowest return on investment and the least competitive advantage because they can be copied more easily.
JT: Australian operators have responded to tough market conditions by cost-cutting and incremental efficiencies. Has this strategy failed?
DC/NI: Out of necessity, the mining industry is very good at responding to challenges and has been very effective at driving down costs. Australian companies are now looking to innovation to answer the 'where to from here?' question in order to drive further productivity gains and future growth.
JT: In your opinion, which Australian companies have implemented successful innovation projects?
DC/NI: We believe that Anglo-Australian company Rio Tinto's 'Mine of the Future' programme touches at least five types of innovation and therefore comes close to being transformational.
Rio Tinto partnered with a global network of technical experts; it had to adapt its organisational structure by employing a different type of operator with different skills; it facilitated implementation of the new process involving autonomous machines operated from a central hub; the product itself had to change to align with what could be produced over a long timeframe to sustainably meet customer requirements (the Pilbara Blend was the outcome of this innovation); and finally, Rio Tinto's brand as industry leader in innovation and cost/productivity optimisation was cemented.
BHP, Newcrest and South32 have all recently run Hackathons – intensive software events involving multiple collaborators − to learn from others, fast-track ideas and identify new ways of doing things. These types of public and open innovation forums should start driving true industry innovation.
Another great little example is how Sandfire innovated in its energy mix by bringing solar power into the mix, with the solar facility owned and financed by third parties at nominal cost to Sandfire.
JT: The Australian mining sector has struggled for years. Is another 'innovation' drive really enough to turn around an industry in decline?
DC/NI: Research clearly shows that top innovators deliver superior share price performance over time. The Australian mining industry has been ruthless in cutting costs and the law of diminishing returns has now set in – to improve productivity from here on we need to do things differently.
We found there is clear acceptance in the industry that innovation is imperative for the industry to achieve its future productivity goals and deliver sustainable shareholder returns into the future.
JT: How do you see Australian mining industry evolving in the short to medium-term?
DC/NI: Deloitte believes that we will continue to see a laser-sharp focus on costs. However, we also expect to see mining companies look for new ways to deliver productivity gains – working smarter and borrowing ideas from other industries such as embracing advanced manufacturing concepts – as well as increasingly automating processes.
We also see a renewed focus on growth through portfolio and asset optimisation, but with the focus sharply on only doing things – like divesting, buying, merging, exploring – that improve shareholder return.