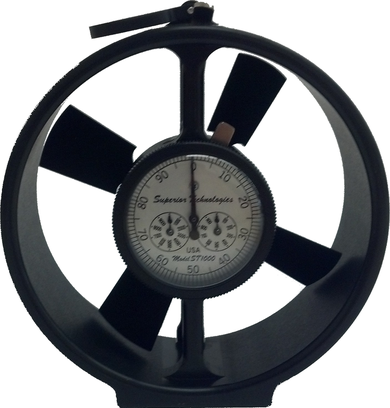 Superior Anometers is dedicated to designing and manufacturing high-quality wind measurement devices, offering products that are perfectly calibrated for mining and tunnelling operations that require accuracy and robust construction.
With more than 50 years of experience in machining process and design, as well as more than 65 years of experience in assembly and manufacturing, Superior Anometers wind measuring devices can be tailored for customers to ensure the most reliable results.
Superior anemometers are calibrated using the latest NIST traceable technology and fall in line with the strictest standards to ensure extremely accurate readings.​ The wind measuring devices are extensively tested to demonstrate greater accuracy and durability than other anemometers on the market. The New ST-1000 Anemometer has been designed using innovative machining processes and the highest quality materials.
Carroll Technologies has worked closely with mining safety and monitoring equipment manufacturers for more than 30 years. Carroll endorses and distributes Superior Anemometer products to mines across the US, with stocked devices including:
Anemometer, 4″, 8 blade (ST1000-8)
Anemometer,4″, 4 blade (ST1000-4)
Anemometer, low speed (ST1000-8-PE)
Anemometer, high speed (ST1000-4-PE)
Rod, 2′ extension (ST10010
Carroll Technologies president Allen Haywood says: "Superior have designed and built a newer and improved anemometer that is more rugged and more suited for the mining industry. We're a distributor for these products and can carry out factory-authorized repair and yearly calibrations for them."
Carroll provides certified repair services for anemometers from Superior, as well as other manufacturers, as part of the MinerCare 24/7 support service. This service also provides around the clock technical support, rapid response to mining emergencies, and an extensive stock of spare parts.
For more information about Superior Anemometer devices, or to discuss a quote for weather measurement products for your mine, call Carroll Technologies on 606-573-1000 or send an enquiry here.
This article was first published on Carroll Technologies