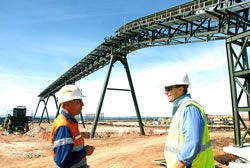 Australia-based Whitehaven Coal has secured final approval to begin the construction of its $767m Maules Creek coal project in New South Wales (NSW).
The project is located in Gunnedah Basin in the north-west part of New South Wales.
Production at the Maules Creek project is expected to begin by the second half of 2014.
Maules Creek has an estimated 320 million tonnes of semi-soft coking coal and thermal coal and is considered to be one of the few remaining tier 1 undeveloped coal assets in Australia.
The company claimed that Maules Creek Project has a large reserve of high quality coal, a low stripping ratio of 6.4:1, and would require relatively low capital development costs.
During the construction phase, the project is expected to employ around 340 full time employees and contractors, while an additional 470 people will be hired during ongoing operations.
Whitehaven Coal operates a portfolio of mines including the Narrabri North mine project in Australia.
Whitehaven Coal managing director Paul Flynn said that throughout the three-year approval phase, the project development team has developed a project delivery strategy that has been validated by all levels of government, and that the company will commence construction imminently now that contracts are ready to be executed.
"The project has been through one of the most rigorous planning approvals processes ever undertaken by a mine in New South Wales and has been reviewed by a wide range of highly regarded environmental experts," Flynn said.
The mine has been allowed to extract up to 13 million tonnes of coal per annum and transport 12.4 million tonnes from the site in a year.
The site preparation work, including fencing, storage and access roads, will begin next week.
Maules Creek's major phase, which is construction of the rail spur and loop, is expected to start in August.
---
Image: Whitehaven's Narrabri project produces thermal coal. Photo: Whitehaven Coal Limited.