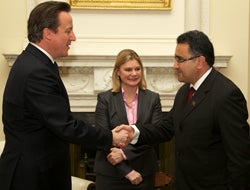 The UK has announced a £10m funding programme to help Afghanistan exploit its natural resources.
According to estimates, resources lying beneath the mountainous terrain of the country amount to $1-3tn in gold, gems, iron ore, and oil and gas.
Speaking at The Afghanistan Mining, Oil and Gas Investor Forum, UK Prime Minister David Cameron said, "The real long-term answer for Afghanistan is prosperity and growth, jobs and investment and wealth.
"The scale of the opportunity in terms of the extractive industries is absolutely immense. This is an enormous opportunity which, if it can be got right, can be an extraordinary blessing and genuinely transformative."
The Department of International Development will provide the funds to help the Afghanistan's Ministry of Mines negotiate, let, manage and monitor contracts, as well as appoint experts to key posts and develop the mineral and hydrocarbons sector.
Afghanistan's Minister of Mines His Excellency Wahidullah Shahrani said, "Afghanistan is a vast mineral rich country but one that is essentially under-explored and we are committed to developing our resources for the mutual benefit of the people of Afghanistan and quality resource companies prepared to meet the challenge.
"Natural resource development is a key strand in Afghanistan's return to prosperity. As such we are offering a unique opportunity, not only to enjoy an attractive return on investment, but also to play an important part in rebuilding our economy and rebuilding the quality of life of our people."
The funding programme is part of the UK's goal to help the country return to prosperity and growth.
The UK will appoint a trade and investment expert based out of Dubai to support investment opportunities in Afghanistan by UK listed companies.
An International Investment Adviser currently working with the Afghanistan's Ministry of Mines will continue his work to help the country develop international business relationships and market resources.
---
Image: Afghanistan's Minister of Mines Wahidullah Shahrani with David Cameron and International Development Secretary Justine Greening. Photo: Department for International Development.