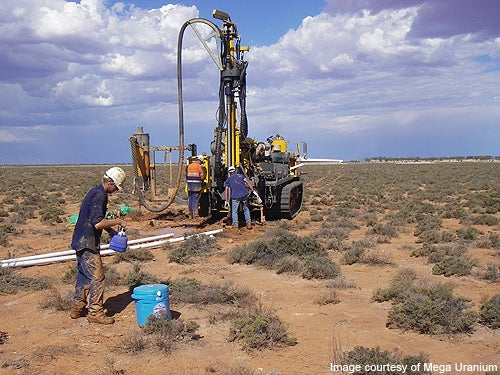 Australian uranium exploration and development company Toro Energy has entered into an agreement to acquire the Lake Maitland uranium project in Western Australia from Mega Uranium for $37m.
The Lake Maitland uranium mine is located in Eastern Goldfields, nearly 95km north-east of Leinster and 105km south-east of Wiluna.
Under the terms of the binding agreement, Toro will issue 415 million fully paid ordinary shares to Mega, representing a 28% stake in the company.
Toro Energy managing director Vanessa Guthrie was quoted by Proactive Investors as saying that the acquisition will add significant scale to advance its Wiluna uranium project.
"Upon successful completion of the acquisition we will welcome Mega as a strategic cornerstone investor in Toro and look forward to working closely with JAURD / IMEA as development of Wiluna and Lake Maitland is progressed to a final investment decision," Guthrie added.
Current strategic partners in Lake Maitland, including JAURD International Lake Maitland Project (JAURD) and Itochu Minerals & Energy of Australia (IMEA), can acquire a 35% stake in Lake Maitland for $39m, which can be exercised at any time up to a decision to mine on Lake Maitland.
With this acquisition, Toro will also takeover the existing partnership.
According to Toro, the Lake Maitland uranium mine will increase its resource base by more than 40% and its characteristics will provide significant operational benefits to Wiluna.
Toro Energy believes that the acquisition will expand Wiluna project's Joint Ore Reserves Committee-compliant resource (JORC) base by around 42% to 76 million pounds of uranium oxide from 54 million pounds.
The 8,500ha Lake Maitland uranium mine was discovered in 1967 by Asarco Australia and was drilled by several companies until it was acquired by Mega Uranium from Redport in December 2006.
The mine has a capacity to produce 1,000t of uranium peroxide concentrate annually.
Production is scheduled to start in 2013 and the estimated inferred resources at the mine totals 23.7 million lbs of triuranium octoxide (U3O8).
---
Image: Lake Maitland uranium mine is located in Eastern Goldfields, Western Australia. Photo: Mega Uranium.