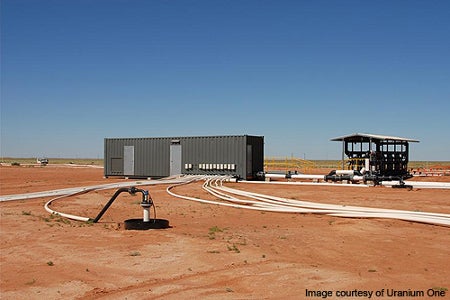 Russian state-owned uranium miner JSC Atomredmetzoloto and its affiliate Effective Energy, collectively termed ARMZ, will purchase the remaining stake in Canada-based Uranium One for CDN$1.3bn ($1.32bn).
Following the completion of the transaction, Uranium One, in which ARMZ currently owns 51.4% stake, would turn private.
ARMZ has offered to acquire the remaining equity for CDN$2.86 ($3) a share, representing a 32% premium to Uranium One's 20-day volume weighted average price ending 11 January 2013.
This offer price values the Toronto mining company at CDN$2.74bn ($2.79bn).
The board of directors of Uranium One unanimously approved the deal after an independent committee comprising independent directors recommended the transaction.
Uranium One independent committee chairman Ken Williamson said that this proposal represents a significant premium to Uranium One's average share price.
"We recommend that shareholders vote in favour of the Plan of Arrangement at the special meeting of shareholders that will be called to approve the transaction," Williamson said.
ARMZ board chairman Vadim Jivov said that despite the uranium industry's currently challenging outlook, ARMZ will continue with its strategy of developing Uranium One into a leading global uranium producer, which was the basis of its original investment in the company.
The transaction is subject to a shareholder approval vote, which is scheduled to be held in March this year, as well as regulatory approvals and other closing conditions.
The deal is expected to be completed in the second quarter of fiscal 2013.
Canaccord Genuity served as financial advisor to Uranimum One's independent committee while BMO Capital Markets advised ARMZ.
Uranium One owns assets in Kazakhstan, US and Australia, and operates the Mkuju River project in Tanzania.
---
Image: Uranium One currently operates the Honeymoon uranium mine in South Australia. Photo: Uranium One Inc.