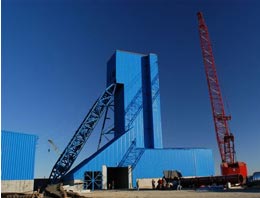 Anglo-Australian mining major Rio Tinto can now proceed with the development of Oyu Tolgoi underground mine after the Mongolian Prime Minister said that the company does not require parliament's approval for $4bn funding.
At a weekly press briefing, Prime Minister Norov Altankhuyag was quoted by Reuters as saying, "Parliament has already made the decision and signed their agreement."
"Cabinet doesn't have to be involved. All issues can be discussed and decided at the board of directors' level," he added.
The Prime Minister also said that questions relating to costs for the underground expansion of the mine should be resolved at board level.
Last week, Anglo-Australian mining major Rio Tinto halted underground expansion of the Oyu Tolgoi copper mine as it said that funding for the project needs approval from Mongolian Parliament.
The company had then expected the project to take some months to proceed.
Last week, the firm stated, "The Mongolian Parliament is currently in summer recess and the parliamentary approval process may take some time to work through."
The Oyu Tolgoi gold and copper project, also known as Turquoise Hill, is located in the south Gobi region of Mongolia, around 80km north of the Chinese-Mongolian border and 550km south of the capital Ulaanbaatar.
The mine is jointly owned by Rio Tinto's subsidiary Turquoise Hill, which holds a 66% stake, and the Mongolian Government, which owns the remaining interest.
The expansion of the mine would increase the annual production to 425,000t of copper and 460,000oz of gold.
Last month, Rio Tinto commenced copper shipping operations from Oyu Tolgoi.
---
Image: Oyu Tolgoi mine is located in the south Gobi region of Mongolia.